ORJI UZOR KALU TO ENJOY BENEFITS WHILE SERVING HIS JAIL TERM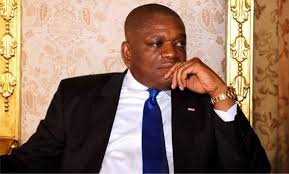 Source
Orji Uzor Kalu, the Nigerian politician, sentenced the 12 years in prison seem to be having a good time even after his 12 years sentence. He had been accused of diverting funds running into billions of Naira, and after several years of the trial at the Federal High court, he was sentenced to 12 years in prison.
The upper chambers of the legislative arm of government have, however, said that Orji Uzor Kalu's seat would not be declared vacant nor allowances and salaries due him be dropped. The convicted senator is the chief whip of the upper chambers, and he represents Abia North senatorial district.
The senate debunked the information that he would be performing legislative functions from prison. It said though he is still a sitting senator, he would not perform any legislative function from prison.
Corruption has been trivialized in Nigeria, with many Nigerians thinking that the judiciary are collaborators in the corruption process. When the judgment from the Federal High court came, Nigerians welcomed this development with open arms because it showed that there is still home in the judiciary.
The judgment of the Supreme court would further tell Nigerians how upright or biased they are in corruption cases. All eyes are on them to do justice to corruption cases just like this one. It is also worthy to note that there are a thousand and one other corruption cases lined up at the courts awaiting judgment for many years.
When corruption cases are not quickly dealt with by the court, corrupt people benefit more because they are given more time to enjoy their stolen funds to the detriment of citizens.