Sleepless night lockdown report
Due to my neighbor decided to have a good time during this lockdown season, blasting his PS4 with windows opened at midnight, I couldn't sleep at all. So I decided to make use of the midnight to write this post for the past two days I have not been sharing during my lockdown. Good thing is, you can choose not to read, unlike my neighbor getting all of us listening to his game.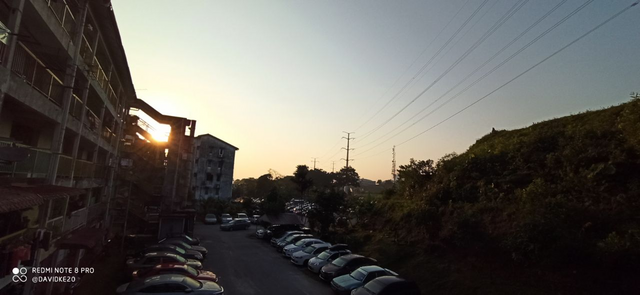 Getting up 6am in the morning during lockdown, getting myself ready to hit the hyper market to grab some food indeed wasn't something I would normally do. I am the kind of person who go shopping in the evening. Anyway, the view was captured before I left home two days ago, as you can see from far end there's another car came back. I wonder where he/she came back from during lock down season?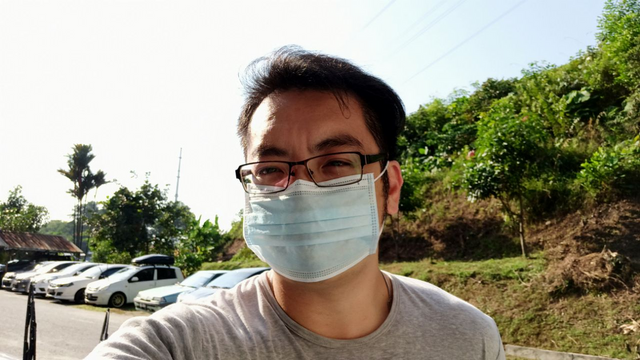 It wasn't so bad for the day, I got myself some fish, some sweet potatoes, and some buns. I have some very ripe bananas as well, but we don't get eggs. I believe I'm one of the earliest amongst other shopper, but then again I saw people carrying trolley full of eggs. Well, I guess I already got used to it when seeing people hoarding food. I'll just go with whatever left there.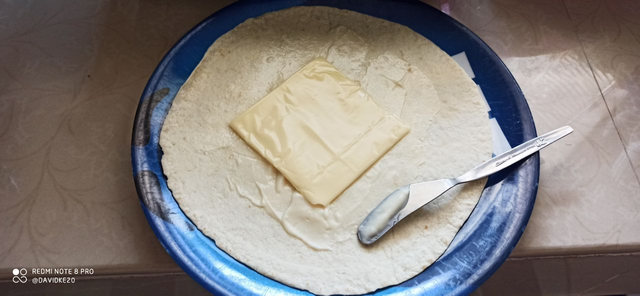 So here I am, with my wrap again. Abstain in lent and so happen during this #stayathome season, I'm really running out of option. I wish I have some chicken slice, but I can't. I wish I have some pork, not only I can't, but there is no pork at all since the butcher are down with...flu. Scary eh.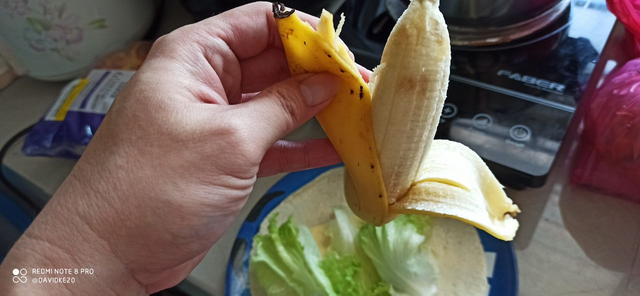 So, here's the giant banana I bought earlier, it's really ripe and ready to eat. I would like to share with you this simple trick, which is peeling a banana from the end of the fruit instead. This allow you access towards the end of the banana itself, and another good reason is your finger will not touch the flesh at all.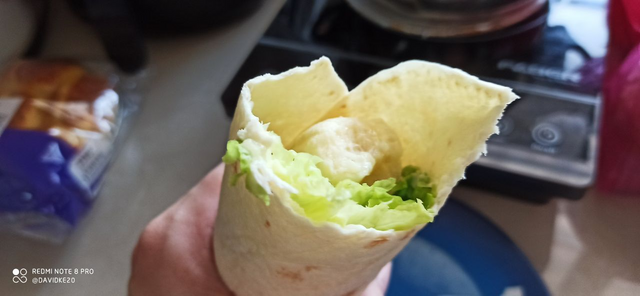 Throw the banana into my pita with mayonnaise, cheese, lettuce and now with my vegetarian sausage(the banana), it tasted super satisfying! Yeah! Been stuck at home for too long, going for grocery shopping is like heading to bio-hazard war zone, we live and eat what we have. Try to enjoy, rather than complaining. I'm grateful for still have food to eat!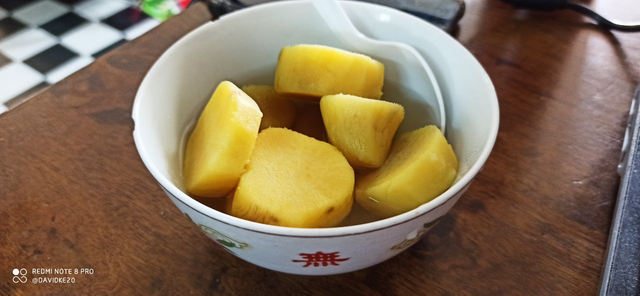 I usually like to bake the sweet potatoes, but LazyMom has her own idea. She boiled the peeled sweet potatoes together with ginger. Now the "soup" become sweet and spicy. Can't say taste good, but the ginger really warm me up and the potatoes really filling my stomach. Fully satisfied with lunch.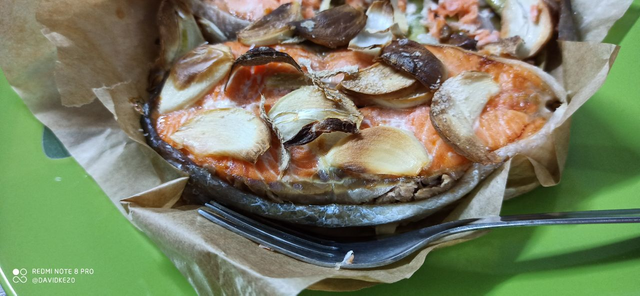 These salmon cubes are frozen, and I bought them early. LazyMom baked it for dinner, each of us took one cube. The fish were seasoned with salt, topped with onions and garlic. Simple but very delicious.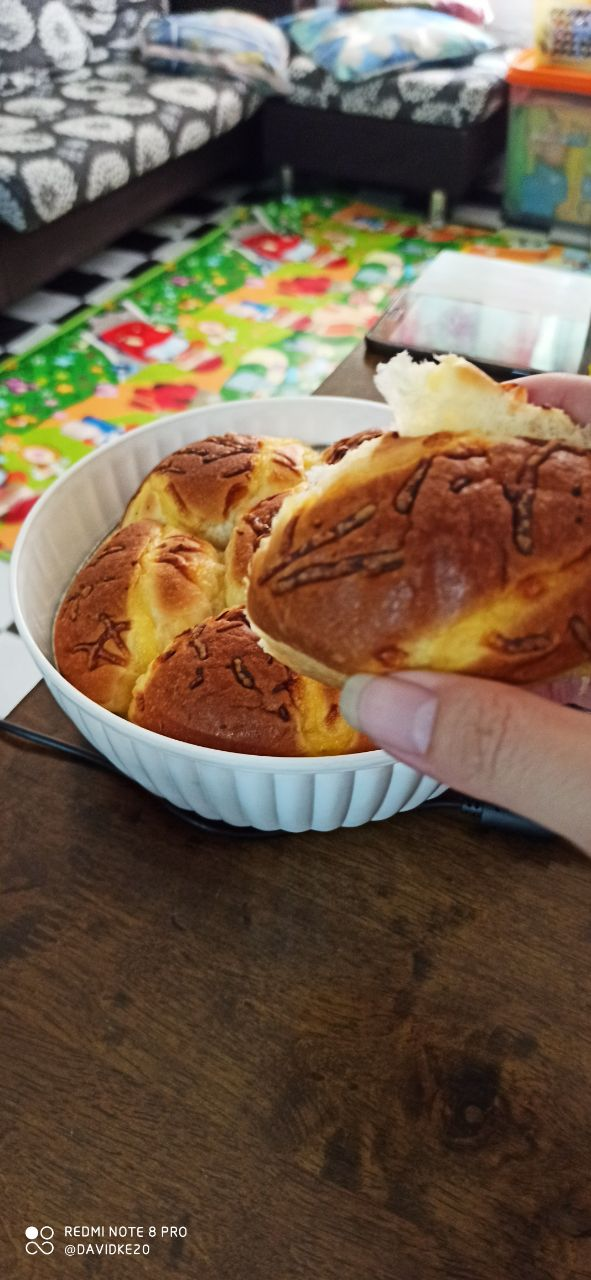 On the day after, this was the breakfast of "yesterday". The cheese bun was bought at a discounted price. I previously shared with you, people hoard on loaf, but this type of buns they just didn't touch it. It's on discount, 6 buns at the price of RM1.29, that's about $0.30. I think next time I'll just buy this type of cheese bun, rather than rushing to get the white loaf.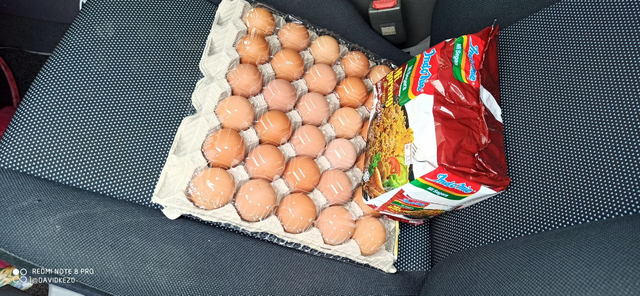 I didn't take photo of my lunch, but I would like to show you what I got myself! Yes! The precious eggs! I was still wondering whether the hen can lay egg fast enough to feed so many hoarders, and I wasn't expect to be able to buy some eggs in the afternoon! According to the shop keeper, the egg truck came late. Usually people guarding the shops in the morning and wait for bread truck and the egg truck. By the time I bought lunch, trying my luck at the shop and found eggs there, I was very happy to get myself a tray of eggs.
Lorry carrying bread missing
Source NST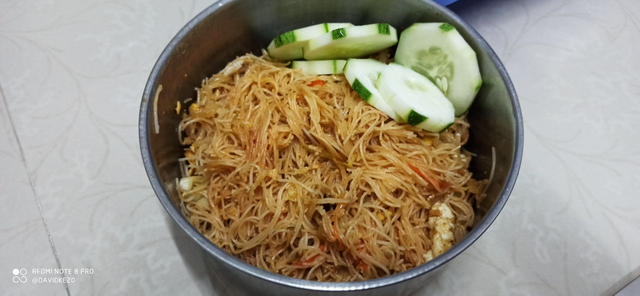 Dinner was fried rice noodle with egg. It's burnt, smells like charcoal. But all good, I throw in some ketchup, mixed with a few slices of cucumber, it came back to life. Closed my eyes and it tasted like... burnt BBQ tomato.