LOGISTICSX: AN OVERVIEW
Introduction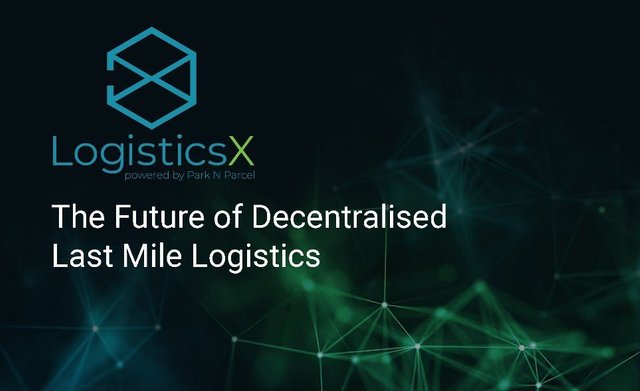 Transportation has been one of the factor that drives physical businesses. Transportation uses many mode ranging from air to water to road (land) to pipe (to transport oil). All these was created to bring ease to transportation. Physical businesses makes use of these method of transportation to ease the movement of their products.
With the use of all these modes consumers have been enable to have unlimited access to goods which they desire. Although there has been some setbacks in recent times, setbacks such as late delivery, goods been tampered etc. All these setbacks will go into extinction since the logisticsX platform has been created. LogisticsX with the aid of blockchain technology has been created to bring an end to all these setbacks.
The logisticsX platform was created to develop a decentralized technology that hopes to unite all the logistics based stakeholders that is made up of the e-commerce industry, the courier service operators, the third party logistics, individuals with their own parker joints and all logistics corporation in a transparent trust free relationship that is based on the distributed nature of the blockchain technology.
LogisticsX will seek to demonstrate how blockchain technology can be used to solve the challenges and tap on the opportunities of ensuring users of trust and transparency. Based on a published report by DHL and Accenture, blockchain technology has shown potential capabilities to improve the transparency and traceability in the last mile logistics network. This will potentially allow more parties to be involved in a trustless ecosystem. The platform will also enable stakeholders to share data with ease.
Park and parcel
Based on the strategic partnership the platform has made with park and parcel, it will be able to strengthen the ecosystem of the platform. The platform is partnering with park and parcel because of it strong extensive network with logistics stakeholders. This will enable the platform provide stakeholders the access to interact with each other. Park and parcel is a core last mile logistics giant that uses neighboring retail shops as it drop and collection point. These allows consumers have easy access to their goods. The company has a good record of having served major logistics shareholders such as logistics enterprises (e-commerce) and online sellers.
HOW LOGISTICSX PLANS TO IMPROVE LAST MILE DELIVERY
Trustless Connect
Trustless Connect DLN aims to connect the various logistics stakeholders to achieve a harmonised global network. The system aims to simplify connectivity and improve interoperability among the stakeholders, through the use of common standard. LogisticsX will be developing a web application to streamline relevant data exchange between stakeholders of the LogisticsX ecosystem. Data will be disseminated to the right stakeholder to enable transparency within the platform. There will be no cost to onboard onto DLN, however LogisticsX will charge the third party companies a certain percentage of the total shipping cost for each parcel delivered, and this is to be paid in PNP Tokens. This charges will enable the platform function at maximum speed so as to accommodate all.
Blue Whale
The platform will be in collaboration with blue whale which is a provider employment to the unemployed.
Thus, LogisticsX will aim to partner with Blue Whale Foundation ("Blue Whale"), a blockchain network tailored for the self-employed, where independent workers can take part in sharing economy while obtaining employment benefits.
In short, Blue Whale is a decentralised ecosystem that empowers the world's freelance community. It aims to provide freelancers with benefits that otherwise free-lancers might not have, such as paid-time-off, and retirement pensions.
Application Used By LogisticsX
LogisticsX will be using the following application or technologies to run it platform.
It will be making use of multiple technologies to better the efficiency and also improve it interface to be user friendly.
First of it will be the LogisticsX Mobile and Web Application.
The platform will setup a mobile and web application to streamline relevant communications for users of the LogisticsX ecosystem, this will target Parkers, Runners, and parcel recipients[NUL]. This will enable consumers to communicate with stakeholders and also report incase of any issue.
Also it will make use of Park N Parcel Application.
It is planned that Park N Parcel's application will also be setup as a DApp which connects to the Trustless Connect
component of the LogisticsX Blockchain, where creation of parcel data and timestamping as the parcel moves from
one party to another will be done. It enable both the retailer and consumer keep track of where their data are. Its used to secure and monitor data.
Also it uses LogisticsX API Endpoints.
LogisticsX API endpoints will also be made available for small-medium sized partners or merchants who would like to programmatically access the services in the LogisticsX Ecosystem[NUL]. This enables them upgrade with the logisticsX ecosystem.
Furthermore it makes use of the LogisticsX DApp.
LogisticsX blockchain network will be the system that will hold everything together. It will facilitate transparent and
secure access to logistics and parcel tracking through Trustless Connect. This apps grant users the access to monitor their data's.
The platform will be making use of many more technology to ensure the security of users data is at maximum. Since trust and transparency is the watchword or the goal of the platform, the team behind this platform will be working tirelessly to provide security and also keep the platform standardized to accommodate all users.
For more information use the links below:
Official Website: https://logisticsx.io
Whitepaper: https://logisticsx.io/documents/LogisticsX-Whitepaper-V1.4-11-June-2018.pdf
Telegram: https://t.me/LogisticsX
Twitter: https://twitter.com/LogsXOfficial
Personal Information
Bitcointalk Username: promudy
Bitcointalk Profile link: https://bitcointalk.org/index.php?action=profile;u=2050345
ETH ADDRESS: 0xc1F5ac9C8b7F8A3FadE6C65E903ab94467a431EE