True love is not a feeling... It's more than that.
Hi steemians, how has your day been? I'm very sure it is going pretty awesome.
Just a few hours ago, I arrived from my church-workers meeting and I began to ponder on the topics we discoursed. And from the topic of the relevance of speaking in tongues, I got myself into the topic of love and its potency. We all hear of the God who loves us with all his heart- we read of this love in books and our church ministers keep reminding us from the pulpit. We have the bible which claims so- especially the books of apostle John the beloved. We can not over emphasize the place of love in our world- everyone known if the planet is runned by this force, we would be better off.
Yet no one is taking any step towards love. Apostle paul in his epistles to the Corinthians tried to bring them to working knowledge of the significance of Love in their christian race here on earth.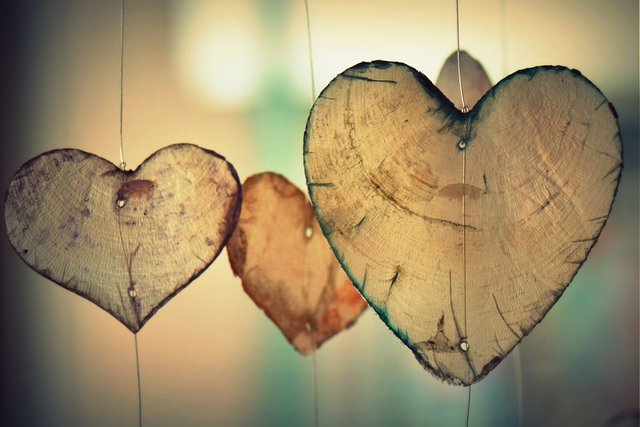 Licence: CC0
I Corinthians 13: 1 -13 NLT
1: If I could speak all the languages of earth and of angels, but didn't love others, I would only be a noisy gong or a clanging cymbal.
2: If I had the gift of prophecy, and if I understood all of God's secret plans and possessed all knowledge, and if I had such faith that I could move mountains, but didn't love others, I would be nothing.
3: If I gave everything I have to the poor and even sacrificed my body, I could boast about it;[a] but if I didn't love others, I would have gained nothing.
4: Love is patient and kind. Love is not jealous or boastful or proud
5: or rude. It does not demand its own way. It is not irritable, and it keeps no record of being wronged. 6 It does not rejoice about injustice but rejoices whenever the truth wins out.
7: Love never gives up, never loses faith, is always hopeful, and endures through every circumstance.
8: Prophecy and speaking in unknown languages[b] and special knowledge will become useless. But love will last forever!
9: Now our knowledge is partial and incomplete, and even the gift of prophecy reveals only part of the whole picture!
10: But when the time of perfection comes, these partial things will become useless.
11: When I was a child, I spoke and thought and reasoned as a child. But when I grew up, I put away childish things.
12: Now we see things imperfectly, like puzzling reflections in a mirror, but then we will see everything with perfect clarity.[c] All that I know now is partial and incomplete, but then I will know everything completely, just as God now knows me completely.
13: Three things will last forever—faith, hope, and love—and the greatest of these is love.

The Corinthians are gifted people who were manifesting the giftings in a magnificent way. It was so elaborate and overwhelming that they were literarilly causing confusion- we know this as apostle paul taught them about these manifestations as well admonishing them to do things in an organised fashion.
I Corinthians 14: 31 - 33 NIV
31: For you can all prophesy in turn so that everyone may be instructed and encouraged.
32: The spirits of prophets are subject to the control of prophets.
33: For God is not a God of disorder but of peace—as in all the congregations of the Lord's people.
The apostle then made it a duty to make them aware of the gravity of the simple virtue called love. He said to them before telling them about the importance of love in chapter 13. He said "I show you a more excellent [perfect, wonderful, virtious] way" in chapter 12 and he described this way in chapter 13.
I Corinthians 12: 31 AMP
But earnestly desire and strive for the greater gifts [if acquiring them is going to be your goal]. And yet I will show you a still more excellent way [one of the choicest graces and the highest of them all: unselfish love].


I Corinthians 12: 31 NIV
Now eagerly desire the greater gifts. And yet I will show you the most excellent way.
I Corinthians 12: 31 NLT
So you should earnestly desire the most helpful gifts. But now let me show you a way of life that is best of all.

Love is the more excellent way, esteemed even above miracles and tongues every thing supernatural. Love made God give His son, Love maintain relationships, God is Love. Yet I claim love is not a feeling. In my physiolical classes, I'm thought our feelings are as a result of hormones that flow in the blood. These hormones fluctuate with sight, things we hear, what we eat, music we listen and many other external factors. Feeling in marriage declines as the marriage grows older but what keeps it going is the commitment. Love is rather a convenant than a feeling. It is a choice and a decision. I do not disoute the fact that feeling can be part- it's only a catalyst and not the main substance.
If I choose to act on my feeling, I'd do a lot of wrong things. Go in and out of many relationships or maybe kill a politician. But my love for God and humanity constrains me. Faith moves mountains but it is nothing compared to Love. Hope gives one a reason to live yet it is not equal with love.
I would admonish us to also esteem this virtue as apostle make us not ignorant. We are creatures who often think the big things rule the world, we are slow to always suspecting those little things like love. If you love your company, you would not steal from it. If you love children as much as you claim, you would help those dying kids in Africa. If you love hardwork, you would appreciate people who go to the ants to learn- (You can also support people with good vision on steemit). If love is the true engine that runs the world, life would have been better.
Love like i said is not based on circumstances or feeling. It is highly unconditional. The bible makes me understands that while I was yet a sinner, He died for me. While I was yet in my mother's womb, He santified me. He knew me from the belly and He would continually be withme. He gave me a promise that even though I walk through the valley of the shadow of death, He is with me- that's why I would not shiver or fear. And all these are decisions He made, Convenants.
Thank you for reading this post. I hope it blessed you as much as I intend it to. Please, do leave your comment in the box below. I am open for constructive criticism with truths to support your claim. Thank you and do not forget to upvote!