How Did You Meet?
I was telling someone the story of how my husband and I met and it got me wondering what interesting or romantic stories others might have?
First I should say that when I met my future husband I had given up on the idea of marriage for me. When I was younger I came close, even became engaged, but for good reasons called it off. I dated other men but found no spark.
A group of my girlfriends liked to go out to dance and I'd go with them. We had a lot of fun dancing but didn't find anyone special. Then one day we went to a different dance place and it became our favorite because there were more men than women there!
One day I took a friend there, her first time, assuring her that as a new face she would be asked to dance very quickly. But that didn't happen and she talked about going somewhere else. That's when I said these fateful words, "It's okay to ask a man to dance here. It's not like you're going to marry him!" Saying that I turned around and asked the first man I saw standing behind me to dance. He said yes and we danced one dance and then he disappeared! Oh well. By by then my friend was dancing and having a good time.
A short while later he showed up again and we danced and talked and arranged to see each other again. Later he told me that he had spotted me across the dance floor and was edging his way through the crowd over to me. He said he was just about to speak to me when I turned around, and it startled him!
We were married four months later, almost exactly from the day we met! My friend still teases me about saying you don't have to marry him. But I did!
Now I don't recommend marrying so quickly, it is not a good idea for everyone. But for us, it worked out fine and next year we will celebrate our 40th anniversary!
This is our engagement photo ~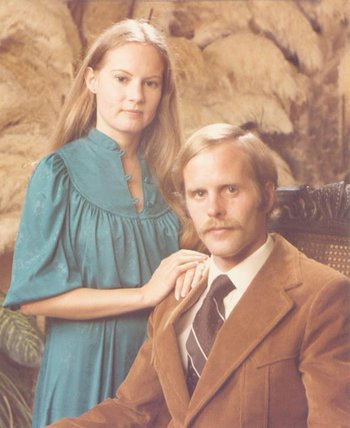 And us 35 years later ~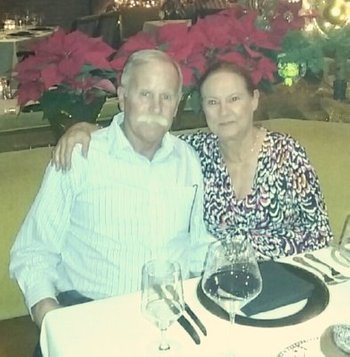 Now I'd like to hear your stories! Was it love at first sight?
Did you date each other for a long time before deciding?
How did you know they were the person for you?

I am a member of #ccc by @freedomshift
https://steemit.com/ccc/@freedomshift/an-update-v2-1-to-guaranteed-daily-income-and-payout-for-newbies-2-0-in-ccc-and-follow-the-honor-code-the-creed-conditions-and