LOST TREE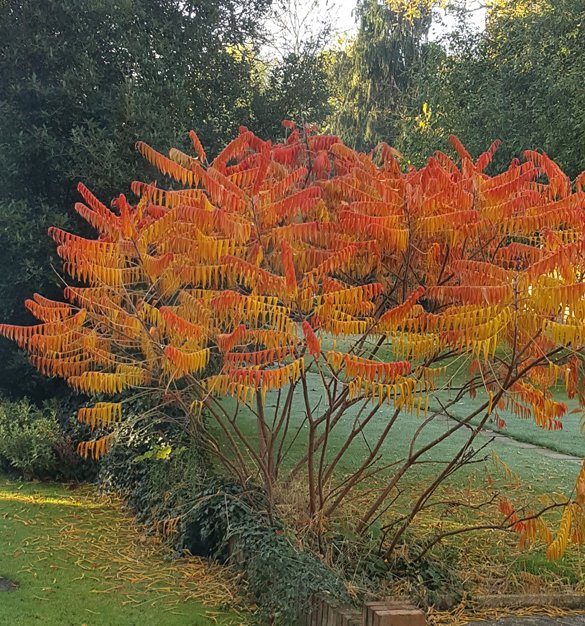 This dear little tree I could once see from my dining room window. Recently they cut it down as it actually grew in the grounds of neighbouring gardens. The loss of this little tree I felt keenly as it would be just now it would grow it's colourful golden and red leaves, just as Autumn begins.
Yesterday I felt another loss far more keenly as one of my dearest and oldest friends died last week and it was the day of her funeral. I try to avoid funerals as they are very sad occasions but my invite was very special, as I had been "Auntie" to their children for many decades.
This occasion was very, very sad as it was the loss of a beloved wife, mother, grandmother, great grandmother and dear friend. The ceremony was in a lovely chapel in a very green park, typical of her family, all was beautifully done and arranged so that everyone could say a fond and sad farewell.
My friend would have loved this little tree, just as it would have been now with its golden, then red glory. Now she is in a lovely other place, or we certainly hope she is. I have lost many friends and loved ones over the years and it's never easy because that void one feels is so acute and seeing others who loved her dearly, reminded me of how great a person she had been, now in our memories. Her husband, in the UK a popular actor, now alone and a little frail, read a lovely poem dedicated to her. I felt my tears flow freely just listening to his voice. He needs and his children need my attention now.
Afterwards we all went to another place to be with each other and reminisce about her life. All her children were there and it was lovely to catch up with them all. The previous week I had felt bereft and was in a state of disbelief. Following the funeral I felt somehow uplifted, as all her family embraced me warmly and her presence was felt as if she'd been there at that gathering. In fact she would have loved it.
So, we all have to learn to live with loss. Her memory will stay with me as if she hadn't left us. That little tree would have been a reminder of that loss, so perhaps it's best it's no longer there. I will remember my friend as she was, so special and full of life and love for all her great family and many friends. We have to remember to live life to the full and enjoy every moment.