Macrophotography--A day at the beach--Rockweed
I have another macro photo to share today from our summer trip to Homer, Alaska. You can find the previous photograph here. I wanted to share a couple of the macro images before I make a post about our trip.
It's a lot of fun to focus on the tiny world of life--or sometimes remnants of life--on a beach. It's also hard to ignore the similarity found in the previous image's creature and today's.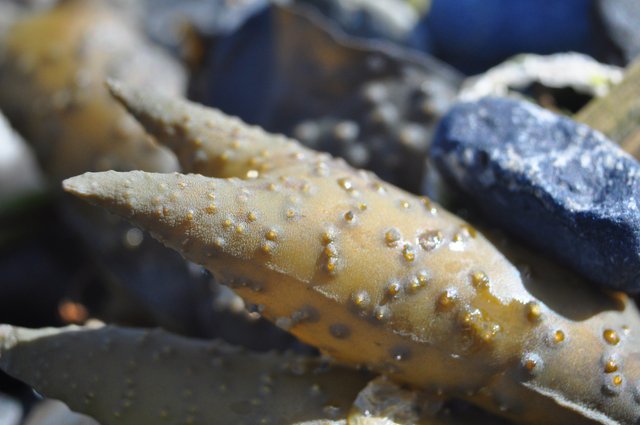 Click image for higher resolution.
Equipment: Nikon D5000, AF-S 18-55mm Nikkor 1:3.5-5.6 on 20mm macro tube
Exposure: f/11, 1/160sec, ISO-500
The wet, swollen, balloon like tip of this rockweed looks a lot like a crab pincher, but it's actually the reproductive component of this ocean plant. This photo is also a fairly good representation of Alaska's color palette.
I have been familiar with this seaweed plant because it's quite prevalent on Alaskan beaches, but I never knew much about it. Turns out the little bumps are pores that the plant uses to secrete the liquid held inside the bubble. This secretion contains sperm during high tide when the plant is submerged and eggs during low tide while the plant starts to dry out. While the water is out, these little crab pincher bubble pods are covered in the plant's microscopic eggs. The tide comes in carrying the sperm released by the plant earlier in the day and washes off the eggs, uniting the two in a soup of life bearing ocean waves.
Something to keep in mind next time you decide to fondle swollen seaweed tips.