butterfly " Lycaena Dispar"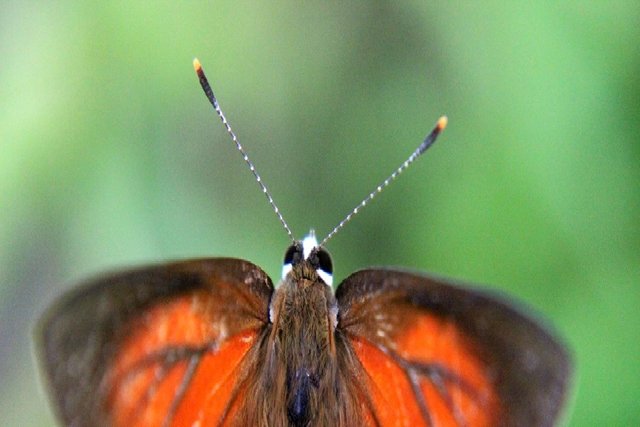 ---
butterfly " Lycaena Dispar"
---
owning a home and residing in the forest area and observing the life of insect species, sometimes making me alone, can realize that, many other lives, which require attention in life, with hope, can grow and develop, only rely on, nature that is still, natural and that beautiful, filled, with medium and tall trees, to ... other plants, with green leaf color looks still fresh. without dust attached to it.
like the type of insect that you will see, this type of insect, we often call it the Butterfly, with another name Lycaena Butterfly Dispar, although it looks with beautiful colors, and overall appearance like this, can still survive to this day, when I take photos, which we can see in the picture above. and the picture below.
---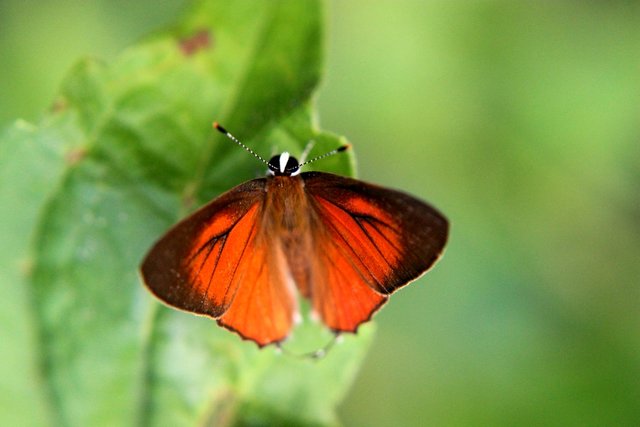 ---
Green wild trees in the forest
---
only butterflies, with beautiful forest nature, as they grow and develop with plant species, around them, can utilize, green colored leaves, as a shelter, as in the picture below :
in the leaf of the tree that we see below, the type of butterfly you see, stands, while sheltering.
---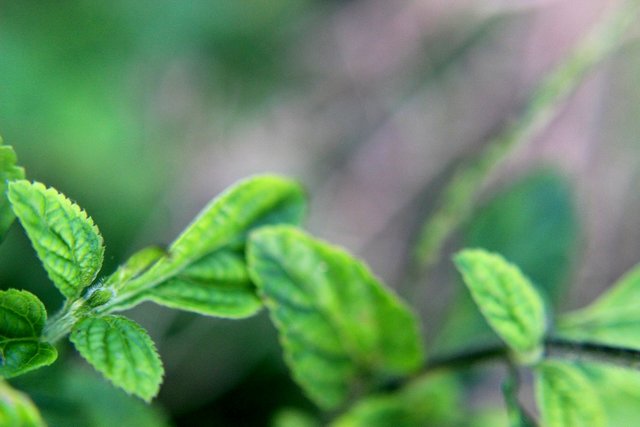 ---
Macro Photography Techniques
---
Below, I will show a picture of a butterfly type, which I photograph with macro photography techniques, to all of you, with an additional explanation from me, below the picture, let us see it below.
as usual, if I want to find the butterfly target that I will photograph, all the equipment, I have prepared beforehand, and just press it, on the button,
why do I say that ... yes ... this is caused, the type of butterfly, usually only perched for a while, then fly ..... fly again .... "although in the photographer's heart, sometimes saying" where .. . he flies "with our heads and eyes, looking at the flying butterfly. But usually ... this butterfly, will return again, to its original place, above the leaf, the first we find, this is the habit of butterflies. ... which is in my area.
You can see it, in the picture below. with your wings stretched, that was ... butterfly, want to fly.
---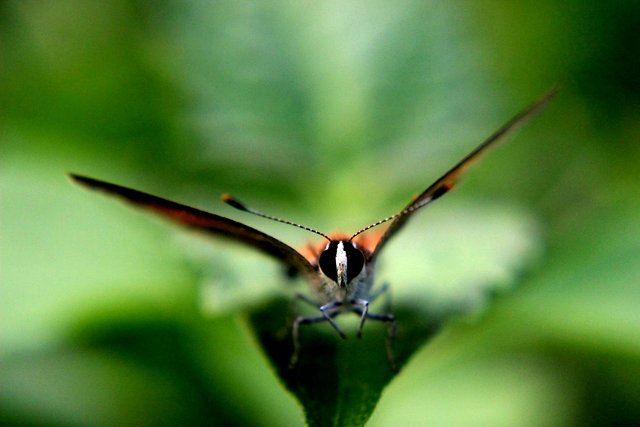 ---
it turns out .... this butterfly, has not yet flown, I can still, draw, another picture, as below, although, there are some ants, which bite my feet, but this will not make the ants stay long, on my legs , why ... ? because before traveling, I always give, "balm or oil" on the legs. so that insects that are not seen, can leave as soon as they are.
---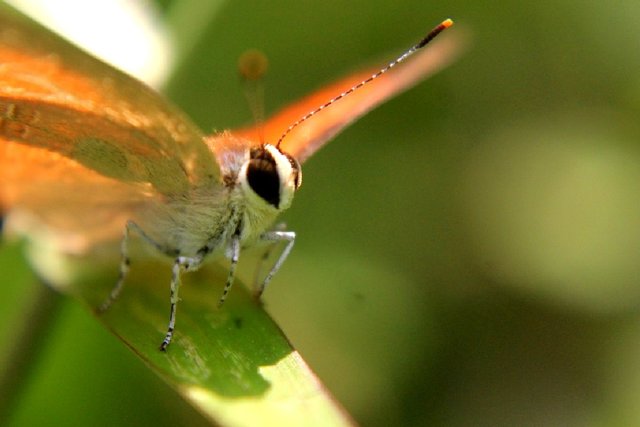 ---
This butterfly, apparently ... feels ... my arrival and the sound of marea, does not interfere with its existence, above the leaves, I also do not wait long, this opportunity, I keep pressing the camera button .... "ce krek ... ce krek .... ce krek .... don't get me wrong ... "ce krek" this is the sound of the kemera sounding .. hehehhehe "the result is .... the picture below .
---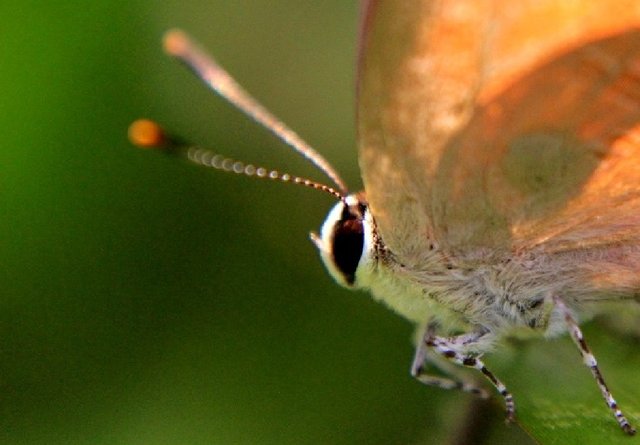 ---
You can see in the picture above, the type of "Lycaena Dispar" butterfly that I photographed, which I focused on, on the eyes and head. at close range, with macro techniques, plus a lens that I modified.
---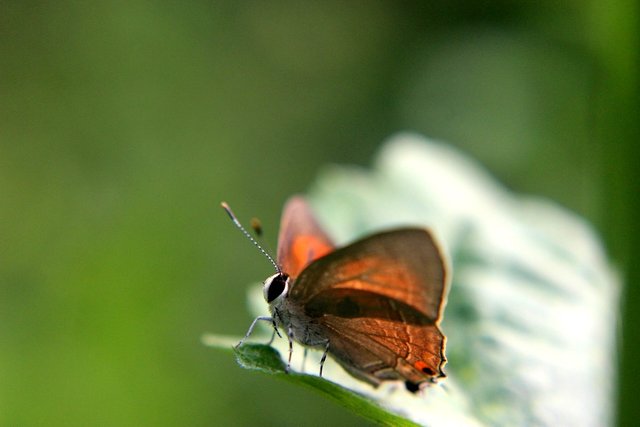 ---
in the picture above, because this butterfly looks, like it wants to fly .... the distance of the photo is forced, I reduce it again, so that it appears from a distance, when it is above the leaf.
---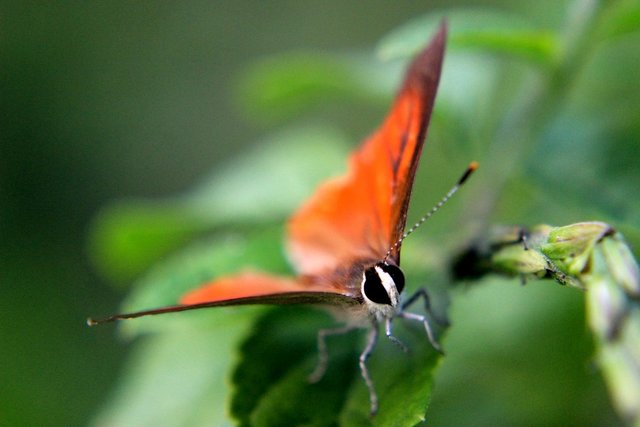 ---
because it is still above the leaf, I try, aiming once more, at the antenna, which is, at the head, this butterfly, with the colors arranged, black and white.
---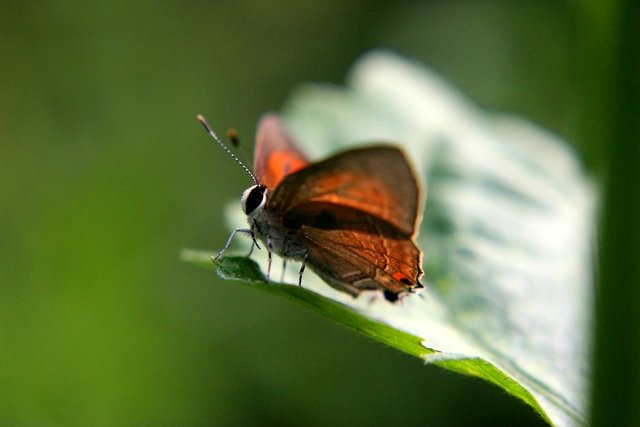 ---
because time doesn't allow anymore, I'm in this area, with the distance, back home about 1 hour, then I take the conclusion, the picture you see above, is my last picture, from this type of butterfly.
this is my explanation .... based on, some images of the type of Lycaena Dispar butterfly, which has always been the target of all photographers in Lens Photography.
beauty in shape and color, has indeed become its own characteristic, in the life of the type of insect that is Butterfly
that is what I can say, I end with the words, greetings @sultan-aceh
---
---
---
---
---
| Butterfly Type | butterfly "Lycaena dispar" |
| --- | --- |
| Location | Sp. Kramat Forest |
| Camera used | Canon EOS 600D |
| Lens Camera | Fix 18-55mm "Macro Modificasi" |
| Photography by | @sultan-aceh |
---