My original samurai manga -Jingi- chapter52
Hello steemians!
I am RYO!
This is a -Jingi- New Chapter post
-Jingi- is not my previous work, it's my original manga that I'm currently working on
About hints to read manga before
Read manga from the right
Red word are Japanese. The meaning is written in (※)
If you do not understand how to read manga please read the sentences under the picture. It's written in the order of manga
-Jingi- Chapter52↓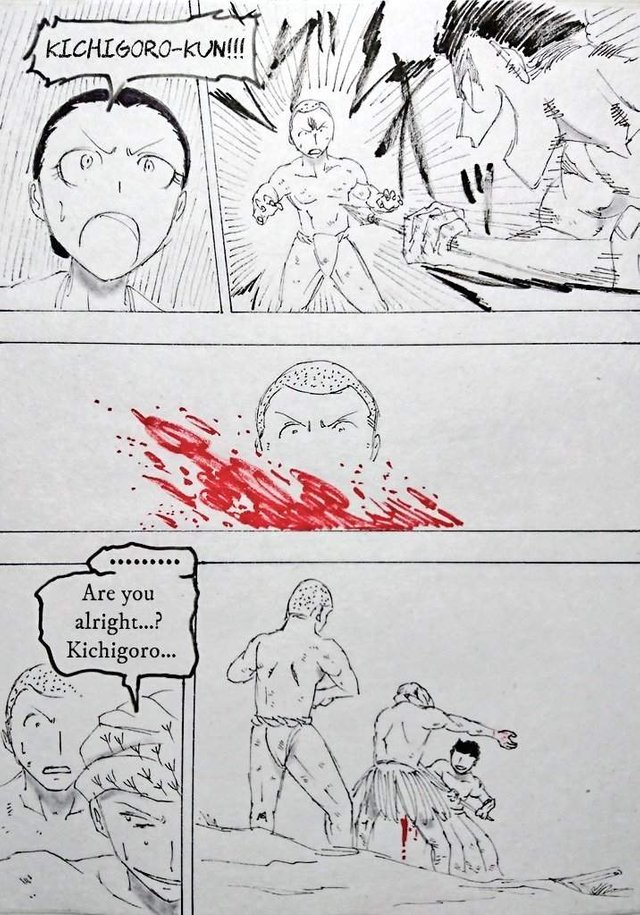 Kichigoro-kun!!!
Are you alright…? Kichigoro…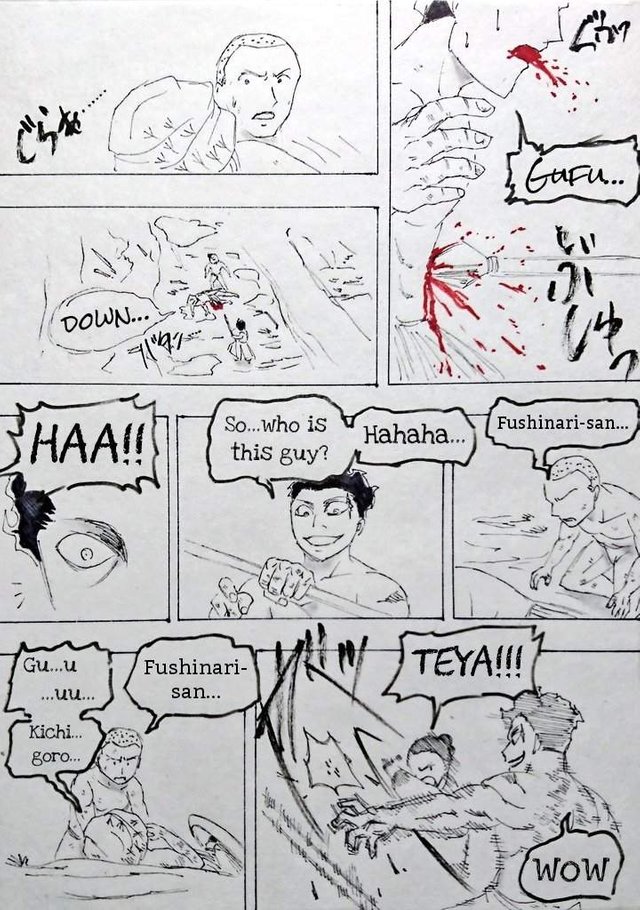 Fushinari-san…
So…who is this guy?
Fushinari-san…
Kichi…goro…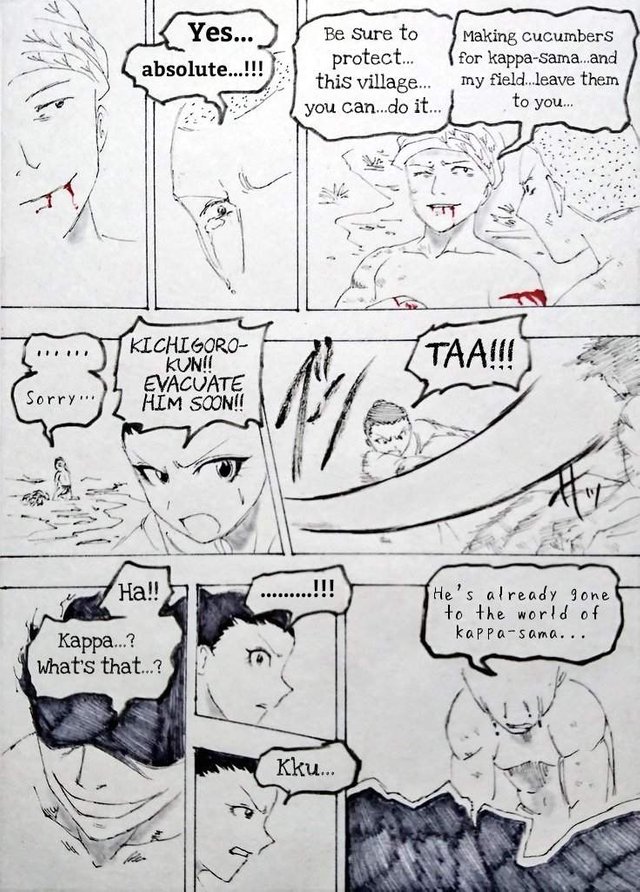 Making cucumbers for kappa-sama…and my field...leave them to you...
Be sure to protect…this village...you can…do it...
Yes…absolute…!!!
Kichigoro-kun!! Evacuate him soon!!
Sorry…
He's already gone to the world of Kappa-sama...
Ha!! Kappa…? What's that…?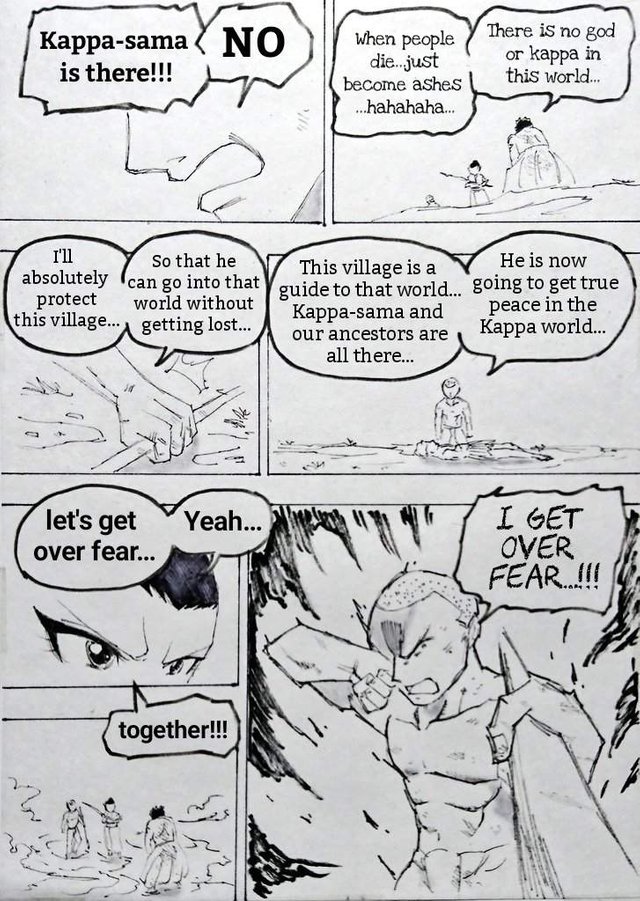 There is no god or kappa in this world...
When people die…just become ashes... hahahaha...
No Kappa-sama is there!!!
He is now going to get true peace in the Kappa world…
This village is a guide to that world...Kappa-sama and our ancestors are all there...
So that he can go into that world without getting lost...
I'll absolutely protect this village...
I get over fear…!!!
Yeah…let's get over fear…together!!!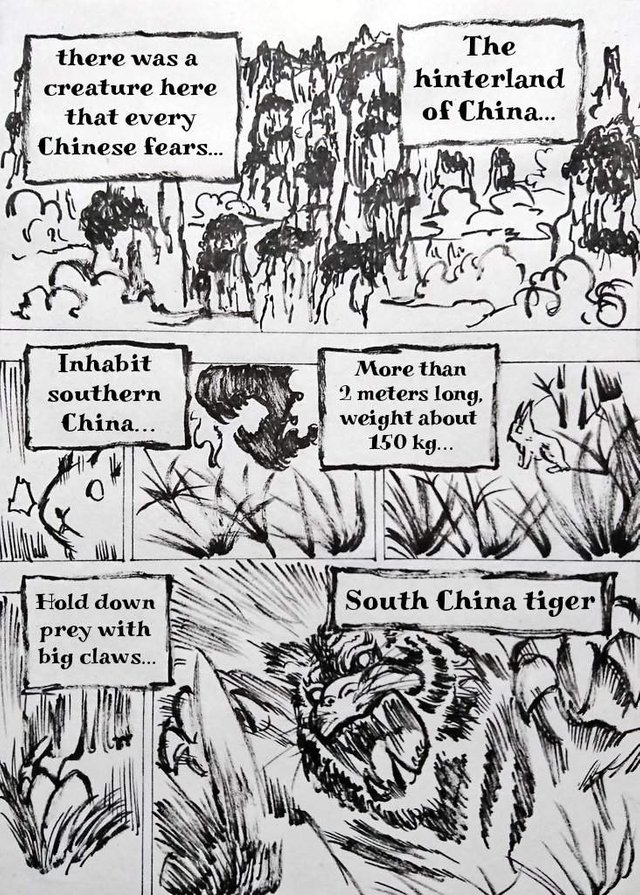 The hinterland of China...
there was a creature here that every Chinese fears...
More than 2 meters long, weight about 150 kg…
Inhabit southern China…
South China tiger.
Hold down prey with big claws...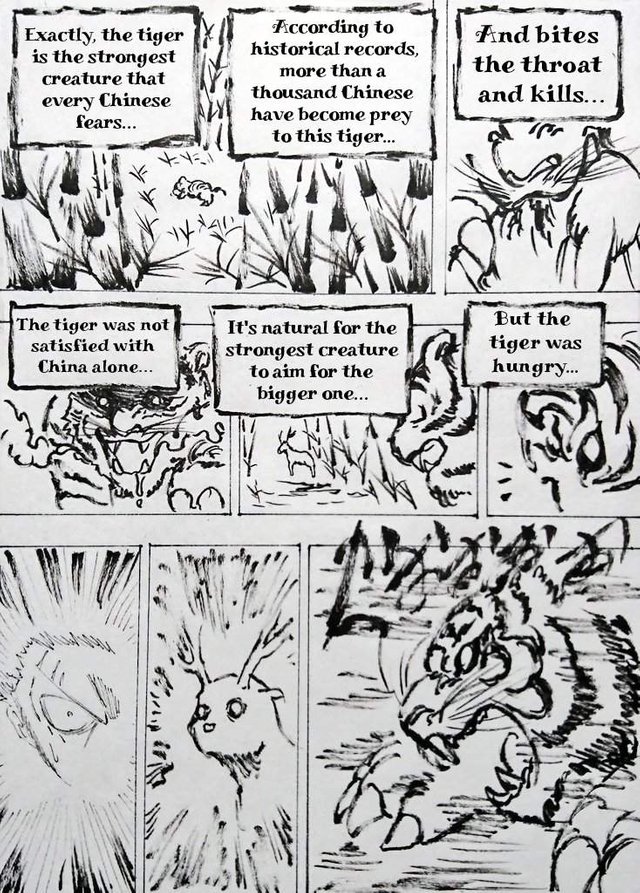 And bites the throat and kills…
According to historical records, more than a thousand Chinese have become prey to this tiger...
Exactly, the tiger is the strongest creature that every Chinese fears…
But the tiger was hungry...
It's natural for the strongest creature to aim for the bigger one…
The tiger was not satisfied with China alone…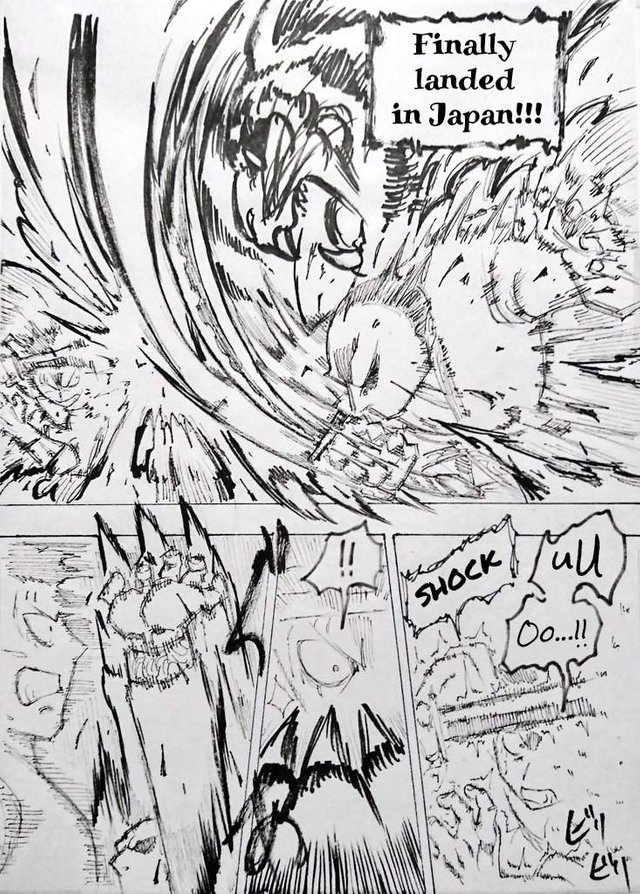 Finally landed in Japan!!!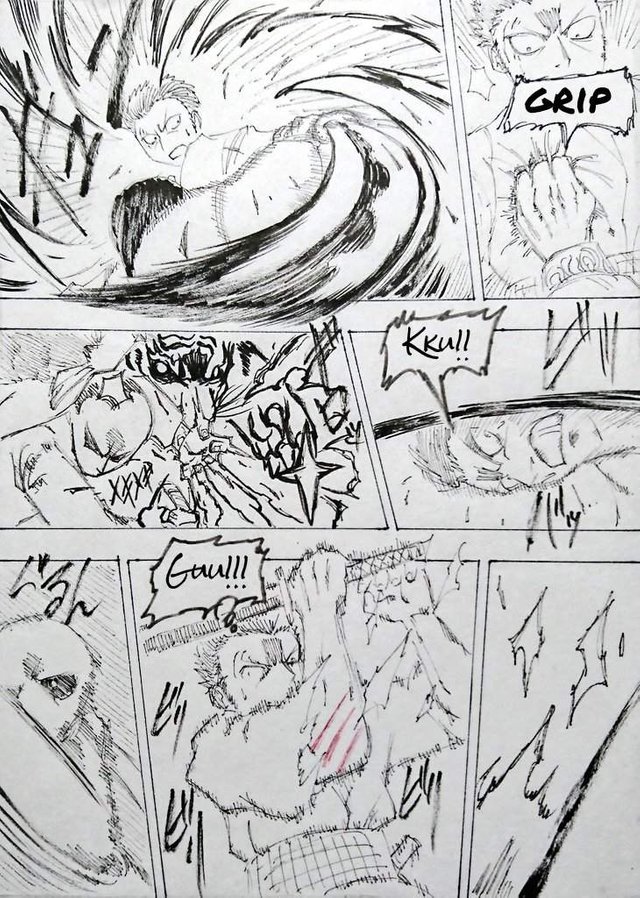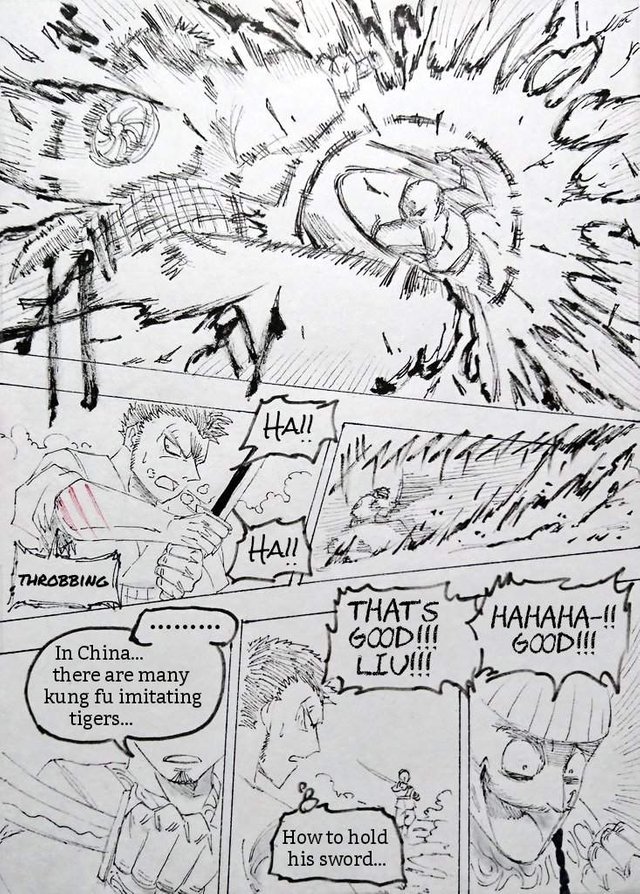 Good!!! That's good Liu!!!
How to hold his sword...
In China...there are many kung fu imitating tigers…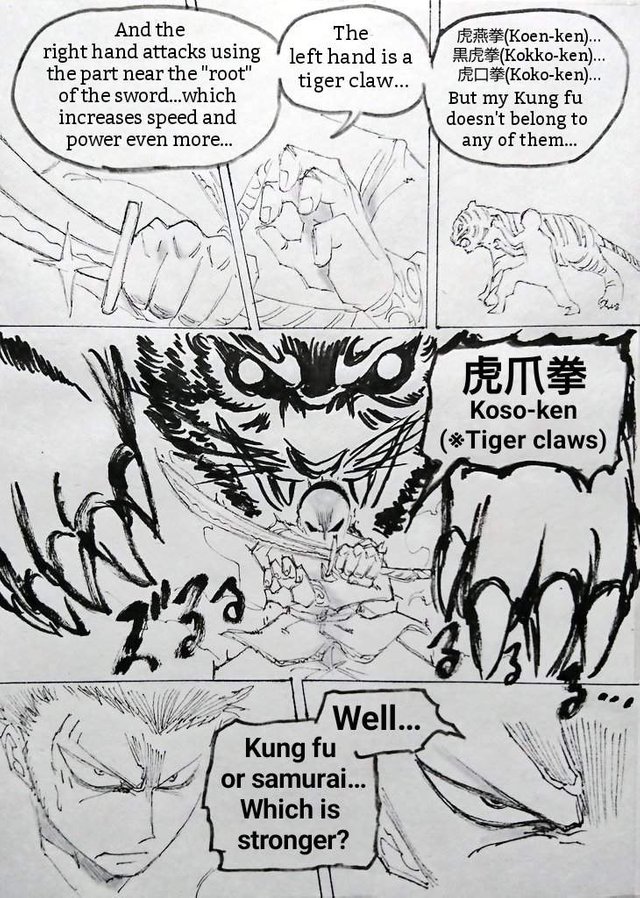 虎燕拳(Koen-ken)…黒虎拳(Kokko-ken)…
虎口拳(Koko-ken)…But my Kung fu doesn't belong to any of them...
The left hand is a tiger claw...
And the right hand attacks using the part near the "root" of the sword…which increases speed and power even more...
虎爪拳(Koso-ken)=※Tiger claws.
Well…Kung fu or samurai…Which is stronger?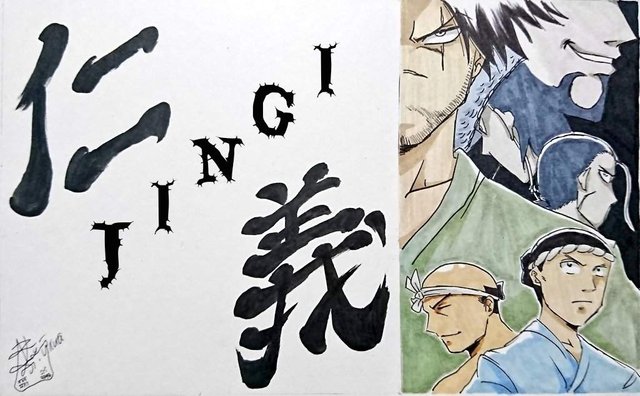 process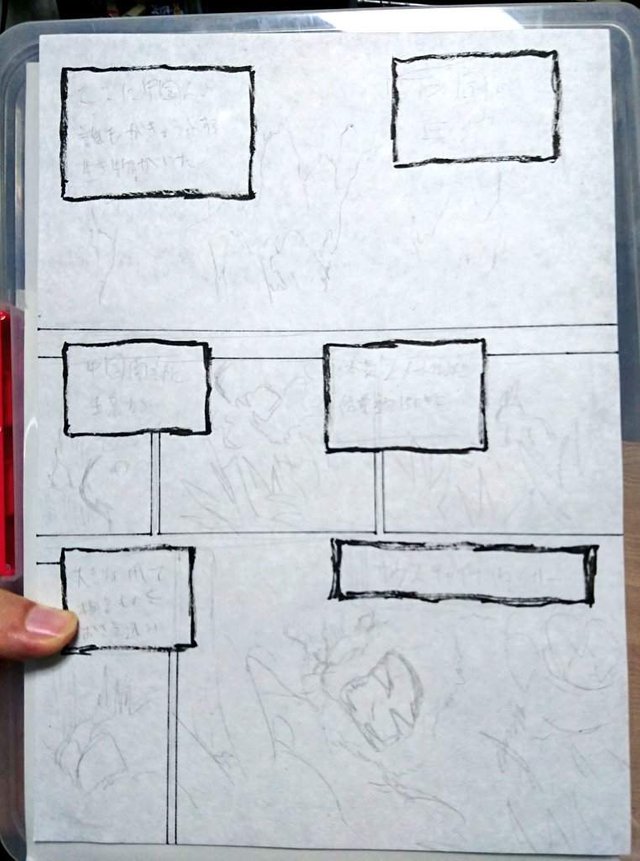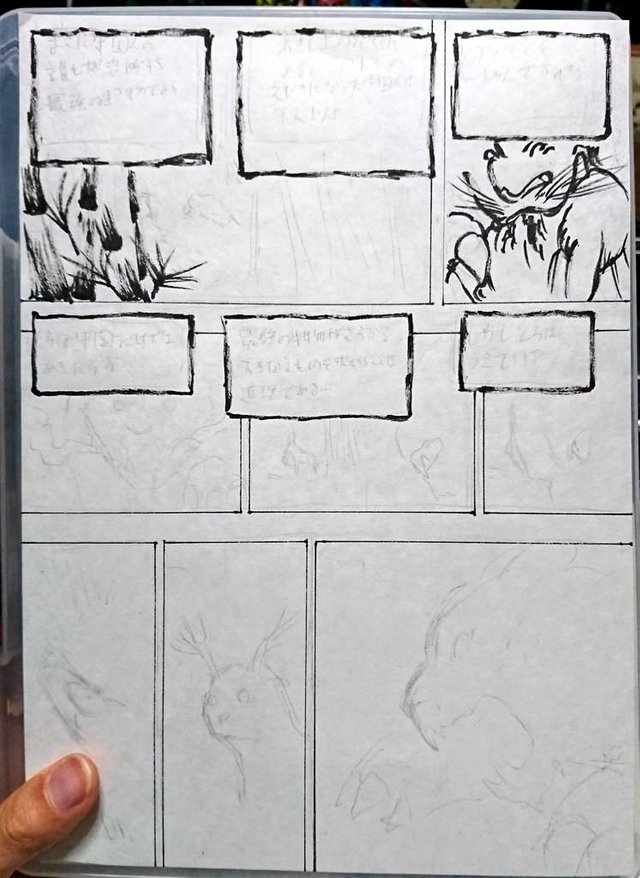 Next chapter will be posted in 6-9 days!
Thank you for reading!
Arigatou gozaimashita!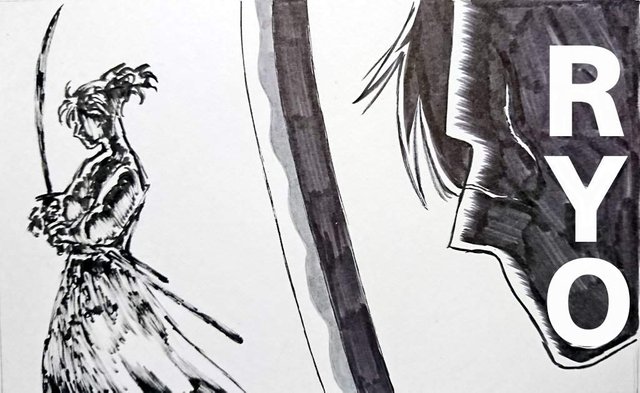 Have not you seen the -Jingi-仁義 series yet?
My Original Samurai manga -Jingi-仁義 can be seen here!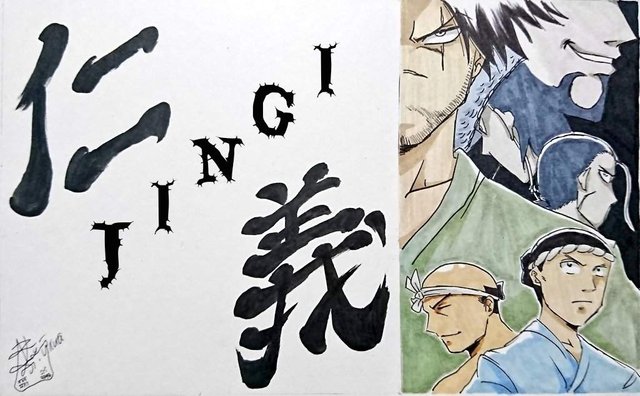 Chapter 1-2-3-4-5-6
https://partiko.app/ryo-6414/my-original-samurai-manga-jingi-chapter1-2-3-4-5-6?referrer=ryo-6414
Chapter7
https://partiko.app/@ryo-6414/the-samurai-manga-jingi-chapter7-grqawewf
Chapter8
https://partiko.app/@ryo-6414/the-samurai-manga-jingi-chapter8-ttoreio0
Chapter9
https://partiko.app/@ryo-6414/the-samurai-manga-jingi-chapter9-hsqg1hln
Chapter10
https://partiko.app/@ryo-6414/the-samurai-manga-jingi-chapter10-ndtrvpio
Chapter11
https://partiko.app/@ryo-6414/the-samurai-manga-jingi-chapter11-u1uou8kh
Chapter12
https://partiko.app/@ryo-6414/the-samurai-manga-jingi-chapter12-amvjv9zp
Chapter13
https://partiko.app/@ryo-6414/the-samurai-manga-jingi-chapter13-bmpvkucw
Chapter14
https://partiko.app/@ryo-6414/the-samurai-manga-jingi-chapter14-ei5ga7kk
Chapter15
https://partiko.app/ryo-6414/the-samurai-manga-jingi-chapter15-bzsgcipn?referrer=ryo-6414
Chapter16
https://partiko.app/ryo-6414/my-original-samurai-manga-jingi-chapter16-2erk8o7d?referrer=ryo-6414
Chapter17
https://partiko.app/ryo-6414/my-original-samurai-manga-jingi-chapter17-zkggrwuu?referrer=ryo-6414
Chapter18
https://partiko.app/ryo-6414/my-original-samurai-manga-jingi-chapter18-gs27fsdh?referrer=ryo-6414
Chapter19
https://partiko.app/ryo-6414/my-original-samurai-manga-jingi-chapter19-lrnweqqi?referrer=ryo-6414
Chapter20
https://partiko.app/ryo-6414/my-original-samurai-manga-jingi-chapter20-2en9sfrq?referrer=ryo-6414
Chapter21
https://partiko.app/ryo-6414/my-original-samurai-manga-jingi-chapter21-vu8lonac?referrer=ryo-6414
Chapter22
https://partiko.app/ryo-6414/my-original-samurai-manga-jingi-chapter22-5fusqjsh?referrer=ryo-6414
Chapter23
https://partiko.app/ryo-6414/my-original-samurai-manga-jingi-chapter23?referrer=ryo-6414
Chapter24
https://partiko.app/ryo-6414/my-original-samurai-manga-jingi-chapter24?referrer=ryo-6414
Chapter25
https://partiko.app/ryo-6414/jyjmg-my-original-samurai-manga-jingi-chapter25?referrer=ryo-6414
Chapter26
https://partiko.app/ryo-6414/my-original-samurai-manga-jingi-chapter26?referrer=ryo-6414
Chapter27
https://partiko.app/ryo-6414/my-original-samurai-manga-jingi-chapter27?referrer=ryo-6414
Chapter28
https://partiko.app/ryo-6414/my-original-samurai-manga-jingi-chapter28?referrer=ryo-6414
Chapter29
https://partiko.app/ryo-6414/my-original-samurai-manga-jingi-chapter29?referrer=ryo-6414
Chapter30
https://partiko.app/ryo-6414/my-original-samurai-manga-jingi-chapter30?referrer=ryo-6414
Chapter31
https://partiko.app/ryo-6414/my-original-samurai-manga-jingi-chapter31?referrer=ryo-6414
Chapter32
https://partiko.app/ryo-6414/my-original-samurai-manga-jingi-chapter32?referrer=ryo-6414
Chapter33
https://partiko.app/ryo-6414/my-original-samurai-manga-jingi-chapter33?referrer=ryo-6414
Chapter34
https://partiko.app/ryo-6414/my-original-samurai-manga-jingi-chapter34?referrer=ryo-6414
Chapter35
https://partiko.app/ryo-6414/my-original-samurai-manga-jingi-chapter35?referrer=ryo-6414
Chapter36
https://partiko.app/ryo-6414/my-original-samurai-manga-jingi-chapter36?referrer=ryo-6414
Chapter37
https://partiko.app/ryo-6414/my-original-samurai-manga-jingi-chapter37?referrer=ryo-6414
Chapter38
https://partiko.app/ryo-6414/my-original-samurai-manga-jingi-chapter38?referrer=ryo-6414
Chapter39
https://partiko.app/ryo-6414/my-original-samurai-manga-jingi-chapter39?referrer=ryo-6414
Chapter40
https://partiko.app/ryo-6414/my-original-samurai-manga-jingi-chapter40?referrer=ryo-6414
Chapter41
https://partiko.app/ryo-6414/my-original-samurai-manga-jingi-chapter41?referrer=ryo-6414
Chapter42
https://partiko.app/ryo-6414/my-original-samurai-manga-jingi-chapter42?referrer=ryo-6414
Chapter43
https://partiko.app/ryo-6414/my-original-samurai-manga-jingi-chapter43?referrer=ryo-6414
Chapter44
https://partiko.app/ryo-6414/my-original-samurai-manga-jingi-chapter44?referrer=ryo-6414
Chapter45
https://partiko.app/ryo-6414/my-original-samurai-manga-jingi-chapter45?referrer=ryo-6414
Chapter46
https://partiko.app/ryo-6414/my-original-samurai-manga-jingi-chapter46?referrer=ryo-6414
Chapter47
https://partiko.app/ryo-6414/2020-first-chapter-my-original-samurai-manga-jingi-chapter47?referrer=ryo-6414
Chapter48
https://partiko.app/ryo-6414/my-original-samurai-manga-jingi-chapter48?referrer=ryo-6414
Chapter49
https://partiko.app/ryo-6414/my-original-samurai-manga-jingi-chapter49?referrer=ryo-6414
Chapter50
https://partiko.app/ryo-6414/my-original-samurai-manga-jingi-chapter5?referrer=ryo-6414
All my mangas drawn in "Washi(和紙)"
It is a traditional Japanese paper made from 1300 years ago.
This is my Washi of post↓
https://steemit.com/traditional/@ryo-6414/washi-is-process-work-dlm5nqgq