CHANGING THE GLOBAL SHIPPING INDUSTRY WITH BITNAUTIC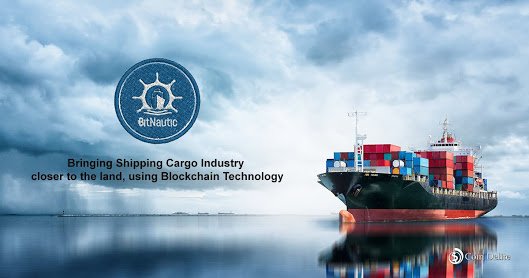 OVERVIEW 
The complexity of today's shipping industry and its utmost importance to world trade cannot be over-emphasized. This very important industry is plagued with many challenges, consequently, manufacturers and shippers all around the world are finding it difficult to operate profitably.
The Problems
The shipping industry is facing a tough future. Archaic system, security threat, increasing regulations, over-capacity, a high number of intermediaries, lack of transparency, and high freight rate are some of the problems been faced by the shipping industry. These problems are driving this sector toward exploring new and modern solutions and are highlighted below.
Security Threats 
The growing number of piracy and armed robbery against ships around the world is a worrying trend. The latest of these security threats is the threat caused by hackers. Most advanced ships are increasingly exposed to cyber threat caused by hackers.
Environmental Regulations 
The increasing number of carbon dioxide gas emitted annually by the activities of the shipping industry globally is alarming. These emiher ssions have a great effect on our environment and it aids global warming. It is also predicted that if these emissions are left uncontrolled, it will increase by more than 250% in the next fifty years.
Overcapacity
It has been reported by UNCTAD that sea trade increased by 2.6% in 2016 to 10.3 billion tons. Though this may be seen as a welcome development this increase has a detrimental effect on the industry carrying capacity due to supply-demand imbalance leading to overcapacity
Lack of Transparency
Tracking issues are very important in the global shipping industry as these allow stakeholders to know which vessel is carrying their freight. a bad tracking system which may be due to many factors can lead to a lack of transparency.
![IMG_20180715_192110_040.JPG](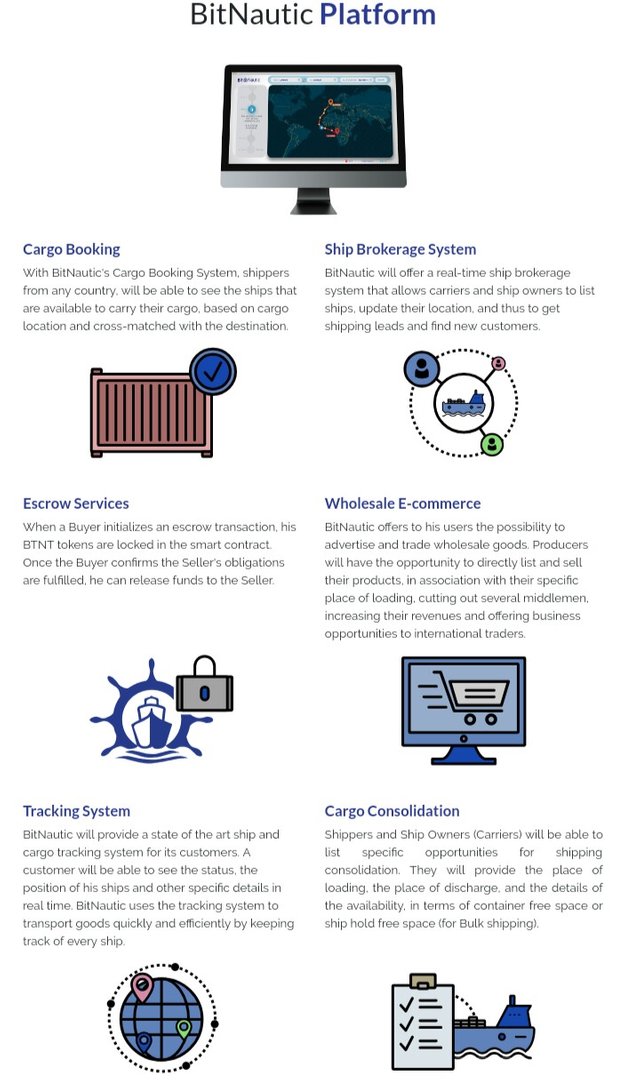 )
The BitNautic Solution
BitNautic is a platform based on the Ethereum Blockchain. It is specially designed and invented to help solve those numerous challenges being faced by the shipping industry. It is developed to efficiently match the demand and supply of shipping services for all shipping stakeholders which includes manufacturers, ship owners, brokers, importers, and exporters. Its vision is to contribute to the digitalization and decentralization process of the shipping industry, and to also help grow the industry in developing countries in a transparent manner thereby increasing international trades, knowledge sharing, public-private partnerships and fostering cooperation among government regulators and industry stakeholders.
BitNautic has started its operations in developing countries of Africa. The activities of BitNautic will be further supported by the sale of the BitNautic Token (BTNT) which will be used to access the BitNautic platform.
services the BitNautic platform offers
BitNautic Token (BTNT)
The BitNautic Token (BTNT) is an Ethereum smart contract compliant tokens, ERC20, which will be used in the BitNautic platform to access all BitNautic services.
BitNautic intends to sell 35,000,000 BTNT to raise 50,000 ETH in its Initial Coin Offering (ICO). The proceeds from the sale will be used to develop, expand and support all BitNautic operations. These BTNTs can be traded on the Blockchain network at any time as the holder may deem necessary.
In accordance with the roadmap, Bitnautic platform could be made available for Public testing (public beta) in Q3 
THE UTILITY OF THE BTNT TOKEN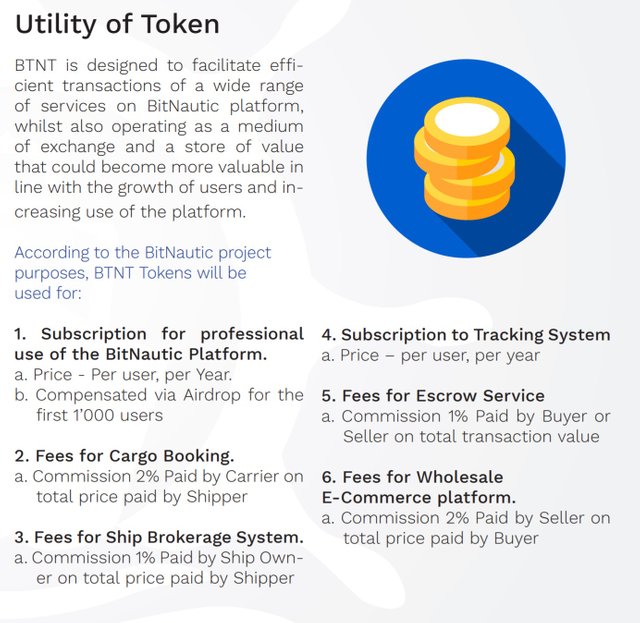 ROADMAP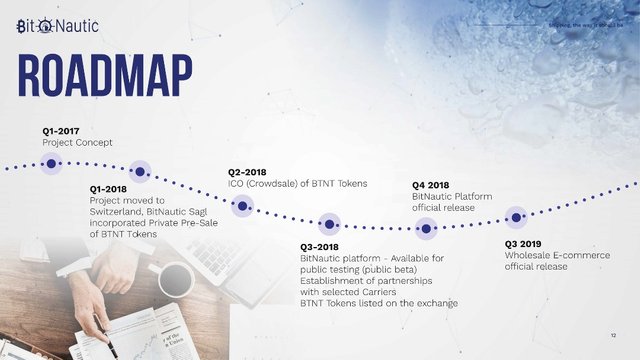 BITNAUTIC BENEFIT COMPARISON TABLE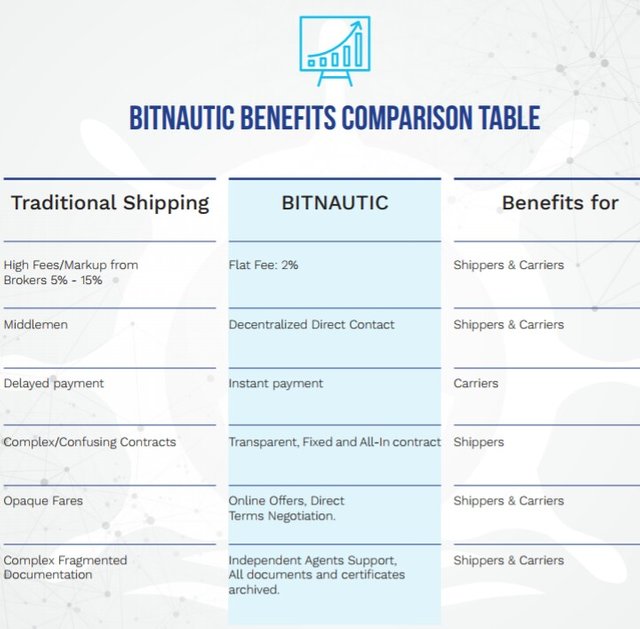 THE TEAM BEHIND THE BITNAUTIC PLATFORM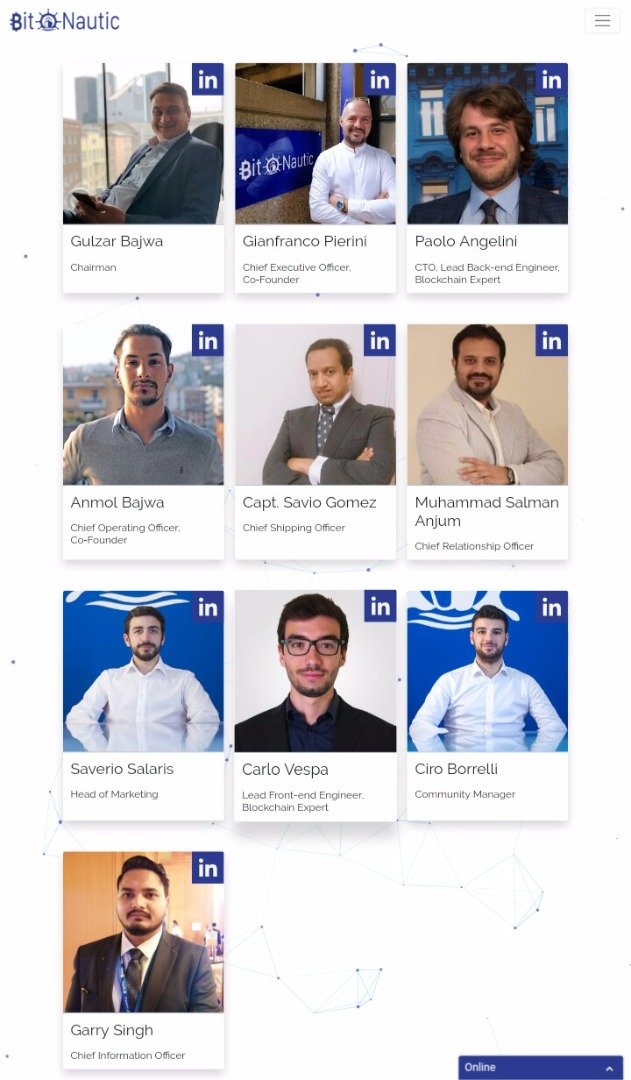 THE ADVISORS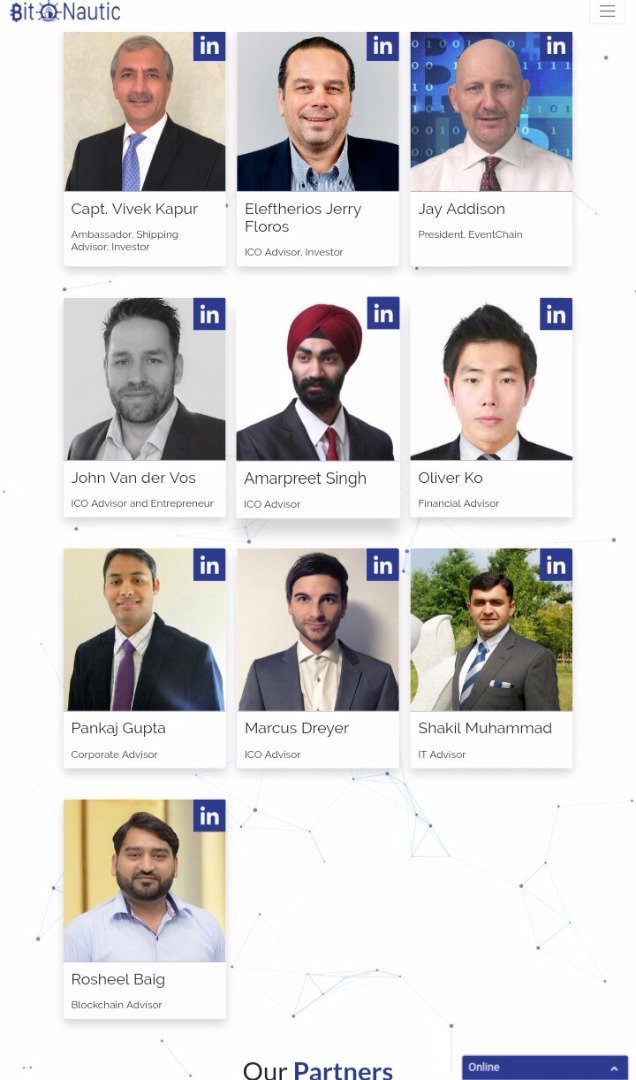 Official Website https://bitnautic.io
🚀 2nd Phase of our ICO is live now July 11th to September 15th.
💲 Soft Cap 2.500.000 BTNT
💲 Hard Cap 25.000.000 BTNT
⚪️ Total token supply 50 Million
🔘 Tokens to be sold 35 Million
⚡️ Official Channel https://t.me/bitnautic
✔️ BitcoinTalk ANN Thread https://bitcointalk.org/index.php?topic=3351552
✔️ Whitepaper https://bitnauticcdn-bb3d.kxcdn.com/public/white-paper-en.pdf
✔️ Facebook : https://www.facebook.com/bitnautic
✔️Instagram:
https://www.instagram.com/bitnautic
✔️ Twitter : https://twitter.com/BitNautic
✔️ Medium : https://medium.com/@bitnautic
✔️ LinkedIn: https://www.linkedin.com/company/bitnautic-official/
✔️ Reddit: https://www.reddit.com/r/bitnautic
✔️ GitHub: https://github.com/Bitnautic
✔️ Tutorial to buy BTNT: https://medium.com/@6617ca7bff2d/208892bf1a61
✔️ All tokens will be distributed after the ICO
WRITER == Browncephas
Ether Wallet address == 0xEe37122340b4fC9c37896f32c5a2e5A63a843036
BITCOINTALK PROFILE https://bitcointalk.org/index.php?action=profile;u=1384207;sa=summary
BITCOINTALK USERNAME~ Browncephas