Blatent Gold Manipulation
One of the reasons I'm so long term bullish on the price of Gold and precious metals is that the manipulation of prices is just so blatantly obvious. This type of market control is illegal and clearly immoral, but the Powers that Be just look the other way because it serves the purpose of propping up the dollar and thus the whole American way of life. Don't get me wrong, I'm not looking forward to living in a world where gold is $10,000+ an ounce because that will mean tough times for everyone, but FFS this is just ridiculous.
Earlier this morning before the "market" /sarc was even fully open, someone decided it was a good time to sell almost 20,000 (100 ounces of Gold each) contracts in 3 minutes into an ill-liquid market. $2,000,000,000+ (over 2 Billion Dollars) worth of "paper" gold in 3 minutes. Anyone looking to get the best price and maximize their profit would spread that out over a much longer period of time. Its such a joke these events are never investigated.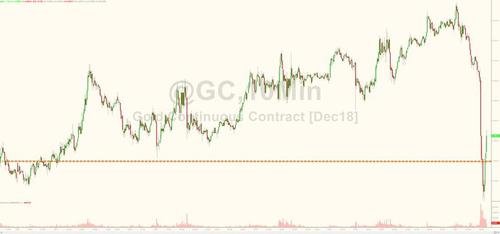 Source
Its pathetic that the CFTC allows this to continue. Nothing to see here, just move along. It can't continue forever but it has continued on for longer than I'd image. The sheep are just to happy being sheered I guess.
The funny part is, it took $2,000,000,000 dollars and the price still only moved $14 and has already gained $4 back. They will lose control of this market eventually. Rhodium still seems unstoppable.