The Revised ColorlessPaper For Marlians.com
Some History.
Read the initial paper here.
Our witness name is 'steemgigs' and we have been on the steem blockchain for up to '3 years'. Leading up to marlians.com, we have carried out many community endeavors starting with 'tags'. Some successful tags have been '#untalented', '#teardrops', '#steemgigs', '#ourmamaterry' and the more recent '#ulog', which was been used by some 5,600 steemians and which emanated 'some 20,000 posts & 197,000 comments' after the first 4-months of its inception. See recent stats.
All our projects have built on the steem blockchain so far. Besides marlians.com, we have a collection of projects, 'ongoing & upcoming' and here is a small list:
ulogs.org
steemgigs.org
teardrops.network
Our projects target 'real human growth'; applies 'blockchain technology' to use in returning 'value' to 'humans' and emanates 'down-to-earth' innovations. When it comes to our reward-distribution model, we apply one called 'proof of tears', rewarding activities that 'mine the human'.
The entire Teardrops ecosystem is built around a growing 'grey-list of 'certified' uloggers'. Read more 1, 2, 3, 4
Marlians is a project emanating from the Teardrops ecosystem and carries similar tenets. It is a SCOT-enabled steem-interface that is opened to 'all content-type' and 'all locations', aiming at rewarding 'greatness' or 'true celebrity-hood'. Besides, it seeks to reward things like, 'display of human virtues', 'attempts at out-of-the-boxness', un(dis)talentedness, 'past deeds', 'activities that mine the human' etc
See this: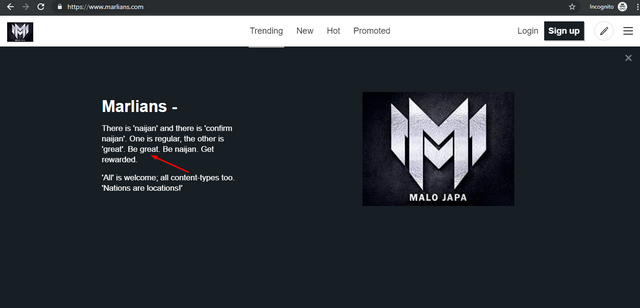 Read some more about Marlians.com here 1, 2
Marlians applies a 'surpassinggoogle' paradigm, aiming at removing all 'barriers to entry' from 'everything good', making 'everything good' available to every(any)one; abating half-humanism & hand-to-mouthism and emanating 'generation fixers'. 
"Content" thus, is key aspect of our model, where "content is queen"; dynamic, ever-refreshing and 'a product of U'. 
We will play out an entire curriculum that that propels 'content-creation and content-curation' as a tool to 'mine the human'. This means that over the course of time, "content" on marlians.com will begin to tend towards "ulogging-style content".
Marlians.com is open to everyone; 'each human'! However, our front-end as a theme called "naijan", enabling us to 'target the masses' more efficiently, by feeding off social-trends that emanate from a particular location and that we are well-familiar with.
Note that our enterprise model seeks to explore the use of 'viral tags' and this is the reason behind having a UI-theme. Read more.
Project model
See this: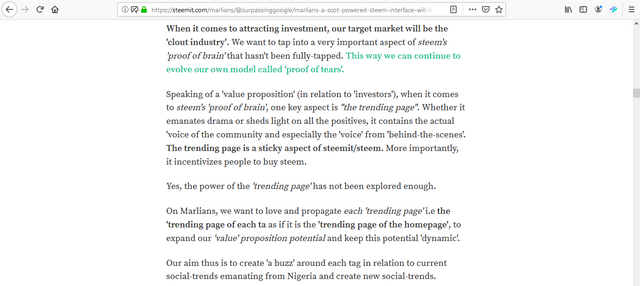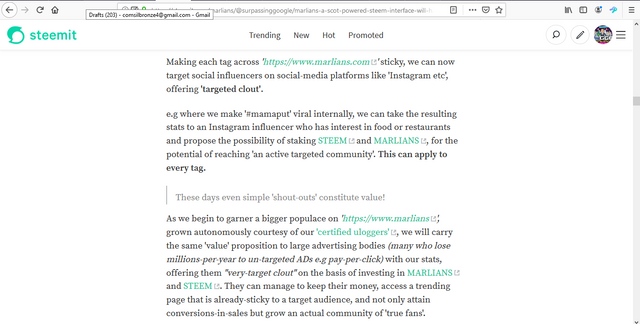 Read more...
When Should I Use The #marlians tag?
We welcome and support 'all content-type' and 'all locations'. We value each human.
We are also about "uniting communities". This means that we will welcome and support content from other steem tribes and this is already in motion. 
We are a home and a close-knit family 'moving together' and this means that we will share "even our limited resources". To this effect, we are evolving a portfolio in 'steem-tribes-stake' that we use to curate 'content from other tribes' found on 'marlians.com' and our portfolio currently looks like this:
Executive Summary
Quick Keynote:
We aren't so executive. The 'paradigms of the world' is shifting. There is 'rare intel' even in the hands of the 'legit illiterate'. We are about 'beautiful disruption'; sifting 'sense' even from 'nonsense'. So that the world finds 'balance', we are about emanating down-to-earth innovations; taking the more-testimonial harder route.
Our aim is to return 'value' to 'human'. "Everyone has something to offer". Flaws allowed!
The 'MARLIANS token offering' covers the following:
Initial distribution
Ongoing distribution
Initial distribution
Since, we are targeting the masses and aiming to create a home for 'each human', a maximum of 5,000,000 MARLIANS will issued first or as needed and here is a breakdown of how:
30 percent to '@marlians'. (Since our 'growth' model involves making each 'tag' sticky and buildingautonomously-grown communities', the said amount will be staked across 'a growing number of community-based accounts' to serve respective 'tags'. See sample of our communities here and here. The 'influence' of these community-based accounts will be controlled by 'a growing number of 'certified' uloggers' who would oversee and grow these respective tag-spaces and 'eventual communities'. As we complete the development of our automation-tools, 'certified uloggers' who oversee respective communities, will be able to summon a 'related community-based account' to vote, 'only on others' who have contributed content under a tag that they oversee. Ultimately, the said '30 percent' will be used primarily to shape our platform with focus on 'powering communities'. It will also be used to effect a 'burn-mechanism', where that is necessary.)
10 percent to team/certified uloggers: (Speaking of a team, we want to have a 'wide jurisdiction' of members. While we can name some core team-members, like @tobias-g, @eastmael, @lagosnewyorker, @surpassinggoogle we intend to involve everyone. This means, that our team will constitute also of 'certified uloggers' who have become 'true fans' of what we represent and are abreast with each aspect of our ecosystem. To create a home on marlians.com, we will look to share a portion of the said '10 percent' with 'certified uloggers' who become part of the team. For a start, we will share 100,000 MARLIANS among the aforementioned users to enable us curate marlians.com more efficiently. More details about our growing team will be made available in subsequent updates.)
25% goes to 'drops' (tear-drops): (It will be an ongoing type of 'drop', one that targets 'project growth' and 'real human growth'. A top consideration in our drops is 'some 5,600 steemians' who have ulogged. We also want to unite communities; thus, we will also derive 'a list' based on 'an analysis of various tribes' and give 'drops' to active users from these tribes. Then, there will be ongoing 'drops', that rewards 'activities that mine the human', 'past deeds' etc Ultimately our drops will be gradual and ongoing and this has already started. Tomorrow, we will be sending out MARLIANS (drops) to some '362 early users'. We will progressively publish related-updates) 
5% goes to '@marlians.macrohard': (This a fund to aid development, especially 'UI/UX development'. We want to be open to contributions from 'community developers/programmers' and we will need a means to curate their contributions or make 'direct payments'. Where necessary, some of these fund may be sold strategical to accrue steem for 'account-claims', 'purchasing stake in other tribes to support our community', 'pay developers in steem' etc. For the most part, the said 5% will be staked and used to curate 'programming-related content/contributions' found on '#macrohard' etc.
30% to sales (We will have " large sell-orders" as needed but starting at 0.2 STEEM, "the original MARLIANS price" and iterate this amount but only towards a higher price. "Proceeds" will be used primarily to 'power-up STEEM', to enable us on-board more users (steem-account-claims) and support our existing community directly on steem. Some proceeds can also go towards further development, AD-budget etc We will need to weigh matters when it comes to things like an 'IEO' etc as we would like to get MARLIANS on other exchanges too. Note: Some portion of this 30% was already put on the market at the start of 'marlians.com' as mentioned here. A portion of this amount was sold but our set-price has stayed at '0.2 STEEM' since then. The current 'price of MARLIANS' as seen on steem-engine is a reflection of 'the price' as determined by the community.)
Ongoing Distribution
Proof of Brain/Tears
Besides the initial issuance of MARLIANS, the ongoing distribution of MARLIANS is handled by SCOT, via a 'proof of brain' model. 
As we are trying to implement a 'proof of tears' variation of distribution, we are still analyzing our platform to ascertain the best token-emission-rate. This means that the current pool or token emission-rate may be increased where necessary, to make it sufficient for our plans to 'cater to each human'.
The current token-emission currently constitutes 'hundred percent' of the 'ongoing distribution' and is currently set to reduce by 1% each year, until it gets to 4%, whereupon it stays.
We will make an announcement if the token-emission-rate changes.
Proof of Mining 
We may consider have this in the near future. Where that happens, there will be only 'a limited amount of miners' and 'proof of mining' will constitute only a small percent of the 'ongoing distribution'.
Growth Plans
When it comes to 'growth', we want it to be organic and "inside-out" and with primary focus on 'real human growth'. Our success isn't measured in 'bulls or bears' and to this effect, we need a strong-based of 'humans' & 'true fans'. Thus, we are building our whole ecosystem around a growing 'greylist of certified uloggers'. Every(any)one can get certified by completing the four simple-steps here.
Besides, using simple 'tags', we will be playing out 'entire curriculum(s)' modeled to 'mine the human'. 
Where we can emanate 'true celebrities', many more noble dreams will stem forth; many more generations will be fixed.
Where we manage to 'shine' together and shine forth this 'particular breed of shine', even tunnels will find light and the masses will come around.
As reiterated earlier and here, we will use the simple things that we have to 'create a home on marlians.com', starting with 'tags'. Certified uloggers will be able to oversee respective tags in relation to their interests/noble-dreams and be given extra-influence to grow these spaces.
We will also unite other steem-communites/tribes via 'tags' and create a home on marlians.com first. Then, once 'marlians.com' is renown across the internet as 'a home', "the people will come home".
As regards innovation, we will emanate 'down-to-earth innovations' dynamically, all posed to further return 'value' to humans. One such innovation is 'ulogging'. Read more about ulogging here. 
As regards curation, we will 'curate the human' primarily. We want to use curation as a tool 'to show care'; as a tool to 'mine the human'. Thus, via curation we will also reward things like 'past deeds', un(dis)talentedness, 'display of human virtues' etc; further removing 'all barriers to entry' and creating a home.
These among other things is our edge.
In due time, once a home is set; 'sticky tags', 'trendy tags' etc, we will begin to reach out to 'the rest of the world', inviting to 'a home' whereupon they can find reputable 'true fans'.
Utility/Sinks - MARLIANS
Current Sinks/Utility
In the near term, we will aim at creating 'sticky tags'; after which 'users' will be able to pay 'in MARLIANS' to have featured banners/posts/updates 'per tag-space'. See sample of such a tag on 'https:/www.marlians.com/created/ulog'
We already have a post-promotion feature that allows users to 'pay in MARLIANS'.
Upcoming Sinks/Utility
Users will be able to avail of 'consultancy services' from reputable steemians on 'https://www.marlians.com/bropro'.
Users will be able to avail of 'creations' of other users from a marketplace, using MARLIANS.
Users will be able to avail of 'clout' from social-influencers, using MARLIANS
Users may be able to avail of 'votes related to other steem-tribes', paid 'in MARLIANS'. (this is provisional)
Users will be able to reach their favorite steemians via video/audio calls, using MARLIANS.
Users will be able to speak about their projects on some renown steem-based discord talk-shows, using MARLIANS
Users will be also able to avail of gigs on 'https://steemgigs.org', using MARLIANS.
etc
Gain further insights into our upcoming sinks by visiting this Github. You can also take a look at 'https://steemgigs.org/bropro' & 'https://ulogs.org/grow'.
Still want more insight? See these images: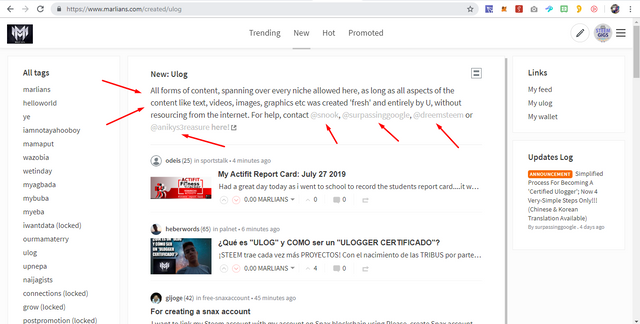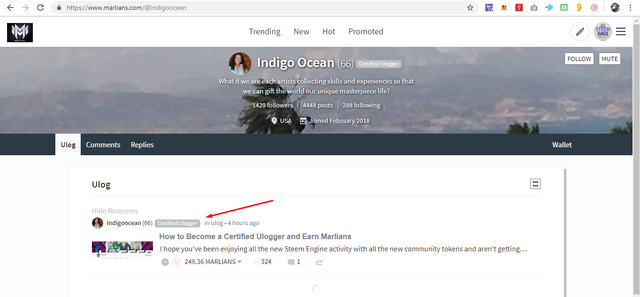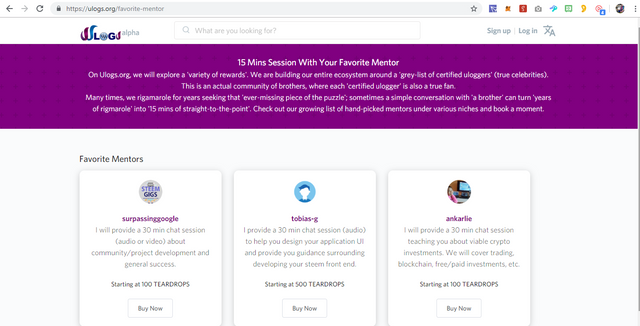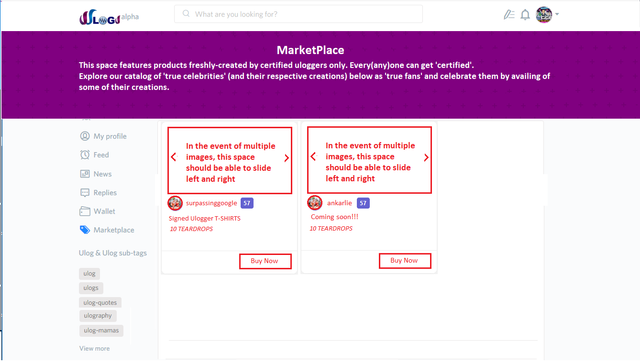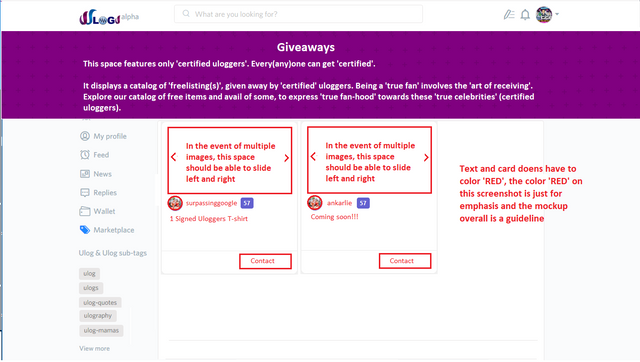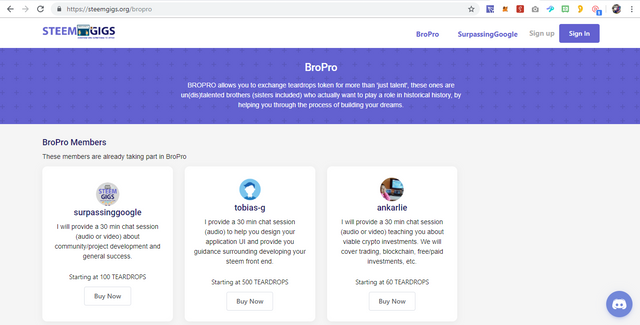 Read more...
Near-Term Focus.
Complete simple development-tasks e.g "turn 'tags' into 'small communities' and add overseers".
Complete the development of automation-tools e.g "summon-bots for respective communities & discord-bots".
Upgrading portfolio in tribes-stake to supports content from other tribes, found on 'marlians.com'
Propagate/promote current sinks.
Establish an efficient token-emission-rate.
Complete near-term 'drops'.
Grow the list of certified uloggers and intimate them via chat/curation on core aspects of our ecosystem
etc.
Upcoming/Long-Term Plans
Take UI/UX development to an optimal level
Increase stake 'in STEEM' to on-board the masses (via account claims).
Unite every steem-community
Grow all TV(S), namely MarliansTV, UloggersTV, TeardropsTV, UntalentedTV
Allow for 'lite-use' of marlians.com, by non-steemians.
Target investors (e.g social influencers etc), offering them 'clout'.
Get MARLIANS on other exchanges.
etc.
Revenue model. 
We are simply 'creating a home'. This is our primary focus!
We aren't out to "promise gains or dividends to users". Our keen interest is in using 'even our limited resources' to help each of our user grow; "real human growth!" We simply want to create a home; a home that moves together.
Thus, our ecosystem is build around a growing 'greylist of certified uloggers'.
As we are building around 'a grey-list of certified uloggers', these ones will pay a small amount each month, 'always in the range of 1-USD'. Currently, this payment is done 'in STEEM'.
As we begin to derive solid 'stats' in terms of 'user-base per tag' etc, we will begin to on-board mainstream social-influencers etc who can avail of 'targeted paid ad-spaces' on these respective tags.
We will also look to grow the user-base of our various TV(s) to raise revenue via mainstream ADs (YouTube) etc and where deemed feasible, we may make use of google ADs on marlians.com etc
Most Use Of Funds Will Go Towards Project Development & Communities.
We will build and innovate dynamically. Yes, we will continue to emanate down-to-earth innovations aimed at 'returning value to human'. Besides marlians.com, here are other major projects that we are building:
Ulogs.org
Steemgigs.org
Teardrops.network
Macrohard.pro
MARLIANS Settings
A' 7-days payout' window.
Unstaking occurs in similar fashion as steem (subject to change over time)
Scotbot Settings
Here's the list of initial settings for SCOT:
author_curve_exponent: 1.05
author_reward_percentage: 50
beneficiaries_account: null
beneficiaries_reward_percentage: 0
cashout_window_days: 7
curation_curve_exponent: 0.5
downvote_power_consumption:2000
downvote_regeneration_seconds: 432000
downvote_window_days: -1
enable_account_muting: false
enable_comment_beneficiaries: false
issue_token: true
json_metadata_key: tags
json_metadata_value: marlians, ulog
other_pool_send_token_per_year: 365
pob_pool_percentage: 100
post_reward_curve: default
promoted_post_account: marlians (subject to changed to @null, where deemed necessary)
reduction_every_n_block: 10512000
reduction_percentage: 1
rewards_token: 186
rewards_token_every_n_block: 400
token: MARLIANS
token_account: surpassinggoogle
vote_power_consumption: 200
vote_regeneration_seconds: 432000
vote_window_days: -1
Disclaimer
Marlians.com wants to offer a 'social experience' filled with 'close-knit communities'. We love what steem represents and we want to further its growth. Where necessary, we may switch over to SMT, whenever it is implemented.
We aren't here to offering promises of gains or profits to our users. The token price as seen on steem-engine isn't determined by 'us' and fluctuates based on the value that 'users of the token' give it.
Your Boy Terry
Get Certified
First 1000 certified uloggers will get 50 MARLIANS. This aside other ongoing drops.
Steps 1: Send '5 STEEM' to '@marlians' with this memo; '1 month certification'. 
Step 2: Do a 'ulog' via 'marlians.com' discussing the process of 'how you became a certified ulogger'. Make sure to use '#ulog'. 
Step 3: Subscribe to 'UloggersTV YouTube'. 
Step 4: Fill up this google form. 
If you desire, you can DM '@surpassinggoogle#1660' on discord when you are done with the steps, to hasten the process.
Note: Where you get certified now, your payment ("one month certification") hasn't started counting yet but you will already be 'certified'. This is a bonus. We will notify you when "the one month" starts counting (after we have setup our automation-tools). 
See our list of 'certified uloggers' on 'https://ulogs.org/discover'  
To Get Some 'MARLIANS'
Here are the steps:  
Visit 'https://steem-engine.com/?p=market&t=MARLIANS' and login using the keychain extension or directly using your private posting key.
Click on the 'DEPOSIT' button to deposit STEEM. Note that you can also deposit BTC, ETH, LTC, EOS etc with steem-engine.
Go on to buy some MARLIANS.
Kindly subscribe to UloggersTV on YouTube
Kindly vote on the 'steemgigs' witness
If you can translate this post into other languages, feel free to do so. You can also show me on discord, so that i can resteem it.
---
Posted via Marlians.com