18 de Fevereiro: dia de conscientização Síndrome de Asperger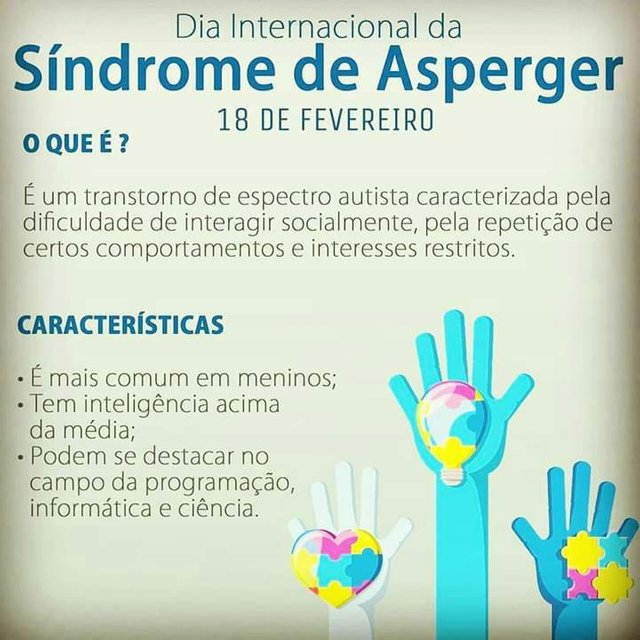 De acordo com o National Institute of Neurological Disorders and Stroke (NINDS), parte do National Institute of Health, define como a Síndrome de Asperger uma perturbação do espectro autista (PEA) caracterizada por dificuldades significativas na interacção social e comunicação não-verbal, além de padrões de comportamento repetitivos e interesses restritos.
Diferencia-se do autismo clássico por não implicar no atraso global cognitivo ou em termos de linguagem, ou seja, além de menor gravidade, a inteligência e linguagem nesses casos são considerados relativamente "normais". Devida a importância da integração das pessoas com a Síndrome de Asperger na sociedade e diante à necessidade de conscientização da população, foi instituído no dia 18 de fevereiro, o Dia Internacional da Síndrome de Asperger, desde de 2007.
A critério de curiosidade, esse dia foi escolhido por ser a data de aniversário de Hans Asperger, o pediatra austríaco que deu o nome à Síndrome."
Fonte do Texto:
National Institute of Health
www.AutismSpeaks.org/community/fsdb/index.php.
Asperger's Disorder (Transtorno de Asperger)
De Jeffrey L. Rausch, Maria E. Johnson, Manuel F. Casanova
Fonte da imagem: Facebook/ educação e psicologia
Posted using Partiko Android