Parked in the Oregon woods: 30 Days of Solitude
Checking into the campground and driving to my parking spot for the month, I found myself among the tallest trees I had ever seen. Nature everywhere I looked.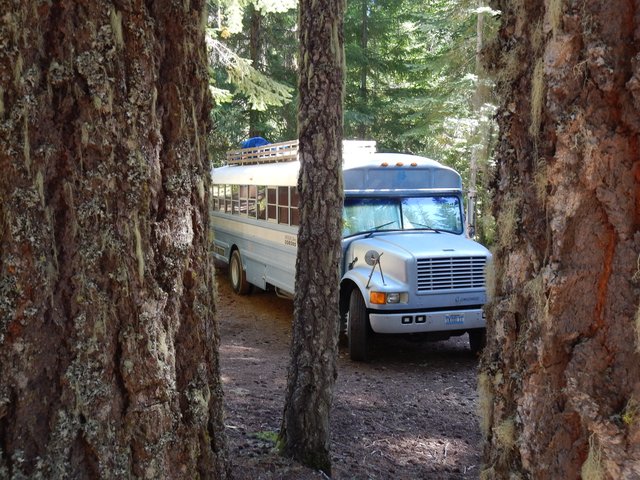 After backing into the spot, I plugged in the electric cable, hooked up the sewer line, put up the privacy shade across the front window and got the interior into home mode. Then I sat down on the couch.
"Now what?! What am I doing here?"
A Passionate Journey
There is no sound on the bus except for the low hum of the refrigerator. Birds are chirping away outside. The sun is shining lightly through the tree canopy and weaving its way through the bus windows.
I find myself actively engaged in the present moment, expressing this sequence of moments as breathing and appreciating my presence. There are things I hope to accomplish in the next month but those can wait.
For now, I am fully content sitting on the couch, for however long I want to sit here. I have no television in the bus and no desire for my phone.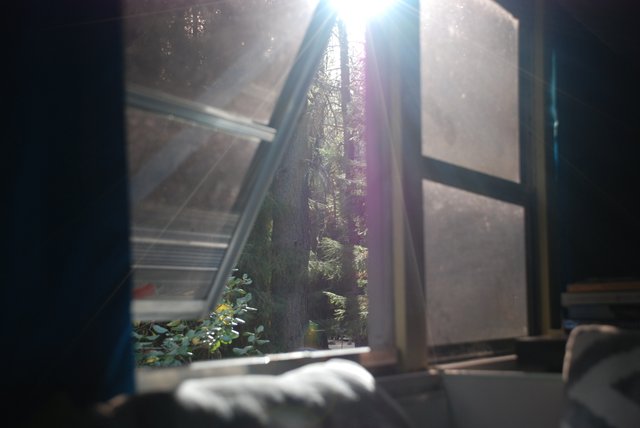 The windows on the bus are the reason I live in this kind of tiny home. I feel completely safe and at home, fully immersed in the new scenery around me.
With no distractions and all the time in the world, I am in full control of my mind to accomplish my intentions.
Turning into a nightmare
The following days I listened to music, start reading a book, and just sat motionless for hours, staring intently and lost in thought. I paced the isle of the bus, from the bedroom to the front, and back, staring at the walls, floor, and ceiling.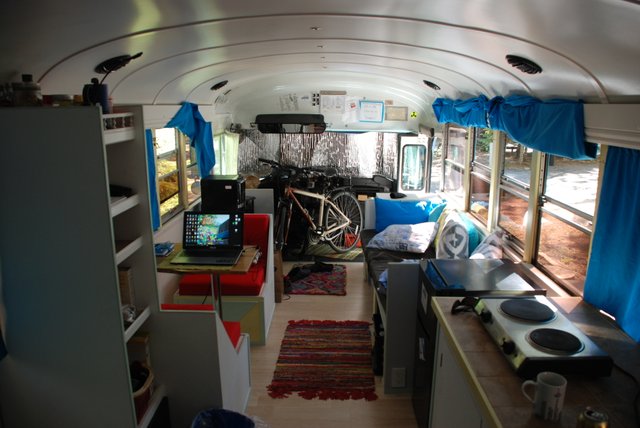 Many times, I went into a meditative state and lost track of much time.
Even though I had 720 hours, 30 days, of time to do with whatever I wanted, I was not motivated to spend time writing as much as I hoped. I was simply not willing to put in the work some times.
Part of my mind chose to be here doing this in the first place. That's why I am parked here in the woods. Simultaneously, another part of that same brain brain is doing everything it can to stop me from actually accomplishing what it itself wants itself to do!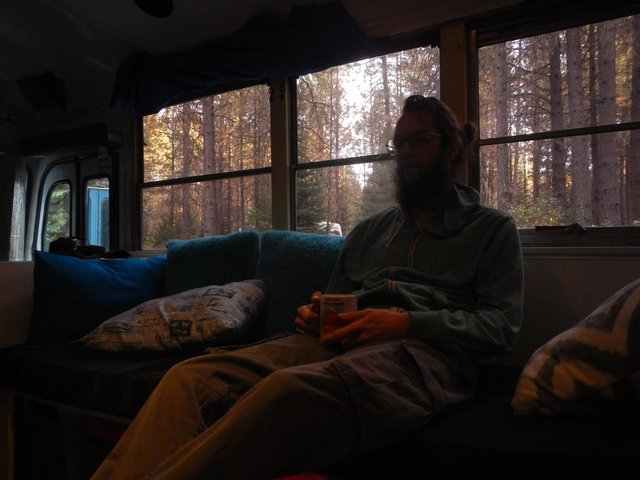 It's complete lunacy!
Mental Illness / Dis-ease
I AM afraid to NOT be alone.
I sat there in anger, wanting to write, screaming GO! GO! NOW! Go write. But I didn't do it. I want to work and become a published author and continue working on the life I imagine.
Anything less is intentionally sabotaging myself.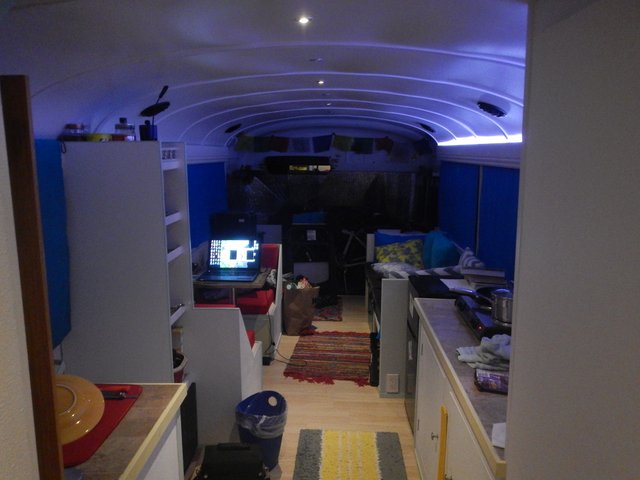 One day, it was 11:52pm and I had not written all day.
"You're so lazy. Piece of crap. You did absolutely nothing today." I told myself.
"No! I won't accept that" I replied to myself.
Intent to see my goal through, I grabbed the laptop, started it up, opened the document, and ran the Spell Check for a couple of pages.
I changed 15 words.
I saved it, turned off the computer, and saw it turn midnight.
It wasn't much, but at least I did something today that made it just a little easier to work on my draft today.
Recreational Cannabis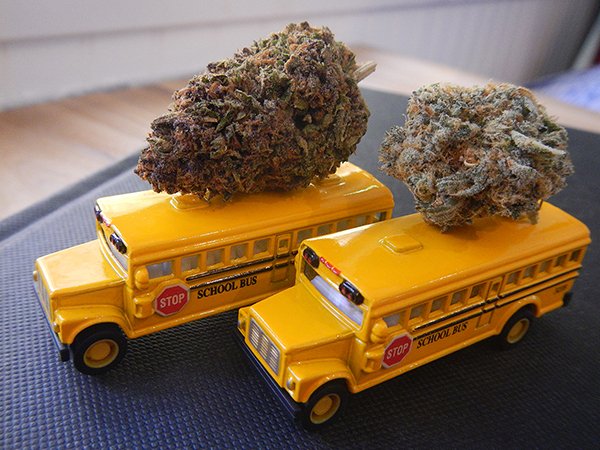 On the day I drove to the campground, I passed 5 Legal Rec shops and thought to myself, why not? Let me see what all the fuss is about.
The store itself was very clean and professional. I received some great information and was sent on my way with legal, taxed product.
When I found myself in such a state of depression and constant mental chatter, I thought to try some of the plant medicine.
Whoa buddy! That stuff was incredible. I found that it relaxed me fully and made me feel much more free in mind and body. It made me think that I was much more creative than I gave myself credit for.
My self doubt and negative judgment toward my juvenile writing went away.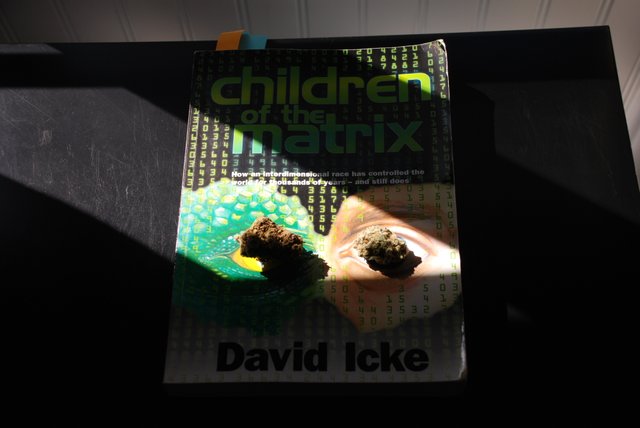 During my time parked in the woods, I drank coffee in the morning, had a little puff puff and wrote as long as I could sit and process thoughts. Writing inherently is a very private and serious endeavor.
It focused my energy and overall changed my body's vibrations. I definitely felt light and "high," lifted even. Made it much easier to focus on writing and do only that.
At other times, my mind raged on.
"Why are you alone, living in a bus, in the middle of a campground in the forest, talking to yourself?"
"What are you doing out here? Trying to write a sequel to Thoreau's "Walden"?
"Trying to act like some kind of transcendentalist, driving around in your diesel guzzling church bus?"
"STOP IT! Not all who park in the woods are lost. I'm parked out here for a purpose. You shut the fuck up, right now. I went into these woods to find myself and to write about it. AND THAT'S WHAT WE'RE DOING! I AM A FUCKING HAPPY CAMPER!"
I had myself another marijuana's, went to bed and meditated on consciousness for quite some time. It was a wonderfully relaxing night.
Motivation
I wrote every single day for 30 days.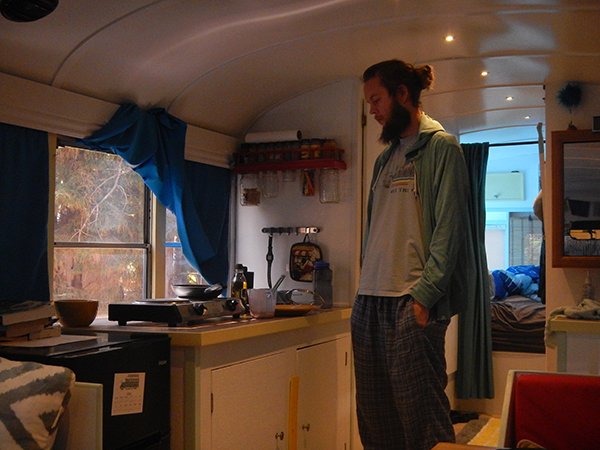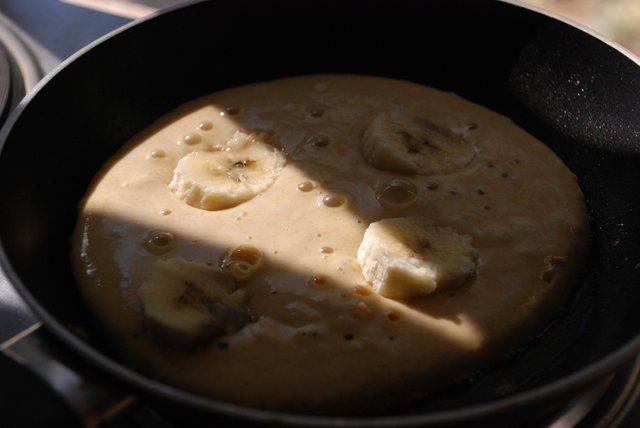 Making pancakes the next morning, I realized that once my work is published, it becomes timeless. Any generation will be able to read it. That is more important than focusing on my mind fighting itself.
I know deep inside that if I put my head down, do the work, write one word after another, at the end of it, I will have written blog articles, finished my stories and book(s).
That is what I want and that is what I'm working hard for. You are reading the proof of my endeavors!
I struggle to be better today than I was yesterday. I promise myself that tomorrow I will be better than I am right now. My work will improve every day.
The first draft of a book is always incredibly rough. Rarely do novels get written in a single edit and published well. The only thing that the initial writing has to do is exist. You have to sit down and write.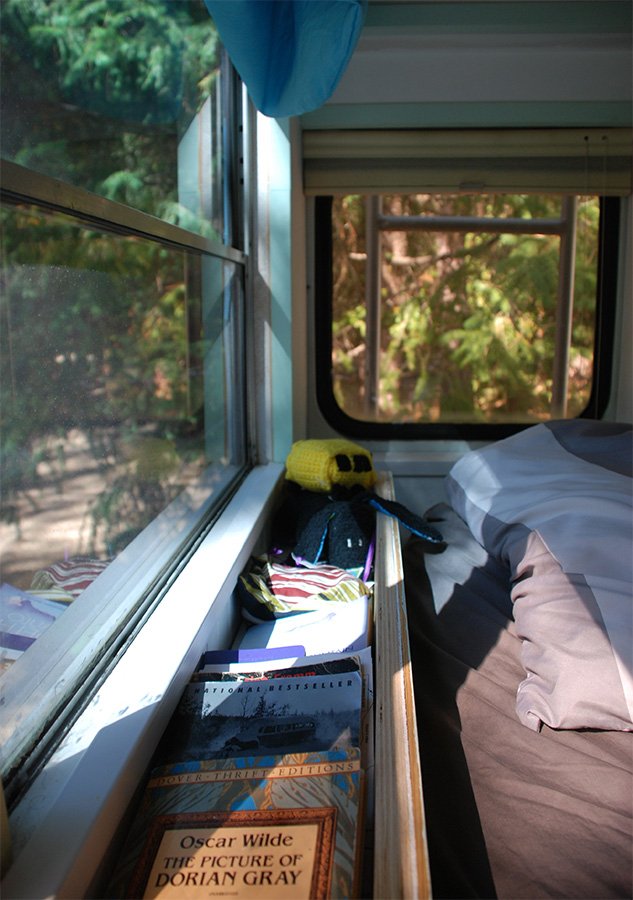 That was it, the secret to success.
You sit down, get a writing utensil, paper to write on and you write anything and everything down.
You have to start and continue doing it.
I was not going to accept that I am so weak minded and powerless over my mind. I simply had to work on my goal every single day.
No excuses!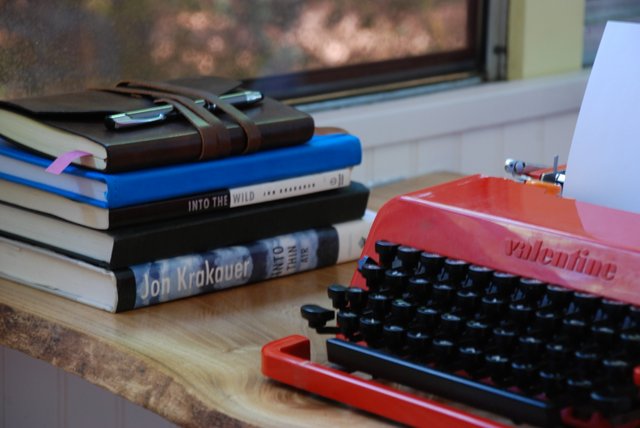 My time was all of my time
I'll tell you what, when you are not responsible for a single thing, no one is expecting anything from you and most people have no idea where you are or what you are doing, that is absolute freedom.
It was a pleasant surprise to realize that out here.
I did not have to wait in a single line for anything. I had all my groceries, I did not get stuck in traffic, I did not have to wait in some government office, I did not have to wait for an appointment, I was never on hold on the phone. I didn't have to wait for anything to update and upgrade or restart.
I had no wait on no one but myself.
It was absolutely beautiful.
Want to walk around naked? Do it.
Want to wear pajamas for 3 days straight?
Watch movies and chill for a whole day?
Read whatever you want, for however long you want?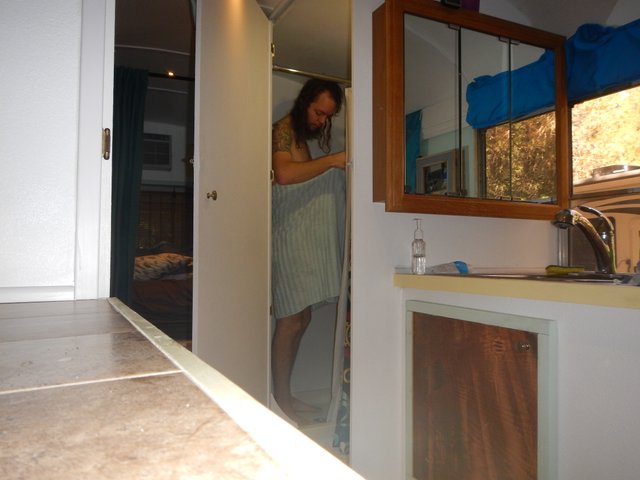 I was content right where I was.
No one told me what clothes to wear.
No one told me what or when to eat.
Nowhere I needed to be.
I spent every single moment of every single day exactly how I intended to spend them, even if I was depressed. That's a part of who I am and I accept that. I am who I am.
I love myself. Completely.
During that month I realized that loving myself is a choice; it's a state of being.
I chose to calm my mind and relax my mind and body. Love myself completely.
Anything I want, I can make happen.
I want it bad enough.
I am able to put in the work, no matter what.
I can manifest what I want in my life.
At any point in time, we are one choice away from having a completely different life.
I had arrived. No longer searching for the next thing but fully content here and now.
I was completely in the moment for much of those 420 hours that I was awake (30 days = 720 hours = 300 sleeping = 420 awake)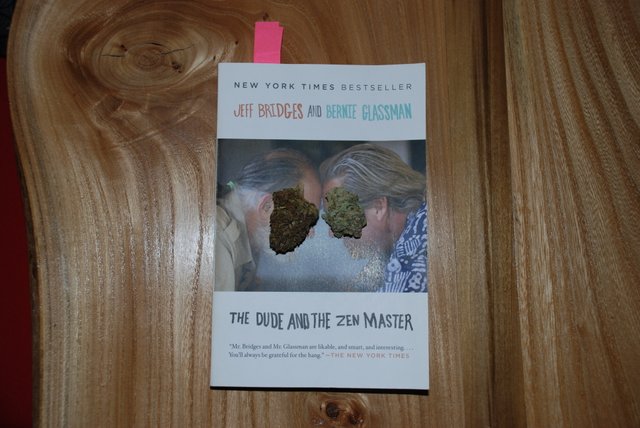 I realized that instead of feeling that I HAVE to write everyday, I realized that I GET to write every day. I could be doing anything else but I made a choice to be doing what I'm doing and also choose to enjoy it.
Every moment spent out here was an absolute blessing. I had the most amazing time, completely by myself.
Without the loud noise of the world around me, I heard myself perfectly clear.
I love myself.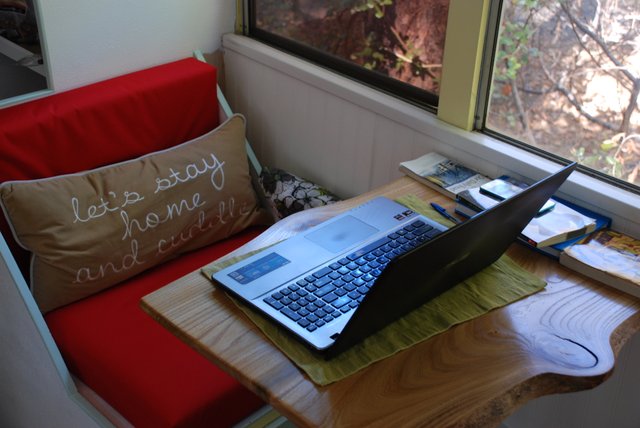 Checking Out – Time Is Up
"Here to check out." I tell the guy sitting behind the counter.
"What spot are you in?" he responds, ready to type my name into the computer.
"The blue bus down there." I replied.
"Oh, you're the bus guy!" he cocks his head back and looks me in the face.
"We were wondering if you were dead, we had not seen any one come or go from the bus. You should think about getting a mailbox, and putting the little flag up or down depending if you're home," his laugh was filled with relief.
"Out here to work on my novel. Took the time to myself for work. Question, with all the dispensaries around, have you noticed any changes here?"
"Oh yeah! People have been coming on much happier. People are much friendlier."
"I've actually gotten off much of my prescribed medication, with my doctors approval, since starting to smoke. Been in some bad accidents"
"How great is America for being able to buy medical grade legal cannabis, then hide away in your home in the woods?"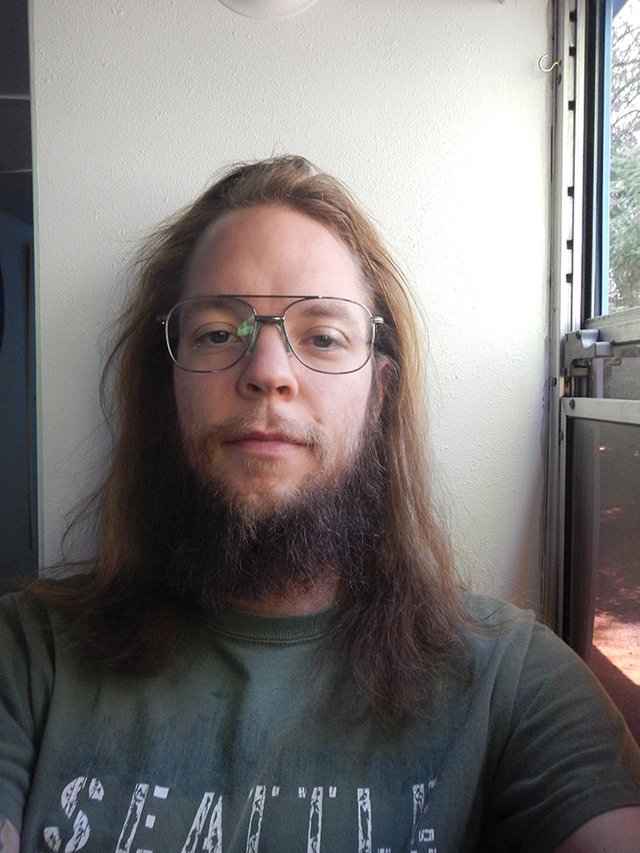 That was the only interaction I had with a person face to face in 30 days.
Dare I say, I went into the wild and came out alive.
I love life.