You are viewing a single comment's thread from:
RE: minigame 서비스 종료 관련 중요공지
SP income(APY) over 50% now, can cover you cost of 30%.
you can open upvote sell to scale SP income directly, such as PNUT.
Even if it is less than 300000 SP, it should continue to maintain, otherwise you should recycle miniN.
Although some users get MINI through free channels, but most of user (especially the accounts with large amount miniN) get it through the following channels:
Purchase miniN from steem-engine and pay STEEM directly as the cost
Delegate SP to obtain MINI, which is equivalent to paying the potential benefits of SP as the cost.
After exchanging Mini for miniN, @minigame said that miniN got the same amount of upvote weight as SP delegation. As a result, I bought a lot of miniN on the steem-engine at a price close to 1 STEEM / miniN.
https://steem-engine.rocks/tx/22e017a275f2e6ade2d7f2cc89852c1c6d911b6d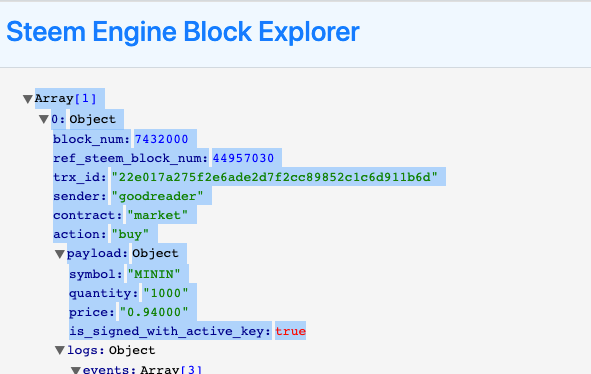 Currently, I have 3600 miniN left.