Discord Etiquette & Guidelines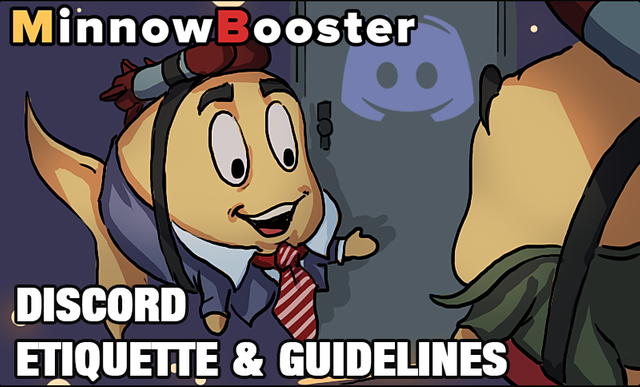 Hey folks, It's @trev03 again from the Minnowbooster support base camp and I am here to give you a little insight into our Minnowbooster Discord server as well as some tips when coming onto discord server for assistance.
Please do not go onto each channel and spam the same questions to get moderators attention as that only delays the respose because we are the same moderators on all channels.

Take a moment to read and get familiar with the Minnowbooster channels so that you can identify where your query will most likely be asked, proceed to ask your question and await a response.

Still unfamiliar where to ask your questions? Don't worry! We got you covered, please see channel list below for Minnowbooster: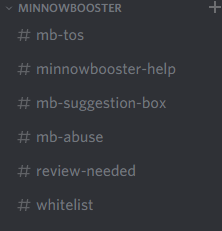 #mb-tos : This is where you would find the Minnowbooster Terms Of Service. It's my personal opinion that everyone familiarise themselves with this so that they post in accordance and do not land up on our blacklist.
#minnowbooster-help : You can ask any question regarding Minnowbooster in here, whether it is support related or if you need guidance to use our services.
#mb-suggestion-box : Any and all ideas that help make Minnowbooster better can be placed in this channel and if you have a really good idea then it will most likely get implemented.
#mb-abuse : Users that break our TOS or abuse our services are often reported here by the Steem community.
#review-needed : Steem users that get blacklisted often come to this channel to appeal their blacklist. Advice is offered and reviewed per individual basis.
#whitelist : Minnowbooster is all about rewarding quality authors therefore if you feel like you have what it takes to be noticed then visit this channel and leave a description off yourself, your blogs and if someone likes you then they will invite you to the whitelist.
We have over 10 000 members on discord and from all different time zones so please do not use the @everyone or any other command that will ping every single user as you may be pinging someone mobile device in the middle of the night. It's just not nice!

Be nice to everyone and not just our moderators, It doesnt hurt to respect everyone. People who are respectful and humble are often treated with respect and helped

Do not direct message every moderator with the same question, you should ask your question in the relevant group and await a response, sometimes the community may also have answers for you. I have personally had users direct message me numerous times in the middle of the night instead off asking in support. We aren't saying direct message isn't allowed however if you do then please understand that a response may be delayed and you would need to be patient to get a response

Do not post blog links into the support channels as Whale BOT will eat it and curse you and throw it into post promotion.

You will also find general stuff in our server and therefore I would like to highlight what they are below: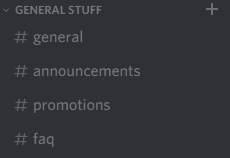 #general : It is a community chat where people interact and chat.
#announcements : This is where we throw in really important information, for example if there is a node lag and it affects our users.
#promotions : Any Minnowbooster promotion goes in here.
#faq : I would think that this is the most important channel off them all as there are guidelines on how to use Minnowbooster upvote services, DLM, Whitelist etc.
Thanks guys for reading me ramble along but I hope that this was informative for you.


| Visit our website for more info! | Subsribe to our YouTube Channel |
| --- | --- |
| | |
Join our Discord Chat

Get support and connect with us and other Minnowbooster fans!



We are always looking to improve @minnowbooster and try to keep you up-to-date whenever something changes. If you have any suggestions about what we should change or add to @minnowbooster, then please drop by and let us know!


Minnowbooster is a @buildteam project by
@thecryptodrive (witness), @cryptomancer and @reggaemuffin (witness)
---
This is a @steemvoter subscription payment post. Thank you to Steemvoter customers for allowing us to use your Steem accounts to upvote this post by virtue of your free subscription to the Steemvoter.com bot service. @steemvoter is proudly a @buildteam brand and sister project to @steemsports, @btuniverse and @minnowbooster.