MB : Q&A with NelkelJDM and Chance to Win Steem!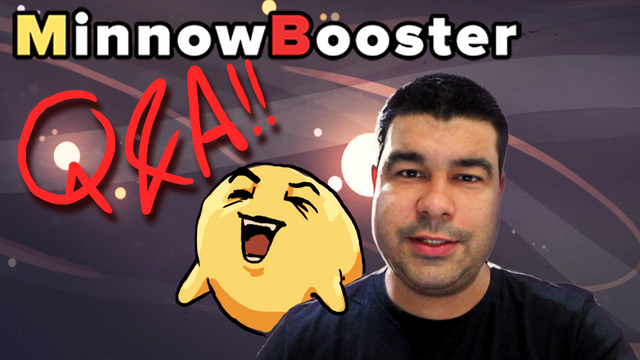 Hey folks, @nelkeljdm here with a quick video about @minnowbooster community involvement. We wouldn't be here without Steemians like you and your opinions and feedback matter to us!
In this video I'd like to address some of your suggestions, feedback and comments. We couldn't be happier about some of the recent involvement we've seen on posts like our recent MinnowMoji competition.
I'd like to take a few minutes and address a few questions you guys have left in the comments of recent blog posts. So without further delay, check out the video below and make sure you watch till the end for more information on how to win yourself some STEEM!
---
---
Well, I hope you enjoyed that short Q&A session and it did a good job answering some of your questions and queries. Also I'd like you to remember one of the main points I made, @minnowbooster is a visibility tool above all else so don't upvote content that you aren't proud of. If you use it in the way it was designed to be used you'll find that it helps you grow your community and become more successful in gaining a genuine following.
Also don't forget, drop your comment below and tell us about your experience with @minnowbooster! It can be about anything, perhaps a time you enjoyed using the voting market or a successful attempt in gaining delegation.
Oh and by the way, don't forget to grab your referral link and send it to all your friends, it can be found by adding your username to this url: https://www.minnowbooster.net/users/(your_username_here)
Or for a more detailed review of the program check out this post:
https://steemit.com/minnowbooster/@minnowbooster/minnowbooster-referral-program-bring-a-friend
Once again, thanks a lot for dropping by! See you soon!
---
Minnowbooster strives to provide a truly investor-class model for Steem investors who are either not good at curating content or do not have the time or inclination to do so and would prefer to earn a "Masternode like" competitive APR return on investment with daily payouts, and simultaneously empowering the community and stimulating the attention economy of the Steem blockchain.
Thank you again for your continued support as we work on providing the most socially beneficial toolset on Steem.
Our team will continue to move forward to equip you with the services you need to succeed on Steem!
---
What can MINNOWBOOSTER do for you?!
| What? | Currency | Advantages |
| --- | --- | --- |
| Buy upvote | SBD | Earn an instant return |
| Lease SP from market | STEEM | Increase your vote strength and curation rewards |
| Delegate SP to market | STEEM POWER | Earn daily STEEM dividends |
| Invest STEEM in MinnowBooster | STEEM | Earn daily SBD dividends |
| Delegate SP to MinnowBooster | STEEM POWER | Earn daily SBD dividends |
| Sell your vote to MinnowBooster | VOTING POWER | Earn SBD share of sells |
---
CURRENT PARAMETERS:
Parameter
Value
Remarks
Minimum Upvote
0.01 SBD
Minimum SBD you can send
Upvote comments?
Can Be Enabled
Profit
Always Guaranteed!
Varies with SBD price, but always receive more than send.
Minimum Lease Purchase
1 STEEM
Maximum SP Lease / Steem
1 STEEM/50 SP
Price per week/Lease size
Minimum SP Lease / Steem
1 STEEM/400 SP
Price per week/Lease size
Provide us with feedback
We are happy to hear your feedback about where we can improve.
---
Join our Discord chat
Get support and connect with us and other Minnowbooster fans!

---
We are always looking to improve @minnowbooster and try to keep you up-to-date whenever something changes. If you have any suggestions about what we should change or add to @minnowbooster, then please drop by and let us know!
---
Missed the BuildTeam announcement? Here's all the juicy details.
---

---
Minnowbooster is a @buildteam project by @thecryptodrive (witness) @cryptomancer and @reggaemuffin (witness)
---
---
This is a @steemvoter subscription payment post. Thank you to Steemvoter customers for allowing us to use your Steem accounts to upvote this post by virtue of your free subscription to the Steemvoter.com bot service. @steemvoter is proudly a @buildteam subsidiary and sister project to @steemsports and @minnowbooster.