MinnowBooster: Steem Monsters Contest - CLOSED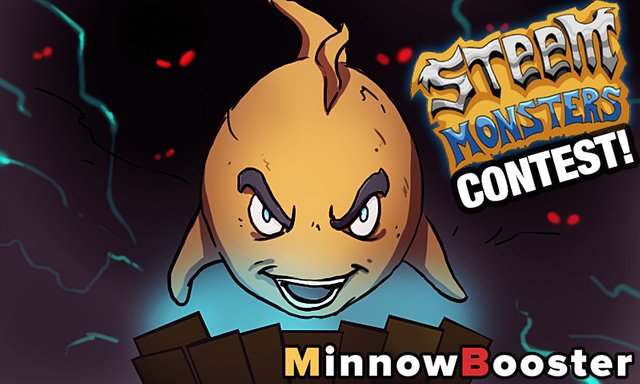 ---
UPDATE: The contest is now finished, no further entries will be accepted. A big thank you goes to all who participated; we saw some really cool designs from you monster loving guys and gals! Winners will be announced shortly so stay tuned.
---
Hey hey hey! Today we have something really special in store for Steemians across the platform. You may have already guessed it from reading the title above. That's right folks, we're giving away Steem Monsters gear in an effort to support the project and the Steem ecosystem as a whole!
You may or may not know that Steem Monsters is an awesome digital asset project which allows you to purchase and own your very own monsters on the blockchain. Beyond that you can battle your decks against other people's decks and win prizes in their hosted competitions.
BuildTeam has recently made an effort to educate users about Steem Monsters in our @BTUniverse post located here:
https://steemit.com/btuniverse/@btuniverse/btuniverse-a-review-of-steem-monsters-and-its-effect-on-the-ecosystem
Now, it's MinnowBooster's turn to lend a hand and give out some awesome Steem Monsters prizes!
In order to win a prize you must follow the instructions set out below:
1.) Create a Minnow Monster by hand or with graphic design software.
2.) Post your Minnow Monster in the comment section below along with 1-2 paragraphs about your monster (it could be about the process or a backstory, you decide. Or, if you'd prefer make a post on your blog about your monster and link to it.)
3.) Have fun with this and may the luck of the Minnow grace you with its blessing!
Criteria for Judges
We will be looking for the following traits in your creation to select winners:
1.) Creativity (go all out and really create something interesting!)
2.) Effort (give it your best shot and don't spare detail!)
3.) Shock Factor (we'd like it to be scary in the spirit of Steem Monsters!)
Now for the prizes we are offering for contest winners:
1st place -
The winner of the 1st place prize will receive 1 promo code for a free SM Starter Pack + Steem Account Creation, 5 alpha booster packs and a gold foil alpha Lyanna Natura summoner!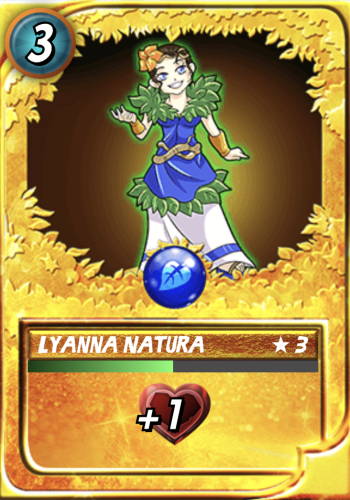 Note: this card was trading for $25 on the Steem Monsters card market at time of posting.
2nd place -
The winner of the 2nd place prize will receive 1 promo code for a free SM Starter Pack + Steem Account Creation and 5 extra alpha booster packs!
3rd place -
The winner of the 3rd place prize will receive 1 promo code for a free SM Starter Pack + Steem Account Creation.
Wrap Up
We hope you win but if you don't, there's still no doubt that Steem Monsters is loads of fun and there's never been a better time to get involved!
Winners will be announced 10 days from the date of this post.
MinnowBooster wishes you the best and is proud to support the ecosystem with this fun and exciting contest.
Good luck!
---


| Visit our website for more info! | Subsribe to our YouTube Channel |
| --- | --- |
| | |
Join our Discord Chat

Get support and connect with us and other Minnowbooster fans!



We are always looking to improve @minnowbooster and try to keep you up-to-date whenever something changes. If you have any suggestions about what we should change or add to @minnowbooster, then please drop by and let us know!


Minnowbooster is a @buildteam project by
@thecryptodrive (witness), @cryptomancer and @reggaemuffin (witness)
---
This is a @steemvoter subscription payment post. Thank you to Steemvoter customers for allowing us to use your Steem accounts to upvote this post by virtue of your free subscription to the Steemvoter.com bot service. @steemvoter is proudly a @buildteam brand and sister project to @steemsports, @btuniverse and @minnowbooster.