Solo's weekly picks: Construction and Engineering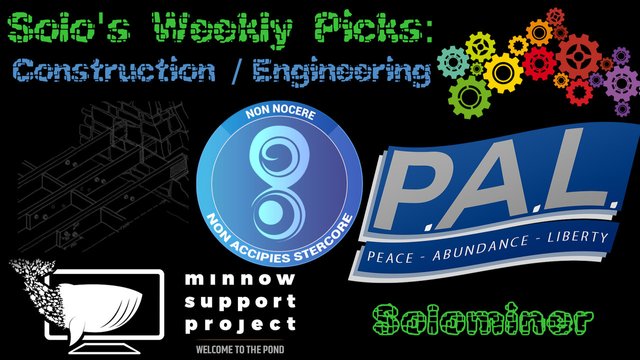 I really appreciate seeing others work, especially if its something Ive done myself. When I watch others work I find new ways of building and designing the next project. There are many DIYers and builders on Hive, and wanted to share a few posts from them today.
Here are five content creators that caught my eye.
---
Paying The Rent // on the roof by @freedompoint
https://peakd.com/hive-125669/@freedompoint/paying-the-rent-on-the-roof
Its great to see @freedompoint doing a DIY post, working on the gutters outside. In exchange for rent he worked on some drywall mudding, some indoor and outdoor painting, some power washing, and rebuilding a screen door. Over the years @freedompoint and his wife, I forget her username. But both has curated many of my DIY and gardening posts. Glad I could do the same for him finally.
---
Yea pavilion up by @jlj
https://peakd.com/diy/@jlj/yea-pavilion-up
@jlj spent every day after work until day and the whole weekend to set up a pavilion. They made good use of their tractor prepping the foundation before taking the pavilion out of the box and constructing it.
---
A MASSIVE WORK DAY AT THE HOMESTEAD by @johndoer123
https://peakd.com/homestead/@johndoer123/a-massive-work-day-at-the-homestead
Moving those large logs was hard work im sure. Looks like a fence or building is being constructed. Alot of work got done and they are quite exhausted. This hard work now will be appreciated when its all done, so its all in a good days work.
---
Rebuilding Our Upper Deck - Wednesday by @flemingfarm
https://peakd.com/hive-174578/@flemingfarm/rebuilding-our-upper-deck-wednesday
@flemingfarm got to work removing the planks and ready to install spacer joists. With all the four footers installed he installed the fasteners, while not the fastest he made good time on the rebuild. Liking the rock wall in the background.
---
Maker - Computer cover by @lordvdr
https://peakd.com/diy/@lordvdr/maker-computer-cover
Having a computer near cats can be an issue, with the fan on top of the machine the cats in their own knock fur and litter into the computer moving over it. So @lordvdr go to work building a computer cover. His wife added "not a step" to the cover. Looks like it should work nicely if the cats dont knock it over.
---
Thats my five curations of Minnows on the Hive Blockchain.
Addresses below to help me buy better camera equipment and support me to travel to locations to do photo and video and overall great blogs in new places. I would be happy to list some of the contributors in my posts for donations that help me along the way.
| Coin | Address |
| --- | --- |
| BTC: | bc1qhfmvd2gywg4fvrgy2kkkkyqta0g86whkt7j8r7 |
| LTC: | ltc1qdyzm5cwgt8e2373prx67yye6y9ewk0l8jf3ys9 |
| DASH: | XkSqR5DxQL3wy4kNbjqDbgbMYNih3a7ZcM |
| ETH: | 0x045f409dAe14338669730078201888636B047DC3 |
| DOGE: | DSoekC21AKSZHAcV9vqR8yYefrh8XcX92Z |
| ZEN: | znW9mh62WDSCeBXxnVLCETMx59Ho446HJgq |