Solo's weekly picks: Fish / Angling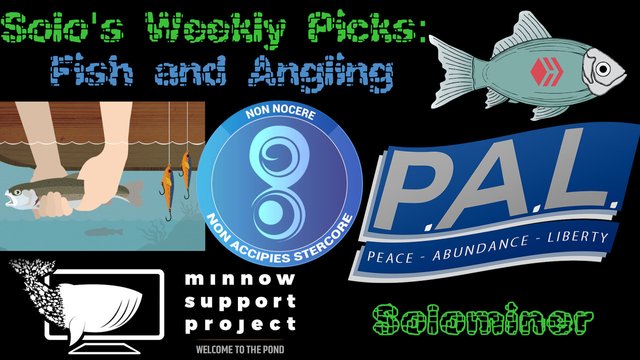 In this weeks picks, I found some cooked fish posts and people catching fish. My experience with angling is just in lakes and rivers. Catching a fish in the ocean is something I have never done, and I look forward to traveling to the Atlantic coast one day to do so. Right now I live a long distance from a beach so its something I have not done. But I can enjoy others fishing until I get to do so myself. In the mean time ill enjoy fishing in lakes and rivers.
---
My photography: The fisher woman by @godingame
https://peakd.com/hive-114105/@godingame/my-photography-the-fisher-woman
This Hive user captured an image of a fisher woman collecting lobster near her village. She tends to collect young prawns is worth a good bit at the local markets. She helps to support her family by doing this job.
---
Very rare collection fish as a delicious and tasty fish by @simaroy
https://peakd.com/photography/@simaroy/very-rare-collection-fish-as-a-delicious-and-tasty-fish
His father caught these, known as helicopter fish. They can be found in the canals and rivers in the Bardwman district. He prefers to fry them and get rid of the head, but otherwise a good fish to eat.
---
Not so much about fishing by @mikkolyytinen
https://peakd.com/art/@mikkolyytinen/not-so-much-about-fishing
Sometimes the plan is to go fishing, but other things end up happening. In this case they ended up doing very little fishing and instead drank a whole bottle of Talisker and some extras. He did not feel so good the next day, but it was still quite nice.
---
https://peakd.com/fishing/@george.ovcinikov/trout-fishing
This Hive user went fishing on a small river, he caught a Trout and found the experience really exciting. His first Trout he caught during this season. He caught and released it back into the river.
---
Self made Dutch 'Kibbeling' (fried codfish) with sweet potato fries by @irisfood
https://peakd.com/hive-120586/@irisfood/self-made-dutch-kibbeling-fried-codfish-with-sweet-potato-fries
@irisfood made a post about cooking some Codfish using a Dutch method. This is known as kibbeling. A snack in the region consisting of battered fish chunks sometimes served with mayo garlic sauce. They share with us the recipe to making such. The end result looks delicious.
That's my five curations of Minnows on the Hive Blockchain.
---
Addresses below to help me buy better camera equipment and support me to travel to locations to do photo and video and overall great blogs in new places. I would be happy to list some of the contributors in my posts for donations that help me along the way.
| Coin | Address |
| --- | --- |
| BTC: | bc1qhfmvd2gywg4fvrgy2kkkkyqta0g86whkt7j8r7 |
| LTC: | ltc1qdyzm5cwgt8e2373prx67yye6y9ewk0l8jf3ys9 |
| DASH: | XkSqR5DxQL3wy4kNbjqDbgbMYNih3a7ZcM |
| ETH: | 0x045f409dAe14338669730078201888636B047DC3 |
| DOGE: | DSoekC21AKSZHAcV9vqR8yYefrh8XcX92Z |
| ZEN: | znW9mh62WDSCeBXxnVLCETMx59Ho446HJgq |