My Family Needs Your Help! We Have No Were Else To Go! Steemians UNITE!
Were Trying, But We Cant Catch Up!
---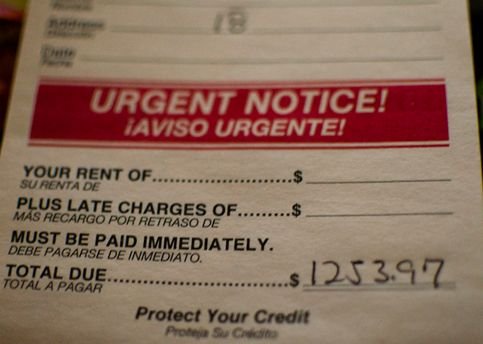 ---
Some of you already know my story, I was hurt on the job 2 years ago, I have been going through Physical Therapy ever since the injury, I was scheduled for back surgery, but my workman comps doesn't want to pay for it were currently in trial with them, fighting for my back pay and medical expense coverage. I guess they figured they could just FIRE me and not have to take care of my med bills. So yeah if you have notice I have been missing for a few days, I'm sorry a bunch of things have been going on lately and the depression does not help, its getting rough out here.
---
My Wife Has Been A TROOPER!
---
Well during this whole charade of court battles and not being able to work and being stuck in and out of doctor offices, the bills have been building up. My wife has taken over the work load, and she has been trying really hard to keep up with everything, but it's not enough. I was the main source of income, my wife use to stay at home, now that roles have switched due to me being disabled the roles have switched, and it's finally becoming too much for us, in one year we had our car breakdown, had to get the transmission fixed and that was not cheap. One month after it getting fixed, it gets hit in our parking lot and totaled by a couple arguing in there jeep! We thankfully got some insurance money for the car but that went straight into buying another one for the family, since we need a car to get everyone to school and work, the insurance amount was not enough to cover the cost of the new car so we had to pay out of pocket for that as well.
---

(They Hit her hard Enough To Push Her Into The Grass And Bend The Rear Frame In)
---
We Got Behind
---
With everything just coming down on us, bills, after bills, after bills, we srtarted to get behind really bad. We were once $2600 in the hole with rent and more with electric bill. We started to budget everything to the extreme, even broke down and we applied for food assistance for the first time, and trust me that was a HARD PILL to swallow with always being a working man and never depending on anyone. This whole experience has finally started to take it's toll and we need help from somewhere. We just need to catch up, and once we do, everything should be fine. We have just enough income coming in to stay ahead, its just the catch up is taking a while and the LANDLORD is finally fed up with us.
---
They Gave Us A Week
---
My Landlord has been very understanding and I have no complaints, but they are finally fed up with us playing catch up and have been getting a bit more demanding with the remaining bill, and from a business point of view, I believe it's understandable. We have been lucky they have been putting up with us this long. They gave me a call last Friday and informed me that "They are sorry but, we have been negative for too long, and they know we have been catching up, but it's not happening fast enough, we are giving you guys one week to come up with the remaining balance or we will be forced to file a eviction." Well later that day I received a notice on the door with the balance.
---
PLEASE HELP OUT!
---
---
So I didn't want to ever make a post like this because i wanted to keep integrity and pride within myself and not risk loosing followers and friends on steemit, I'm sorry PALS I have no were else to go for help, we don't have much family around, everyone has moved or there busy with there families, and I don't blame them. You fellow steemians are all I really have left, I know I have tried my best to help out with the community, and I have gave many free resources to you all, so all I ask in return is a NICE Upvote and a RESTEEM in return PLEASE and THANK YOU!
---
Thank You For Your Time
---
Upvote, Follow, Resteem, and Enjoy!
---

Join PALnet and Get Informed: https://discord.gg/HYj4yvw



(Like The Gif? View The Blog For More) (Free 2 Use)