Dodgers Extend Winning Streak to 11!
Through popular demand I've decided to write my first Baseball post on Steemit. So far, it's mainly been basketball and crypto for me, but it's about time I got into all the other sports I like.
I'm not sure if you guys are aware what kind of run the LA Dodgers have been on this season but my goodness... They are 33-4 in the NL West Division alone which is absolutely ridiculous and gives no chance to the rest of the Division. Just to put it in perspective, also in the NL West Division the Colorado Rockies are 15 games above .500 and are STILL 11 games behind LA.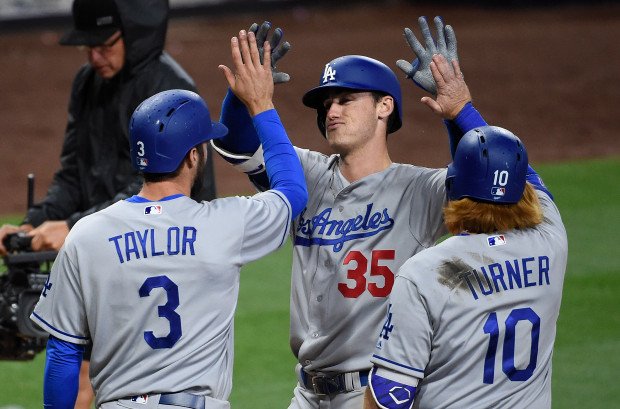 What's Causing this Success?
Reason 1 – Cody Bellinger & His Young Teammates
Does this kid have pop or what? 26 home runs and we're just getting started with the second half of the season. And did I mention he's a ROOKIE? He's on pace to get to 40 home runs and I'm sure you saw how he even earned himself a spot in the Home Run Derby.
Along with Bellinger, we have Seager and Pederson who are also young and very talented hitters. I really do like the Dodgers team and can see them being successful in the coming years. As long as they can keep a strong pitching staff around these big bats they will continue to make the playoffs.
Reason 2 – Team Hitting
If you're an MLB fan then you must remember the Kansas City Royals two years ago. Although they didn't have any superstars in their batting lineup they won the Wild Card Game and went on to win the MLB Championship. Guys like Hosmer, Cain, and Morales were the ones who would contribute every single game. They didn't try to do too much… Just get on base for the next guy up. This is who the Dodgers remind me of this year. They have players like Bellinger, Seager, Turner, Puig, Pederson, Gonzalez, and Grandal who are all capable hitters. This makes it extremely tough for pitchers to pick who they can pitch strikes to.
Reason 3 – Clayton Kershaw & Company
Kershaw is obvsiouly leading the way as the ace for the LA Dodgers. I really don't think I need to write much about him… He is a stud and does this every season. Now I really want him to do this in the playoffs for once…
Alex Wood has been having some success as of late with 11 wins behind Kershaw's 15. They have a great middle relief pitching staff as well in Baez and Avilan who have combined for 22 Holds together. And lastly, their All-Star Closer Kenley Jensen is an absolute flamethrower. He has 24 saves with 0.88 ERA and 0.59 WHIP. He's only given up 4 earned runs in 39 games pitched!
I hope you guys enjoyed my very first Baseball post. More to come in the future!
Cheers!