Momentum - A new word in marketing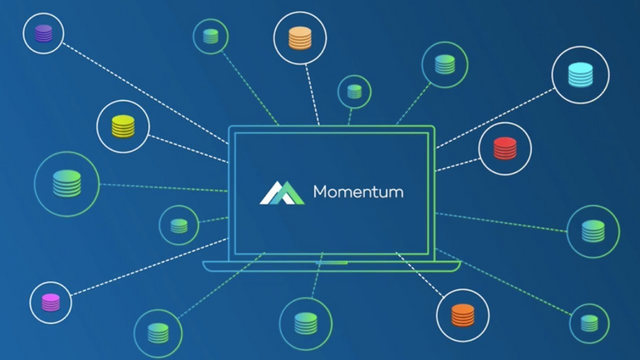 Loyalty programs, which used to be very popular at the time, are almost dead today. Customers do not receive any noteworthy bonuses, so they are not interested in participating in such programs. Accordingly, brands don't get much benefit - if your marketing program can't attract customers - it's useless.   
And, unfortunately, it's not only subjective feelings of managers - in the world over the past year, less than $ 100 billion was spent in the form of bonuses and loyalty points. At first glance, this is a huge amount, but in the world - almost nothing.   
Blockchain project - MobileBridge Momentum, however, aims to change this situation.  
  How does Momentum work?  
  Thanks to the blockchain platform that unites consumers and brands, called Momentum, companies will be able to reward their most loyal customers for their loyalty to the brand and help in its promotion.   
Consumers, in turn, will have the opportunity to earn not useless and not accumulating bonuses that can be spent only in one store, but a cryptocurrency that can be spent on anything. Momentum tokens can be used to pay for goods and services of any company participating in the platform, or exchanged for other cryptocurrencies and fiat money.  

  Who might be interested?  
  Brands will be able to optimize their costs and the time spent by managers on marketing, while offering customers a significantly greater reward for the company's commitment than before. This is possible thanks to the marketing automation tools offered by the platform. In addition, the ability to offer customers "live money" as a reward to allow much more effective to attract and retain customers.   
Consumers will get, as mentioned above, the opportunity to get a full cryptocurrency without taking much effort. Reward in tokens will be charged for purchases, participation in promotions, comments, posts and likes in social networks. That is mainly what people do anyway on the daily basics.  
  Will this idea really work?  
  MobileBridge is a complete, working and successful cloud mobile application for marketing automation and communication between customers and companies. Therefore, the developer is not a start-up, starting everything from a clean slate, but a successful company, transferring a new generation of its platform to the blockchain to expand opportunities, optimize and better scale. This approach provides a much greater chance of success than a simple project with ideas written in a beautiful whitepaper.   
Given that the core of the team consists of people with at least 10 years of experience in IT and marketing (and even 25 years of experience in the team - not uncommon), you can be sure that the project is in good hands. 

 Tokensale details  
  The project token complies with the ERC-20 standard and is issued on the Ethereum blockchain. A total of 1 billion tokens have been issued: half will be sold during the ICO, a third part will is frozen as a "long term reserve", and the distribution of the rest you can see in the chart below: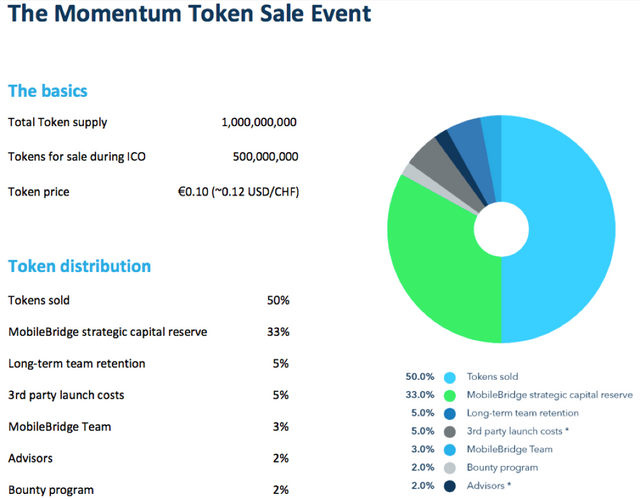 In total, the project developers expect to collect 20-25 million euros. The project's Hard-cap is set at 42 million euros (about 52 million dollars). Soft-cap of two and a half million euros has already been achieved in the course of private sales, which are ongoing right now. The start date of the public token sale has not been announced yet, the developers are talking only about the approximate dates - the beginning of the fourth quarter of 2018.  
  Conclusion 
An experienced team, a clear business plan and a successful platform are almost the perfect recipe for a successful ICO project. Yes, a lot of blockchain startups have appeared in the niche of marketing and loyalty programs recently, so the competition in this segment will be very tough. However, given that the MobileBridge Momentum team offers the most balanced solution among competitors, bringing benefits to both business and consumers, the project has all the chances to achieve success.