"There are two kinds of inequality among the human species(...)" J. J. Rosseau's monument- Situated à la ville de Montmorency, Ile de France.
"ONE which I call natural or physical, because it is established by nature, and consists in a difference of age, health, bodily strength, and the qualities of the mind or of the soul: and ANOTHER, which may be called moral or political inequality, because it depends on a kind of convention, and is established, or at least authorised by the consent of men. This latter consists of the different privileges, which some men enjoy to the prejudice of others; such as that of being more rich, more honoured, more powerful or even in a position to exact obedience. " excerpt from " THE ORIGIN AND FOUNDATION OF THE INEQUALITY OF MANKIND". Follow this Link for the full text's PDF file. Credits:(Translated by G.D.H. Cole. Excerpted and adapted by A.C. Kibel)
Follow me@realmonteagudo

Jean Jacques Rosseau's monument- Situated à la ville de Montmorency, Ile de France.
Follow me@realmonteagudo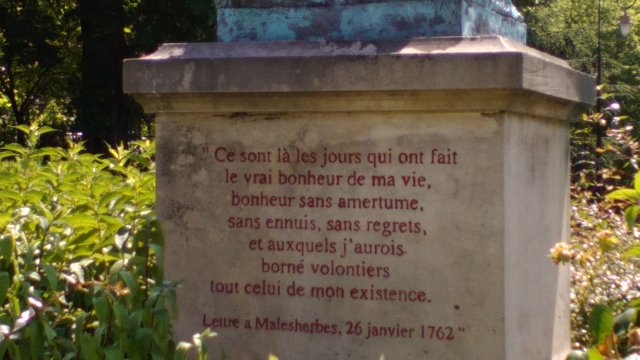 Follow me@realmonteagudo
/truth:"O man, of whatever country you are, and whatever your opinions may be, behold your history, such as I have thought to read it, not in books written by your fellow-creatures, who are liars, but in nature, which never lies. All that comes from her will be true; nor will you meet with anything false, unless I have involuntarily put in something of my own. The times of which I am going to speak are very remote: how much are you changed from what you once were! It is, so to speak, the life of your species which I am going to write, after the qualities which you have received, which your education and habits may have depraved, but cannot have entirely destroyed. There is, I feel, an age at which the individual man would wish to stop: you are about to inquire about the age at which you would have liked your whole species to stand still. Discontented with your present state, for reasons which threaten your unfortunate descendants with still greater discontent, you will perhaps wish it were in your power to go back; and this feeling should be a panegyric on your first ancestors, a criticism of your contemporaries, and a terror to the unfortunates who will come after you."