New Gambling + Give Away 1,000,000 Steemies to Each New Player!!!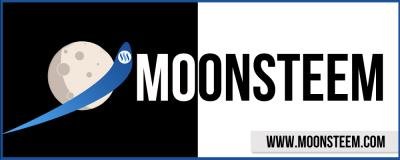 I have been playing Magic Dice for while but for somehow I like this new game at @moonsteem (www.moonsteem.com) more. Anyone who use my referral link here: https://www.moonsteem.com/?ref=angelinafx will get 1,000,000 steemies which costs equivalent 1 STEEM. Note: You have you use steemconnect to login after clicking my referral link above to get the reward.
I will check the Affiliates to see who used my referral link to get a confirmation to give out the 1,000,000 reward.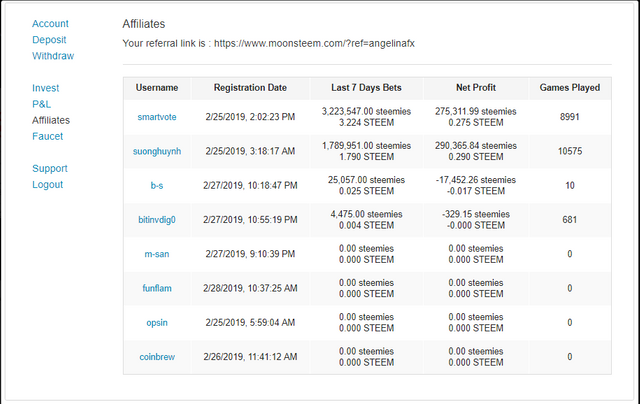 So let me do quick introduce you guys to the new game @moonsteem (https://www.moonsteem.com).
First, the game is really fun easy to play with. It has the "autobet script" feature (built in on the main site). The themes has 2 options, Dark: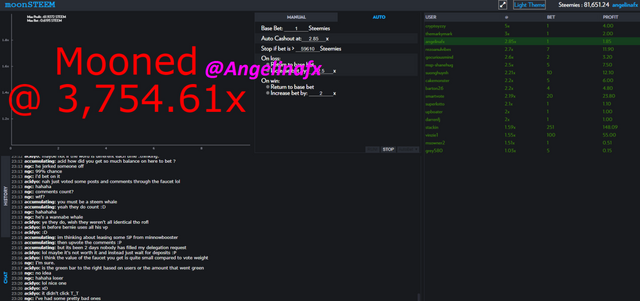 Or Light: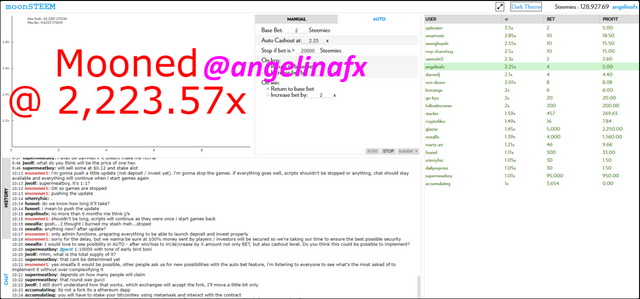 You can check top 100 players ranking on the Leaderboard on the top right of the site: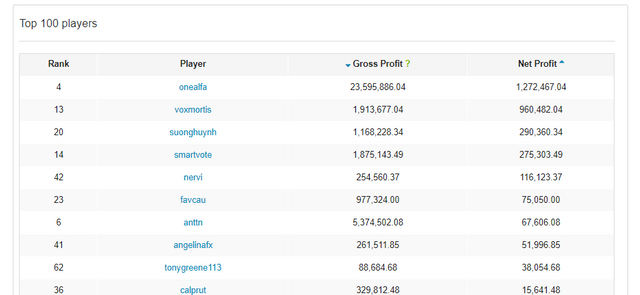 Also you can check the history of each player by clicking on his/her name: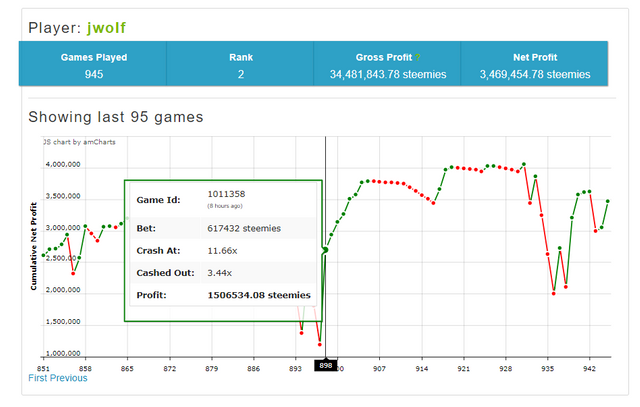 Next, there some tips from the @moonsteem (https://www.moonsteem.com):
Tip #1 : Get steemies to play by upvoting @moonsteem post(s), you should see the steemies credited by clicking the "faucet" tab. Need to wait about 1min and refresh your game page to see the steemies in your account.
Tip #2 : For first 50 players, you get FREE 1000 steemies in your account to try out the game and help us test the game, appreciate if you can give us your feedback ! =)
Tip #3 : Please note that during Pre-launch phase, deposit and invest feature are locked. Your transfer transaction(s) will be refunded.
Tip #4 : Right after playing your 1st game, you can check your dividend share under P&L tab (Bet category) and below that is the dividend distribution to your account after every games.
Tip #5 : You can make withdrawal anytime. Go under account tab, "playing balance" click withdraw.
To withdraw the dividends earned from P&L games, go under "Account" tab under "P&L Balance" click withdraw
Tip #6 : Under "Account" tab, on the right click "Public Profile" to view your games statistics/P&L
Tip #7 : Remember to use your ref link under "Affiliates" tab and get bonus P&L share when friends signed up using your ref link.
Tip #8 : On mobile you should go to settings (little icon next to bar where you type messages in chat) and choose display settings to text only, graph mode : text only and choose control size : small
Tip #9 : Click on the 'history' to view the past games multipliers, copy the game #1234 to the end of this link to check the exact details - https://www.moonsteem.com/game/1234
Tip #10 : Do take advantage on this promotion bonus offer
Resteem this post to get part of Profits & Losses (promotion item) for 5 days, the more followers you have the bigger the share.
Tag 2 friends under this post ( https://steempeak.com/moonsteem/@moonsteem/what-would-you-do-when-your-steem-mooned-1000x-today-sneak-peak-new-dapp-moonsteem-com ) and get part of P&L (promotion) until official launch date
Tip #11 : Calculate your bets probability : moonsteem.com/calculator
Tip #12 : Hotkeys : click on gear icon bottom left, check "activate hotkeys" Bet (SPACE) , Double Bet (C), Halve Bet (X)
Right now the Deposit is locked and it will be opened when official launch (sometimes this week) but you can keep the 1 STEEM reward to make the deposit and get 1,000,000 Steemies.
For me, I really like the game and could say it is much better than MagicDice. I really like and have fun with it. Hope you enjoy it too.
Angie.