CHANCE TO GET FREE STEEM | PROMOTION OFFER FROM "MOONSTEEM" ENTHUSIASTS |
Welcome To All Gambling Enthusiasts.
" Win 1 Free Steem " Just By Signing up and Wagering At Least 1 Steem in MoonSteem Using this Referral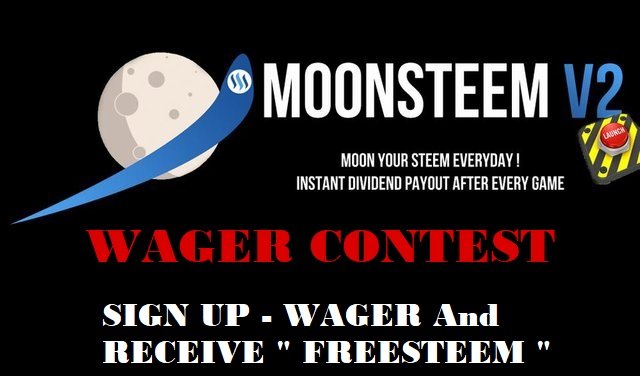 First 27 Referrals Has The Chance To Win Free Steem Each After Wagering At least 1 Steem In Moonsteem Using My Referral
Resteem This Post, Follow @nageshwar0369 And Comment After Wagering In this Post.
Highest Wagering Referral Will Receive 10 Free Steem Bonus
All Comments Will Also Receive Free Upvotes @0.02$
Note:
1 Steem Is 1000 Steemies in Moonsteem.
1000 Free Steemies Per Account Will Be Credited To Moonsteem Account.
To Receive Highest Wagering Referral Bonus Of 10 Steem or 10,000 steemies, One Must Wager At Least 250 Steem.
People Who Only Use The Referral Link Are Eligible To Receive Free Steem.
Promotion Valid till 14th April 10:10 IST. And All 27 Referrals And Highest Wagerer Will Receive their Free Steem on 14th April 12:00 IST
My Regards To MoonSteemers @Supermeatboy , @Acidyo, @sxiii, @direwolf, @nanadar, @themarkymark, @ngc, @angelinafx, @suonghuynh, @monstermaverick, @furious-one, @smartvote, @cryptoyzzy, @stevekewe, @gerber, @mwfiae, @spreekilla, @onepercentbetter, @desperad0s, @sallhiddles, @moodcatching, @fantasycrypto, @darkassassin For Active Participation And Keeping Moonsteem Active Through Playing And Investments and obviously @msowner1 and @msowner2 For This Beautiful Project.
Recent Moonsteem Post:75% profit to Players/Investors/Delegators/Sponsors (First and highest among gambling dapps)
See You All In The App. Moon Your Steem - Thank You :)