Crypto Morning News - April 15th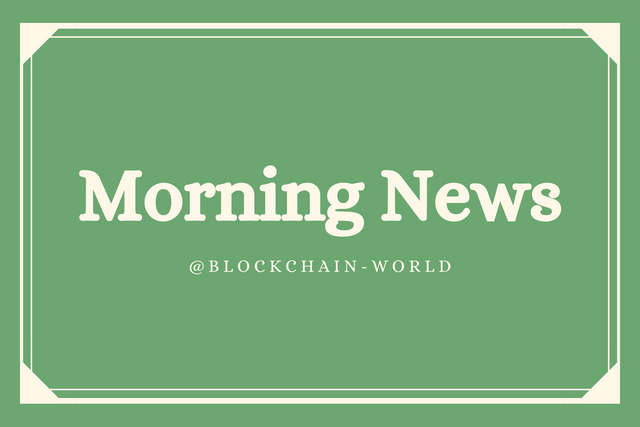 Coinbase co-founder shouted at Satoshi Nakamoto: Thank you Satoshi, whoever you are.


On April 14th, Coinbase co-founder Fred Ehrsam tweeted and called Satoshi Nakamoto: Thank you Satoshi, whoever you are.

Nasdaq officially announced that Coinbase went listed yesterday


Nasdaq's official Twitter accounced that @Coinbase is dedicated to building a more fair, accessible, efficient, and transparent financial system enabled by crypto.
Today, CEO @Brian_Armstrong and the Coinbase team ring the @Nasdaq Opening Bell as the company prepares to go public under ticker symbol $COIN.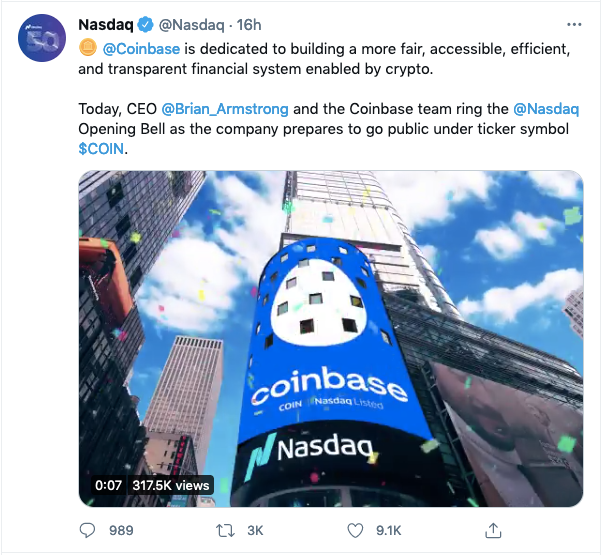 source
Garry Tan's 2013 investment of $300K in Coinbase is now worth $2.4B


Garry Tan, a well-known angel investor and founder of Initialized Capital, invested $300,000 on Coinbase in 2013. After Coinbase listing, the value of his stocks reached $2.4 billion.
MakerDAO implements the proposal through the first physical financing


The first entity financing implementation proposal initiated by the MakerDAO governance facilitator and smart contract team has now been passed, and will be implemented on April 16th, UTC time. The proposal proposes to add New Silver Series 2 DROP as Maker agreement collateral. It is reported that New Silver was established in 2018 and mainly provides fixed-rate mortgage services for US real estate. Investing in New Silver Series 2 DROP tokens means financing real estate in 39 states in the United States.
The total scale of Grayscale Asset Management exceeded US$50 billion


According to Grayscale's official Twitter, on April 14th, Eastern Time, Grayscale's total asset management broken $50 billion. The trading price of Bitcoin Trust (GBTC) was $51.50 per share, down 6.24% from the previous day. The trading price of Ethereum Trust (ETHE) was $22.18 per share, down 6.10% from the previous day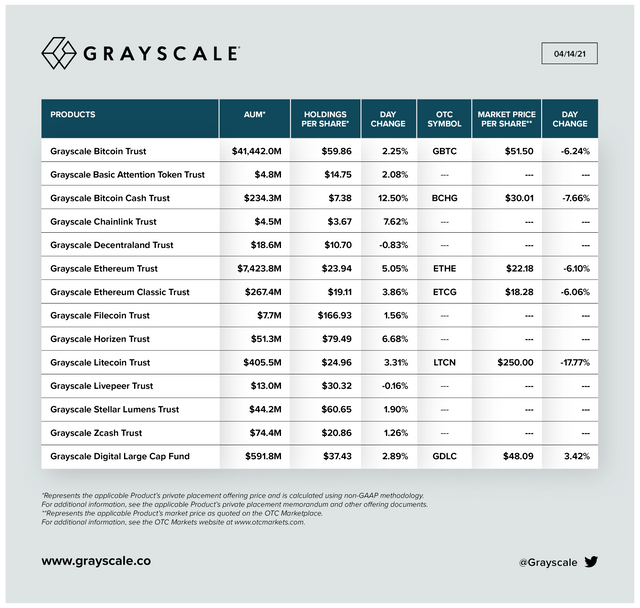 source
yearn.finance will buy back 300,000 USDC of YFI through Gnosis auction


yearn.finance tweeted to announce that it will conduct a Gnosis auction to buy back additional YFI from the market. yearn.finance will buy back YFI worth 300,000 USDC at a price of 45,000 USD/piece.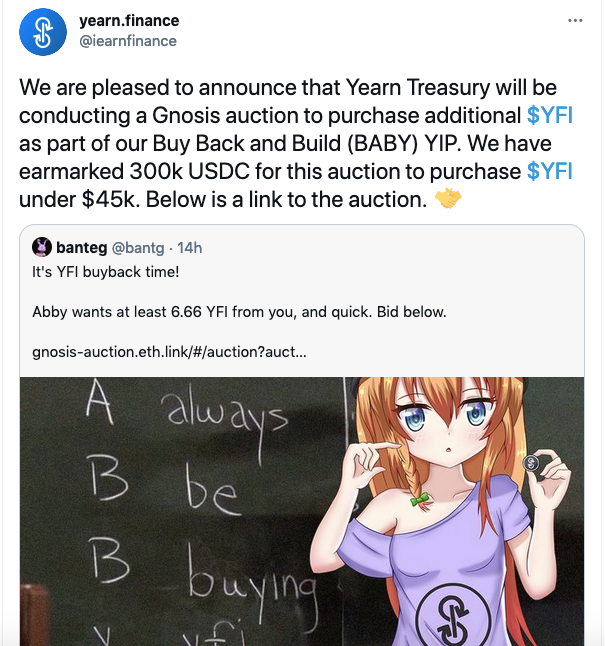 source
Coinbase CFO: Coinbase is exploring NFT as a new source of income


Decrypt reported that Coinbase Chief Financial Officer Alesia Haas said that Coinbase is exploring NFT as a potential new business line. Haas said that NFT is a natural fit for Coinbase's platform, and NFT can provide the company with a new source of transaction fees and achieve diversification of transaction fees. Haas did not specify when Coinbase can provide NFT, nor did it say whether the company plans to create an NFT art market similar to Nifty Gateway or Foundation, or just act as a NFT resale platform.
Goldman Sachs CEO: Cryptocurrency is very important to the future of the global financial system and needs attention


Goldman Sachs CEO David Solomon mentioned the importance of cryptocurrency and Bitcoin in the earnings call. He said: "Central banks are paying attention to digital currencies, working hard to apply this technology to the local market, and determining the long-term impact of the global payment system. At the same time, we need to pay attention to cryptocurrencies such as Bitcoin. As market participants evaluate their potential as a store of value, its development trajectory is not clear." Solomon also said that it will continue to find ways to expand its business capabilities to satisfy customers' requirments. Although Goldman Sachs cannot trade Bitcoin in principle, cryptocurrencies are "very important to the future of the global financial system." As for Goldman Sachs' plans in the retail crypto market, Solomon said that Goldman Sachs should not start business in this area anytime soon.
The founder of FTX predicts that Coinbase may reach $150 billion in market capitalization at the close of trading on Friday


The Block Research Director Larry Cermak launched a prediction on Twitter. He asked: "What's going to be Coinbase's market cap after Friday's close? "
In response, FTX founder Sam Bankman-Fried replied : 150b.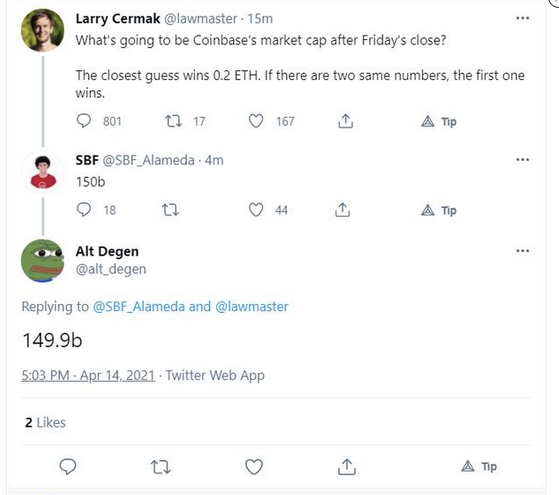 source
Bloomberg Chief Commodity Strategist: Grayscale GBTC is about to surpass the world's leading gold ETF


According to U.today reports, Bloomberg's chief commodity strategist Mike McGlone estimates that by May to July this year, the scale of funds in the Grayscale Bitcoin Trust Fund may exceed the world's leading gold ETF: SPDR Gold Shares (GLD).
Learn More
---
---
MARKET DATA - TOP 10 [ from CoinMarketCap ]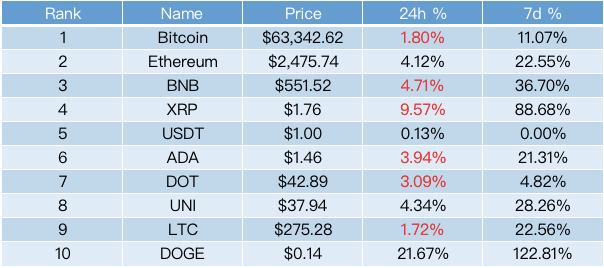 ---
CC:
@steemcurator01
@steemcurator02
@steemitblog
THANKS ALL!