Crypto Morning News - April 16th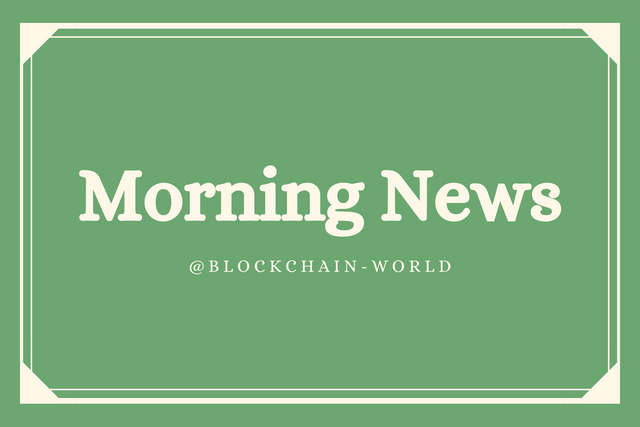 Nasdaq-listed company Cleanspark buys 22,680 Bitcoin mining machines


CoinDesk reported that Cleanspark, a Nasdaq-listed company, said on Thursday that it has signed a contract to buy 22,680 Bitcoin mining machines to meet "urgent needs" and increase production capacity. CleanSpark said that it is buying S19j Pro and S19 Pro Antminer, and the goal is to increase the total computing power to 1.1 EH/s or more by summer. It is reported that the company has purchased 7,200 Sj19 Pro ant mining machines from Bitmain and signed a contract to purchase 15,480 mining machines with another unnamed cryptocurrency mining equipment dealer.
Coinbase CEO's shares as of the close of the first day are worth about $13 billion


Fox Business reported that as of the close of the first day, Coinbase shares were priced at $328.28 per share, and the value of shares held by its CEO Brian Armstrong was approximately $13 billion. According to the company's prospectus, as the largest individual shareholder of Coinbase, Armstrong owns nearly 40 million shares, which allows him to control approximately 21% of the company's shares.
Ark Fund bought approximately $352 million in Coinbase stock in two days


According to Bloomberg News, Cathie Wood's Ark Fund bought approximately $352 million in shares of Coinbase Global Inc. within two days, the largest cryptocurrency exchange in the United States. Funds including its flagship Ark Innovation ETF bought a total of 341,186 shares on Thursday. This allowed Ark Investment Management LLC. to buy more than 1 million shares of Coinbase. Coinbase shares closed down 1.7% on Thursday, making the company's valuation down about 43% from the $112 billion touched on its first day of listing. In addition, data shows that Ark's funds have sold shares of Intercontinental Exchange Inc., the parent company of the New York Stock Exchange, for two consecutive trading days.
Jim Cramer , The host of CNBC, sells half of BTC assets to repay mortgage


CNBC ace host and well-known US stock market commentator Jim Cramer said on the show that he has sold half of his bitcoin assets to repay his mortgage. Cramer said: "From the chart, I may be the only natural seller, but it's great to pay off the mortgage. It's like paying real money with fake money."
Co-founder of Tezos: Coinbase's listing drew attention to cryptocurrencies


Tezos co-founder Kathleen Breitman said that the listing of Coinbase has aroused people's attention to cryptocurrencies. Coinbase's share price rose to $381 per share after its first trading on Wednesday, but has since fallen back to about $320.
Snowden has opened an NFT auction, and the current highest bid is 122 ETH


The Block reported that Edward Snowden, the revealer of Prism Doors, is auctioning his first NFT work, Stay Free, and the NFT went on sale on Thursday. This NFT was made using open source software. It was a personal photo of Snowden taken by photographer Platon. The background was the court ruling that the US National Security Agency violated the law through large-scale surveillance. One hour after the auction started, the bid for the collection reached 40 ETH (a little more than $100,000), the current highest bid is 122 ETH (close to $310,000). All proceeds from the sale will be donated to the Press Freedom Foundation. Since 2016, Snowden has served as the chairman of the board of directors of the foundation. According to previous reports, Snowden released the first NFT "Stay Free" on the Foundation platform on April 15.
White House Press Secretary: Biden agrees with U.S. Treasury Secretary Yellen's anti-cryptocurrency views


U. Today reported that the White House Press Secretary Jen Psaki stated at a press conference on Thursday that Biden agreed with U.S. Treasury Secretary Yellen's views on the regulation of cryptocurrencies. Yellen called on lawmakers to "reduce" the use of cryptocurrency at the nomination hearing in January. She said: "I think we really need to study ways to reduce the use of cryptocurrencies and ensure that money is not laundered through these channels."
ETH breaks $2500 and continues to brush its all-time high


ETH has broken $2500, and its current price is $2,416, setting a record high again, with an increase of 4.42% in 24H.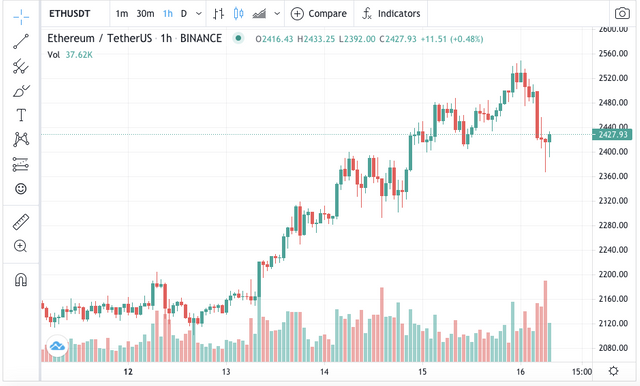 Coinbase becomes the ninth downloaded app in the U.S. Apple Store


According to The Block report, on Thursday, Coinbase became the ninth most downloaded app on the Apple App Store in the United States.
Rothschild Investments has purchased the Grayscale Ethereum Trust Fund worth US$4.75 million


CoinDesk reported that Rothschild Investment Corporation recently purchased 265302 Grayscale Ethereum Trust Funds, which is its first investment in Ethereum Trust Funds. The company also increased its Grayscale Bitcoin Trust holdings from 30,454 at the end of 2020 to 38,346. The company disclosed on Thursday that as of March 31, its purchases of Ethereum trust shares were worth $4.75 million and Bitcoin trust shares were worth $1.92 million. The regulatory filing documents show that Rothschild is one of the first well-known institutional asset management companies to seek exposure to ETH through gray trust products.
---
---
MARKET DATA - TOP 10 [ from CoinMarketCap ]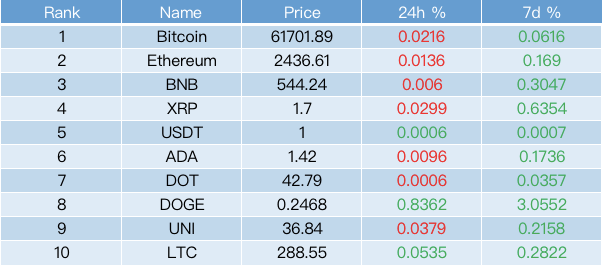 ---
CC:
@steemcurator01
@steemcurator02
@steemitblog
THANKS ALL!