Distinctive view : منظر مميز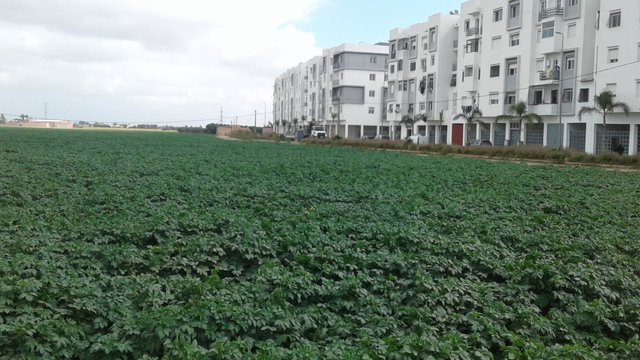 During my visit to wlad zian , I took many pictures there , I shared some of them with you .
The car has been disrupted in this beautiful place , I saw these plants planted in this vast land , and because I love everything about agriculture
I approached the place to know what type of plant Until they changed the wheel of the car .
I later knew it was the potato, but what I liked most was the buildings overlooking this green land , I felt that the residents of these buildings were very lucky , To open the window of your home and look at nature is beyond imagination , I hope that this land will remain as it is , I hope that they will not build new buildings that distort the beauty of these agricultural lands .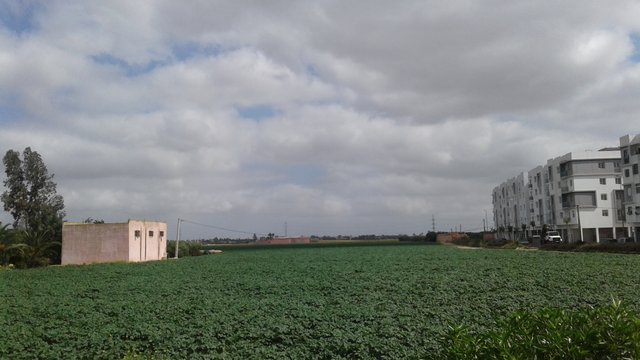 في آخر زيارة لي لولاد زيان التقطت مجموعة من الصور هناك ، تشاركت معكم البعض منها ، وقد تعطلت السيارة في هذا المكان الجميل ، لفت انتباهي هذه النباتات المزروعة في هذه الارض الواسعة ، وبما أني أعشق كل ما يتعلق بالفلاحة اقتربت من المكان لأعرف ما نوع هذه النبتة ،ريتما غيروا عجلة السيارة ، عرفت فيما بعد انها البطاطا ، لكن ما اعجبني أكثر هو هذه البنايات المطلة على هذه الارض الخضراء ، أحسست أن السكان محظوظون للغاية ، ان تفتح شباك بيتك وتطل على الطبيعة شئ يفوق الخيال .
أتمنى ان تظل هذه الارض كما هي عليه وأن لا يبنوا عمارات جديدة تشوه جمال هذه الاراضي الفلاحية