Moment waited is a moment wasted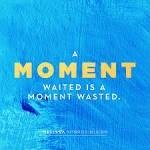 Many of the moments I had waited for, didnt come during the wait. They didnt come when i stayed at home waiting on the moment. You know- the wait... that moment when we refuse to do anything because the excuse sounds better than the reason, the no sounds better than the yes and the why nots better than the whys...
In that moment, time slowly passed by. Nooo! The moments i genuinely cherish, came when i was out...preparing for the moment.
When i finally gathered enough courage to step out!
So dont wait for the moment
Go out and create your moment!
Seize the opportuinity! Start small!
But make sure you do something everyday to draw you one step closer to where you want to be.
No matter how many, days pass
And one day, you would just realize that you are there!
And this is where everything uve learnt while you prepared, would come in handy.
Prepare! So when you get there, uld be ready!
Get your hands dirty moulding your life into what you want it to be...
Youe moulds may crash a little once in a while...
Restrategize and keep moulding.
Keep working with your picture in mind!