How To Overcome Laziness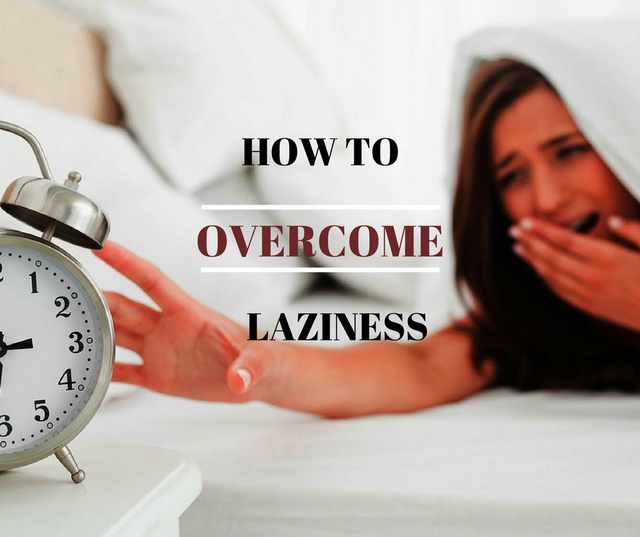 Image source
Laziness can come in whenever you choose to get things done and drag you from reaching your targeted goals. If you are hit by extreme apathy, you may not be able to get your project work done, keep up with your workout program, and even care for your individual dreams and career growth. When laziness takes effect, one ends procrastinating things which were supposed to be done for later. And this could wrap up in a cycle, which means that one gets less and less things done.
Have you been pondering how to stop being lazy? Then you should start by accepting that it is very possible to overcome laziness. The good thing about fighting the sloth and idleness is that you do not actually need to put in too much effort. Slight changes in your daily schedule may be all that you need to finally stop being lazy. Here are a few guidelines that will help you in overcoming laziness.
Start off with a little exciting step
In a situation where you just can't find the strength and inspiration to start out getting things done, how about reducing that internal resistance by engaging in an exciting action? Heading out for a run for just five - ten minutes or even taking five minutes to clean the dirty dishes may be all the motivation you need to start out the day's task. Taking away your mind a little from all you need to do can work wonderfully, even if it is merely for some minutes.
Start out by completing a little of what is most important
There may be so many things that need to be done daily but some are definitely more important than others. Sort them out and begin the day by getting the most important done even if you have to do a little portion of it. When you split a huge task into smaller tasks, focusing on them becomes easier.
Be sure to have enough rest and throw in some exercises
One of the major reasons why people feel lazy is basically because they fail to get enough rest and sleep. The truth is, when you get enough rest and exercises as well as sleep, you will enjoy higher boosts of energy and strength as well as passion to get things done the next day. Program your day so that you have some time to rest. With enough rest and some exercises, you won't be feeling lazy at all.
Invigorate motivation using cons and pros of laziness
One of the best ways of ensuring that you keep going in conditions of accomplishing what you need to, is to possess a clearer view of the future. List things you want to achieve and envision such life. Then think about where you will be if the laziness continues and where you will be if you fight it and maintain working towards your dreams. Getting the negative consequences of laziness in your subconscious mind can bring very positive outcome in your life to keep moving.
There are several ways of how to overcome laziness and you may only desire a few to start obtaining goals and adding value to each minute of the day. Fight off laziness today and start living your dreams!