My tips to a Joyful life
Bills, deadlines, responsibilities, finances, job, business, studies and end number of other things keeps going on in our lives and we feel stressed out or bogged down with them. Life continues with all of these, but then amidst all of these we also need to find our peace and be happy. All the time we cannot be carried down with problems, even if they do exist we still need to find our own ways to be balanced and feel joyful.
These are some of my choices that I prefer to combat my stress and they absolutely work best for me. No matter however low I feel, I still revive with these practices. So sharing my happiness tips.
Music - Music is the best therapy to tackle any stress. Go with your own likes of music, some may like to go with Hard and some may like soft but any form of music is good for the brain relaxation. Music calms my senses and gives me peace. I love all types of music so it depends on the mood what I want to hear. I enjoy playing music when I am working in the kitchen, I do not enjoy kitchen work much, so all the more needed, it gives me a boost.
Outdoors and Long walks - Getting outdoors, being in nature, connecting with mother earth soothes my senses, if I feel disturbed it brings in stability to my mind, and it helps me ground back and calming down. A day outing in nature by the beach or in a park, anywhere that I can connect with nature or just going for a long walk in a pleasant place is very rejuvenating. There are times when I feel lethargic and I push myself out for a walk and when I finish I am at a different level.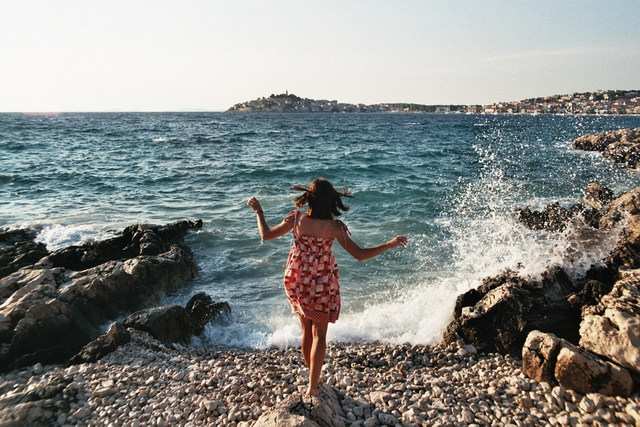 Source
Aromatherapy and SPA - It's good to pamper ourselves at times, I love and enjoy going for a Spa and relax my body and mind, or a nice Aromatherapy at home by lighting up some of my favorite fragrance candles, or using essential oils or fresh herbs that helps soothe my senses and bring in stability.
Meditate - Being mindfulness helps increase the positive emotions and giving relief to stress. Meditations calms down our mind, body and soul and helps to release what is not required and unimportant. When we meditate daily we will see that we will have better capabilities at mental, emotional level to deal with stress or any other problems in life.
Spending time with Friends- It is said that when we are in joyful mood and happy and when we laugh out heartily all our Chakras get into perfect harmony. And that's what I love to do.
Socializing with friends, going out to my favorite club, or dancing, or just having my favorite drink are all some other ways of bringing down my stress levels and be at the top of my mood.
These are some of my tips to a Healthy living. Everyone has their own, but the thing is to turn to them immediately when you feel low or out of mood, so that it does not take you down further and it bounces you back to full energy.
Thank you for visiting my blog. 👼🏻👼🏻💖💖🌹🌺🌸




"Unlimited Abundance, Blissful Happiness and Unconditional Love"