Power of your word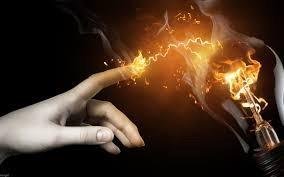 Memory Verse: "Death and life are in the power of tongue: and they that love it shall eat the fruit thereof" Pro. 18:21
Why do we get discouraged? What is the source of our worries and anxieties? Who is the brain behind our hopelessness and weariness? Is it not the devil? The devil attacks our hearts with lies. He magnifies our problems and makes us think we are the worse.
He fills our minds with fear of today and tomorrow. He tells us about things that we always put our head on high.
He shows us only the negatives while He will never allow us to see the plan of God for our lives.
Devil strategy has not change, one way to run him out of your life is to be fill with the Word of God.
When you speak the Word of God to the devil, you are uprooting his seed or evil thought or imaginations off your life.
If devil keep telling you negative thing, use God's Word to say positive thing to yourself. Any moment it comes to your mind that you are under curse, speak to yourself and say Christ was once a curse for you through which you are now blessed.
One thing the devil cannot oppose is the Word of God. It is to every man according to His Word. The Bible says "You shall have whatsoever you say"
It is my prayer that all evil imaginations in your life will give way in Jesus name.
As from now on, don't keep quiet, keep telling yourself all that the Bible says you are in Christ and you will become what you say.
PRAYER: I Confess With My Mouth This Day That My Future Is Glorious Because Christ In Me The Hope Of Glory.