Motu Patlu- King of Kings' review: The characters will leave you charmed. the below image show characters which are shown in mottu patlu
Motu: Motu is a plump man who serves as the one of the show's central protagonists. He likes to eat samosas which provides him power. His best friend is Patlu. He often lands in trouble because of his actions. He is always looking for the easiest way to earn money, have fun and get to eat a lot of samosas, even if it means landing himself in trouble. Sometimes he gets over-expressive while celebrating his victory and can do something very foolish, like bringing back a pirate into the present who they had sent recently back to the past. He is also shown bragging about something he has never done. But he is a good-natured man who wants to help others. He wears a red tunic with a navy blue (though mostly black) vest, yellow Pyjamas, and shoes. His talking accent looks influenced by Dara Singh.When he eats samosas, he gets extra energy like Chhota Bheem and can defeat anyone in the world. He is depicted as extremely musophobic. His father is believed to have been abducted by extraterrestrials from Axar during his search for extraterrestrial lifeforms in the universe.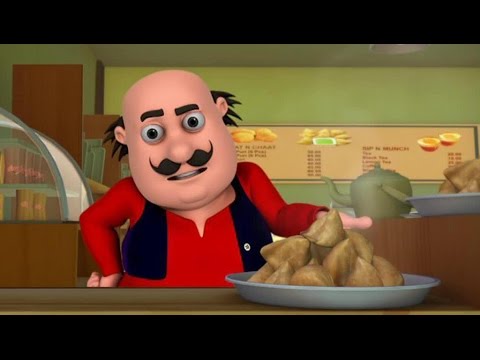 Patlu: Patlu is a thin, slim man who serves as the one of the show's main protagonists. He is often portrayed as the smartest guy in the whole city. He often gets into trouble along with Motu but he manages to help himself and Motu when they land in trouble. He always advises Motu to be in their normal track and thus lead a "danger free" life, but he can always be coaxed (or forced) by Motu into helping him. He dislikes samosas but loves to read newspapers. It is also believed that his grandfather was a boxing champion and had a recipe for procuring extraordinary strength, which is later discovered by Motu. He wears a yellow tunic with orange leggings, brown-framed glasses, and brown shoes.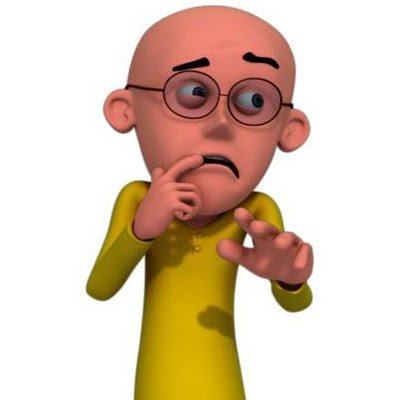 Dr. Jhatka: Dr. Jhatka is an eccentric scientist. His accent is like a sardar, so he is referred as a punjabi. His inventions are very good and successful but not useful to the people. In fact, instead of helping people, the inventions land the people in trouble. Jhatka is known by his balding hair, green shirt, violet neck tie, and blue jeans. His grandfather is shown to be a millionaire searching for the whereabouts of his grandson in Furfuri Nagar, but almost falls into the sly, pretentious and crafty John's trap, who pretends to be his scientist grandson. His design is a parallel version of Motu.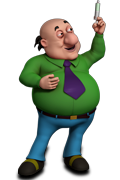 Ghasitaram: Ghasitaram has a 20 years experience in every field but none of the experience is useful to anyone. He hails from Ghatal located in West Midnapore in West Bengal. Almost like Dr. Jhatka, his so-called "experiences of 20 years" often land people, especially Motu and Patlu, in trouble. His design is a parallel version of Patlu. He wears a cobalt blue tunic, purple dhoti, dark brown vest, and shoes of the same color.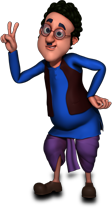 Chingum: is a police inspector. He believes that no criminal can escape from his clutches. However, chingum manages to catch criminals merely by luck with the help of Motu and Patlu. A Rajinikanth devote with a strong south Indian accent, Chingum is a solicitous police inspector. He takes pride in the fact that no criminal can ever get away from him. A lethal combination for righteous and hilarious. When he fires his gun in the air after telling his dialogue,coconuts fall from the top on his head and makes him fall on the ground. He drives a green motor bike and sometimes also drives a police jeep. He is sometimes helped by two Constables, Hera and Pheri.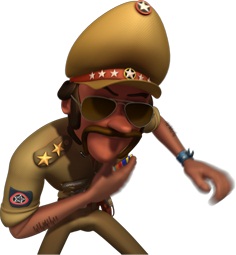 Chaiwala: A man who lives near Motu's house. He is the only one who makes samosas and tea in the whole Furfuri Nagar which is the favourite of Motu and Patlu respectively. Motu steals the samosas from his shop and doesn't give the money to him. Motu gets a lot of power by eating samosas of Chaiwala. After eating samosas he shows aggression and can beat anyone, although the chaiwala doesn't like his samosas to be eaten for free. He occasionally rewards Motu by exempting him from the money Motu owes him or even promising him free samosas when he saves him from other residents of Furfuri Nagar.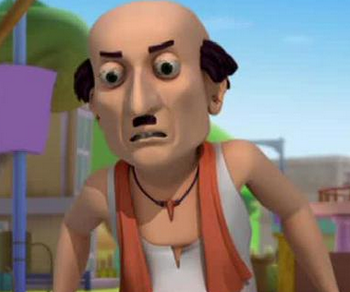 John: John the Don serves as the main antagonist of the show. John's ambition is to become the fearsome Don. But his plans always fail very badly and thus end up in him getting arrested or being taunted by other people. He writes some short poems. Contrary to normal thieves, he is not afraid of Chingam but is instead afraid of Motu and Patlu. He is plump, and short in size and faces discrimination for that. He wears a blue dress shirt with dark blue flower prints, yellow undershirt, brown belt, dark periwinkle leggings with blue cuffs, and brown shoes.
Number 1 is John's goon who serves as the one of the supporting antagonists. He likes John's short poems. He has brilliant ideas to trap Motu and Patlu but whenever he tells him John says that his idea is bad and beats him, saying that he has a better plan but repeats the same one. Though he respects John, he is always the first to get beaten by him. He wears a blue French check hat, magenta striped shirt, denim trousers, and a yellow ascot.
Number 2 is John's goon who rarely speaks. He has a dark mark on his eye and a band aid on his oversized nose. He has dark brown hair, wears a cyan striped shirt, aquamarine ascot, and brownish-orange pants.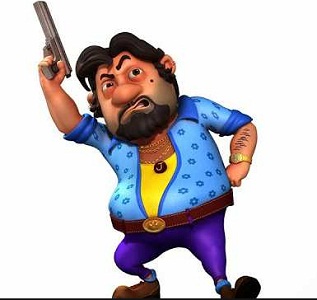 Boxer: is a Motu's neighbour/neighbor who wears red boxing gloves, a white tank top, and red pants with vertical yellow stripes. He is an aggressive man and a teacher in the school they used to attend. His coach is Mr. Thakur. He always wants to help his neighbors but he gets angry and beats them up. He also has an expensive car which gets destroyed by Motu. In "Boxer's Baby", it is also shown that he is not a good parent and could not get his son, Sunny, to sleep. Also, he is depicted having a cowardly brother in "Judwa Boxer" who becomes bold enough later to free him from Motu and Patlu's captivity.


Bubblegum: He is the father of chingum and the commissioner of police of the area comprising Furfuri Nagar and adjoining villages. He once got impressed with Motu and Patlu and even recruited them in the police as Havaldars, but when he came to know that they were not as capable as he had thought, he got annoyed with them and fired them from the police.*
Hera Singh: He is an Hawaldar of Inspector Chingum. He always tells Chingum, "Aap to top ho, hindustan ki hop ho".
Pheri lal: He is an Hawaldar of Inspector Chingum. He always remarks, "You are very great sir, but born little late sir".
Sabziwali: She sells best vegetables in the whole Furfuri Nagar. Motu can be troublesome to her too at times and also owes her some money. She has got a fiery temper and can also punish Chingum at times whenever his chases harm her vegetables in some or other way. She wears a green saree over a black blouse.
Additional characters include Mayor Mr. Singh, the Chief Minister, and Chhotu.