Seven Munros in one day – part 2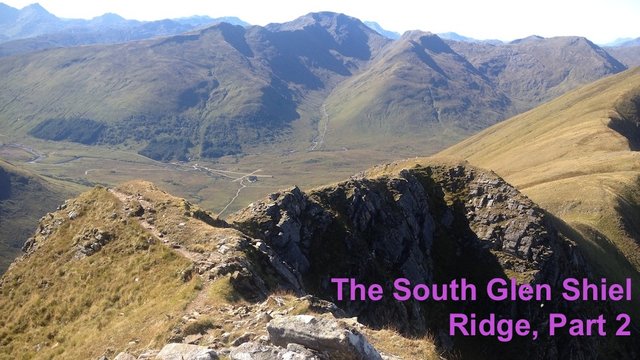 The South Glen Shiel Ridge covers a distance of almost 24km and takes in seven "
Munro
" (mountains with an altitude of at least 3,000 feet) summits. I had been looking forward to climbing it for months, and my friend Oleysa had offered to join me.
But as we were climbing up the first Munro, exhaustion started to kick in, and I realised I was having a big "off day".
After we had done three Munro summits and were walking towards the fourth, I was so tired I was starting to think I might have to abandon the walk. We decided to stop for lunch at the top of what is probably the narrowest and rockiest section of the entire route. I hoped that lunch might give me a new burst of energy!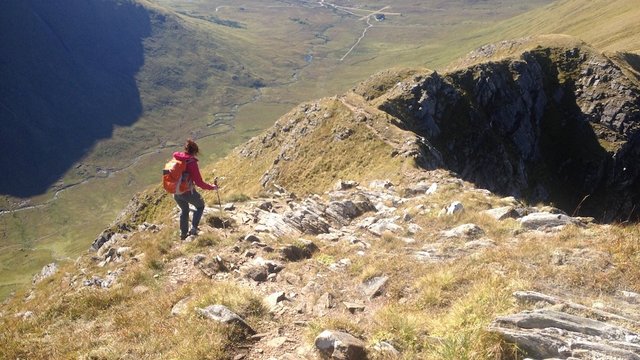 Heading down towards our lunch spot, at the top of the rocky section just beyond the summit of Aonach air-Chrith. Larger image here.

I've read that this rocky section can be bypassed, but it's actually one of the most scenic parts of the route, with views out to Loch Cuaich. I wouldn't say it requires nerves of steel – just a little extra care.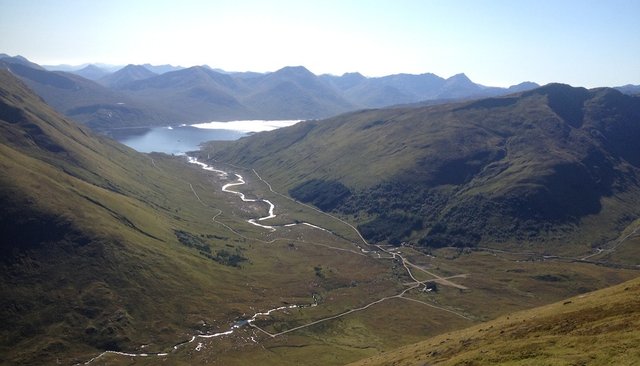 The view down Glen Quoich to Loch Cuaich. Larger image here.

Lunch provided some refreshment, but although I'd brought quite a lot of water with me, it didn't seem to be enough. My thirst was greater than usual. I drank almost all of what I had left, keeping a little in reserve.
I felt very weary and bedraggled by the time we reached the summit of Maol Chinn-dearg, ("bald red-head"), the fourth Munro of the day. This was the Munro that had first attracted my attention when I made my selection for The Munro Table, a project set up to commemorate the centenary of the death of Sir Hugh Munro.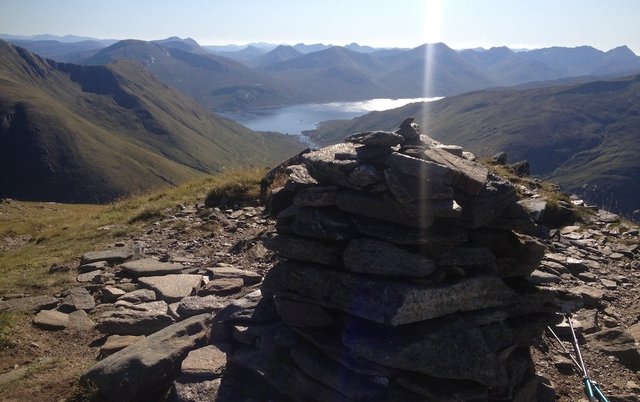 Quite a distinctive summit cairn on the summit of Maol Chinn-dearg, overlooking magnificent views to Loch Cuaich and the hills beyond. Larger image here.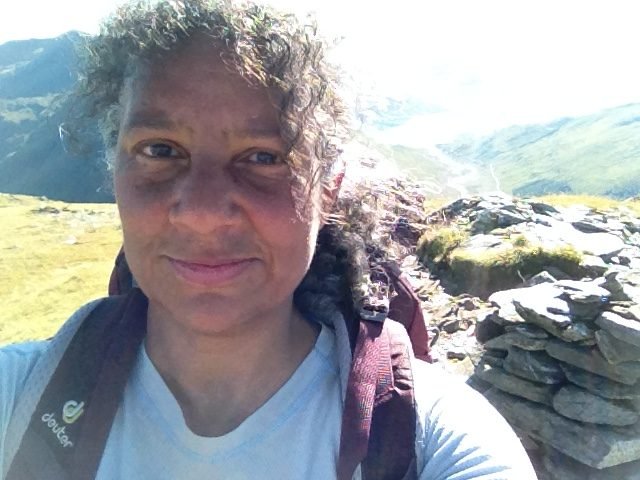 Bedraggled and a bit dehydrated at the summit of Maol Chinn-dearg!
There might have been some psychological element here. The Ordnance Survey map has the words Maol Chinn-dearg printed along the top of the ridge, making it appear much closer to the previous Munro summit than it actually is. I was expecting a much shorter walk to Munro no. 4!
There was an upside to this. It wasn't quite as far as I'd expected to the fifth Munro summit, Sgurr an Doire Leathain ("the peak of the broad thicket"). Having made it this far, I was feeling more confident about completing the walk, despite still feeling quite dehydrated.
To reach the summit of Sgurr an Doire Leathain, you have to do a slight detour of 200m. The views as you walk along this broad plateau are spectacular, with the first sight of Loch Duich at Shiel Bridge showing that the walk is nearing its completion.
But the steep bulk of the next Munro summit, Sgurr an Lochain ("the peak of the lochan"), presents an ominous challenge ahead.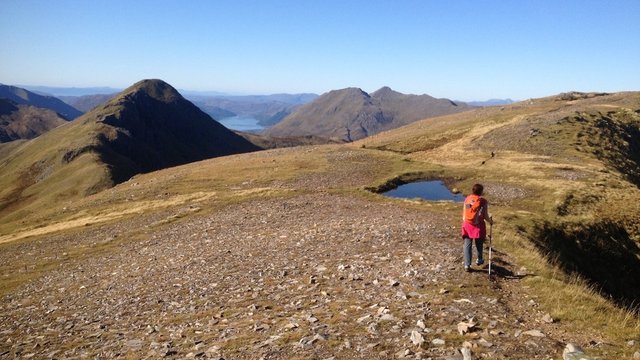 Approaching the summit of the fifth Munro of the day, Sgurr an Doire Leathain, with Loch Duich in the distance. To the left of Loch Duich is the unnerving bulk of the next mountain along, Sgurr an Lochain. Larger image here.

Despite feeling weary and dehydrated, I was really enjoying the walk. I just needed to take it slowly. Oleysa persuaded me not to refill my bottle in the stagnant looking pool in the picture above! Actually I didn't need much persuading.
In some ways the walk became more interesting now, as the hills seemed a bit steeper and more rocky.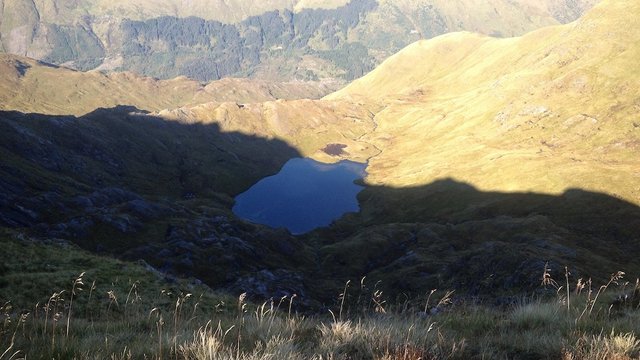 This lochan nestled in a corrie looked spectacular, but the bright sunshine made it difficult to photograph with a phone camera. Larger image here.

Sgurr an Lochain was not an easy Munro to bag. There were several "false summits" on the way up. We took it slowly – or rather, Oleysa waited patiently for me!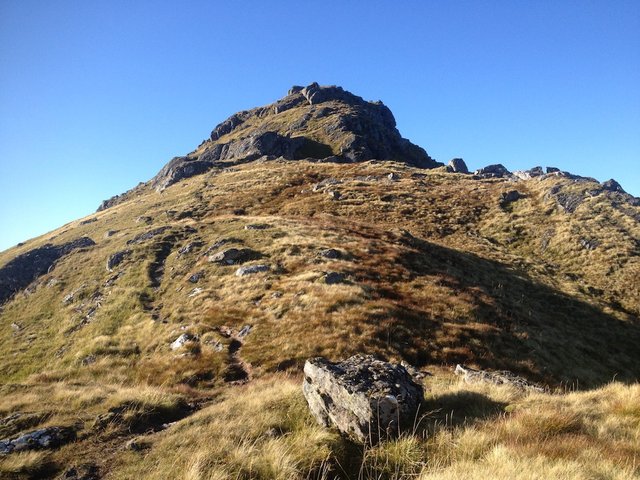 There were several "false summits". We kept thinking we were almost at the top, and then another one would appear up ahead! Larger image here.

There was a great little scramble, which was easily avoidable if you don't like scrambling, as there is a path going round these rocks.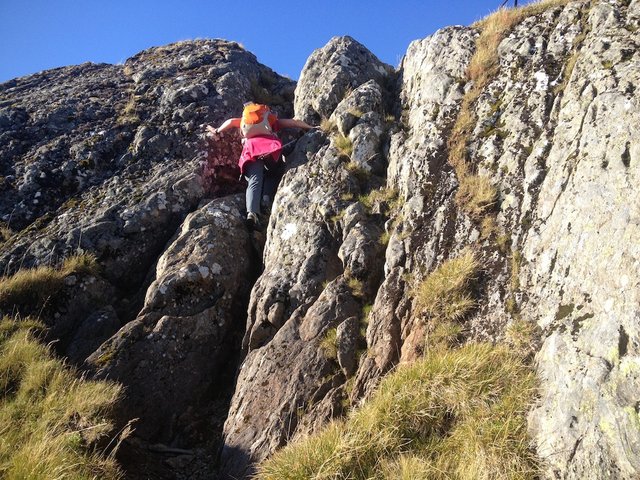 Oleysa scrambled up first. (Larger image here.)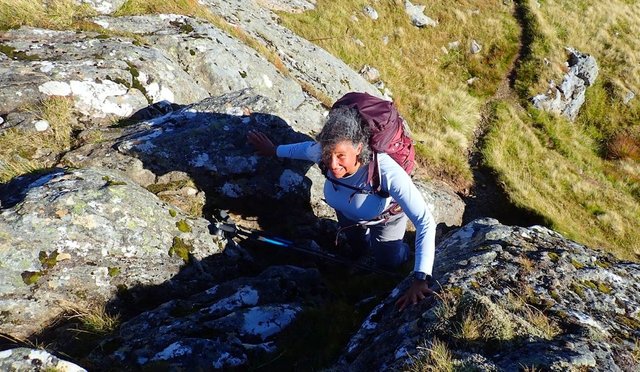 Tired but still loving it!
At the top, the views were spectacular, especially in the glow of the late afternoon sunlight. I spent a long time drinking in the views – not to mention the realisation that we only had one more Munro to go!
This Munro would be my 141st. There are 282 Munros, so it would mark my Munro-bagging halfway point. I had brought along a small bottle of Prosecco and a bar of hazelnut chocolate to mark the occasion.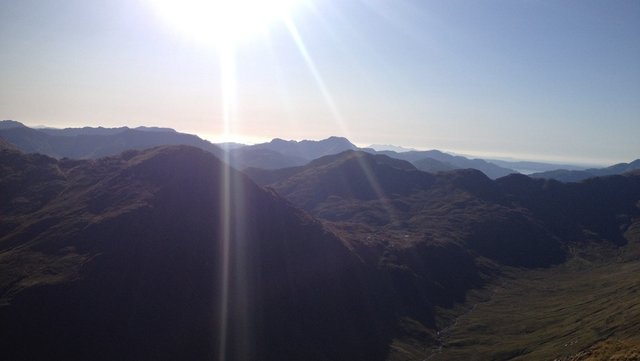 Views out to the Rum Cuillin and the Isle of Raasay. Larger image here.

Oleysa now said she was starting to get a bit tired too! There is a "Munro Top", Sgurr Beag ("small peak"), between this point and the final Munro summit. Munro Tops are mountains over 3000 feet high but without enough prominence or distance from a neighbouring Munro to achieve Munro status in their own right.
I don't generally turn my nose up at Munro Tops, but I think we both realised we maybe wouldn't have the energy to get back down to the A87 if we attempted this one. Maybe another day!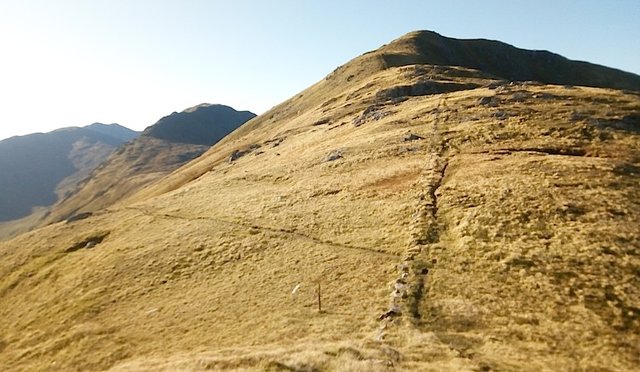 Sgurr Beag, a "Munro Top". One path goes to the top, the other skirts round it. Guess which one we took?
As we skirted round the south face of Sgurr Beag, a lovely surprise was waiting for us. I heard it first: the delicious sound of running water. A mountain stream!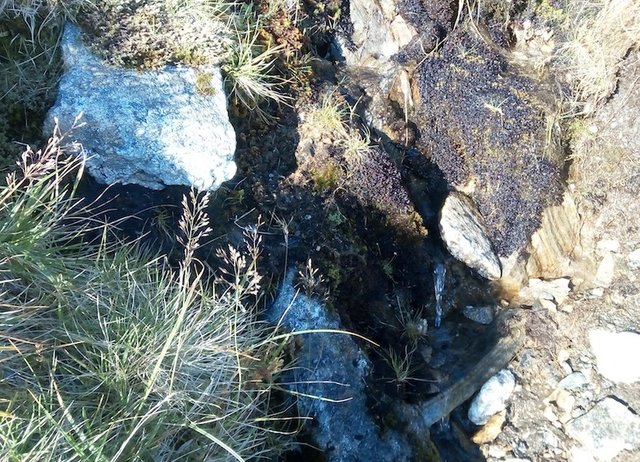 The trickle of water looks tiny, but it quickly filled a water bottle!
This was a pure delight. It was cold and tasted thirst-quenchingly exquisite, as only a mountain stream can.
If I needed any extra encouragement to take me over the seventh Munro to the end of the ridge, this was it!
The ascent to the final Munro, Creag nan Damh ("the crag of the stags"), starts gently, with a steep 120m climb at the end. I just took it step by step.
Halfway up this final steep section we paused for breath and looked back at the ridge we'd just walked extending into the distance.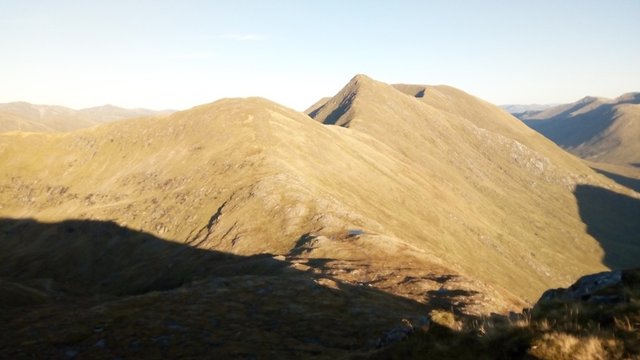 View back along the ridge. Larger image here.

Summit celebration
It was now almost 6pm, and the sun was low in the sky. Sunset was at 7.30pm. I was ready for that celebratory Prosecco!
The views at the summit were mesmerising.

Panoramic views to the west from the summit of Creag nan Damh, with Loch Duich at the centre. Larger image here.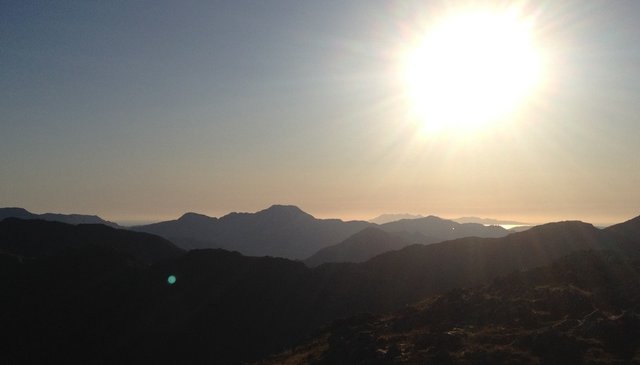 Zoomed view of Ladhar Bheinn and in the distance, the Rum Cuillin. Larger image here.

I opened my little bottle of Prosecco and did a celebratory pose on the cairn. I'd brought along an extra cup for Oleysa, and a bar of chocolate with hazelnuts.
We both felt that we thoroughly deserved our chocolate and bubbly.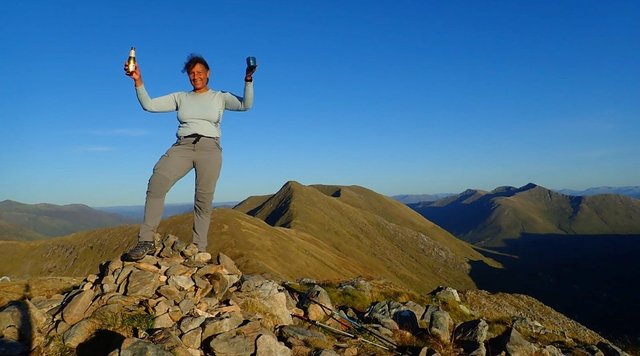 Celebrating my Munro-bagging halfway point on the summit of Creag nan Damh.
Almost reluctantly, we started to make our way down the mountain. Annoyingly, after climbing seven Munros, the path now takes an upward turn! For a moment we wondered if we were going the right way.
The map showed us that this was just a little rocky knoll. Oleysa started to go round it. I was about to follow, but then decided to enjoy the little scramble.
There were a few more scrambly steps before the path took a more marked downwards decline.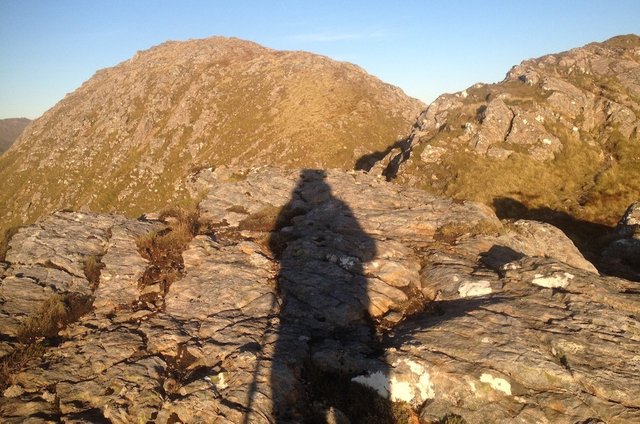 Me and my shadow.
Just before 7pm, as we descended further, I spotted a couple ahead pitching a tent. They looked familiar. As we approached, I realised they were friends whom I hadn't seen for over a year. We had a great chat for 10 or 15 minutes, but we had to cut the conversation short, as the sun was sinking fast.

Making our way down as the sun set. Larger image here.

Final challenge
We started to make our descent as quickly as possible – but it's a long way, almost 6km before you're back at the main road. We were probably more than halfway down when I felt the need to put on my head torch, as I was feeling really exhausted and in danger of stumbling.
It was a new head torch, and what I didn't realise until I this moment was that it had switched itself on inside my backpack, so the batteries were only able to produce a dim light. By the time we were almost down at the road, it was really dark. I was getting more and more tired, and couldn't keep up with Oleysa.
Just 500m from the road, I lost the path.
I had an electronic version of the route on my phone, but for some reason the app kept shutting down – something that has never happened before! Luckily, using my monochrome map printout and the dim light from my head torch, I was able to find my way back in the right direction, but there was a sizeable river crossing to negotiate in the dark.
I was so close to the main road, and could see and hear the traffic passing by!
At this point, Oleysa reappeared with her bright head torch and I was able to see some stepping stones to get me across the river.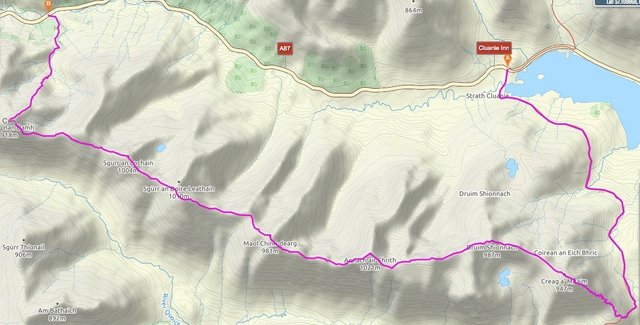 Map of the route we had completed.
More lessons learned!
• Even on a hugely popular route with well-trodden paths, a monochrome map printout can be difficult to follow, especially with a dim head torch. You need a colour map or printout in order to distinguish paths from contours and river crossings.
• It's not enough to carry spare batteries – they need to be the right type!
• I now ALWAYS carry the batteries for my head torch separately from the torch and in special packs, so it can't switch itself on when it's not needed.

Coffee at the Cluanie
We drove back to the Cluanie Inn in my car. By the time I'd changed my boots and brushed my hair, it was 9.30pm, but before I embarked on the four-hour journey back to Glasgow, via a major diversion due to roadworks, I needed a coffee!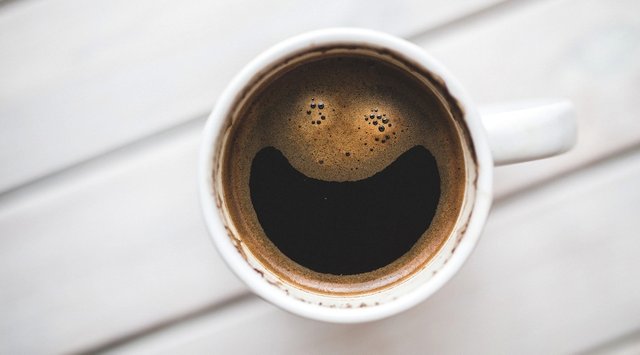 The Cluanie Inn has been a renowned meeting place for hillwalkers since Victorian times, but this was my first visit. It recently changed hands and has undergone a refit.
I'm not sure if it was just due to my exhausted state, but the coffee was possibly the best I have ever tasted!
All photos are author's own, unless otherwise stated.
---
Posted from my blog with SteemPress : http://ramblingandscrambling.co.uk/mountains/seven-munros-in-one-day-part-2/
---