Snowdon on a knife-edge!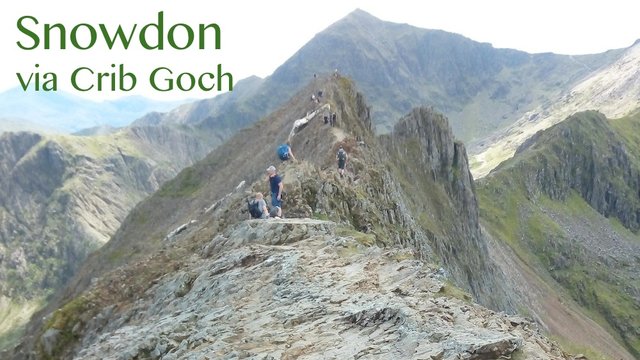 I love mountain ridge walks, and I love scrambling on rocks. But Crib Goch, one of the UK's narrowest ridge walks, has always seemed a bit too much of a knife edge for me.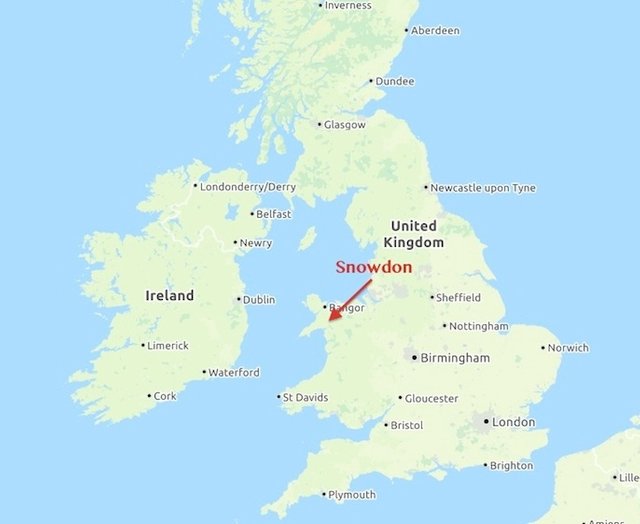 Crib Goch, Welsh for "red route", is a ridge on Snowdon, the highest mountain in Wales. There are much easier ways to climb Snowdon, but I like a good challenge, so when a scrambling Meetup group posted this walk as part of a Weekend in Wales last June, I was happy to sign up.
I was happy, but a bit nervous. Most ridge walks I've done, including the Aonach Eagach and the Forcan Ridge in Scotland and Striding Edge in the Lake District, seem much less narrow in reality than the photos and films would suggest. Would Crib Goch be the same?
The weather for our trip could not have been better. Our group of 12 had booked into the Bryn Gwynant Youth Hostel. Most of us were staying in the hostel's annexe, and if we'd known in advance that there was an annexe, we'd have asked if we could all have stayed there.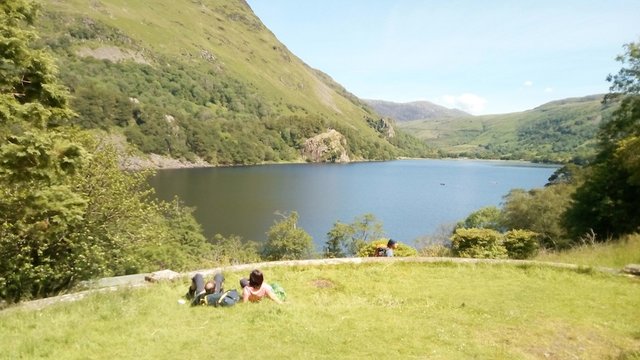 Glorious views from the garden of YHA Bryn Gwynant.
The hostel is in a beautiful location, and has great facilities, but the organisation left a lot to be desired. The loo paper ran out in some of the toilets, and for the whole weekend there was only one tea towel in an annexe sleeping about 20 people.
Despite the organisational irritations, I would happily stay at this hostel again. It was a nice distance away from the crowds at Pen-Y-Pass, the starting point for some of Snowdon's popular routes, including the Miner's track and the Pyg track.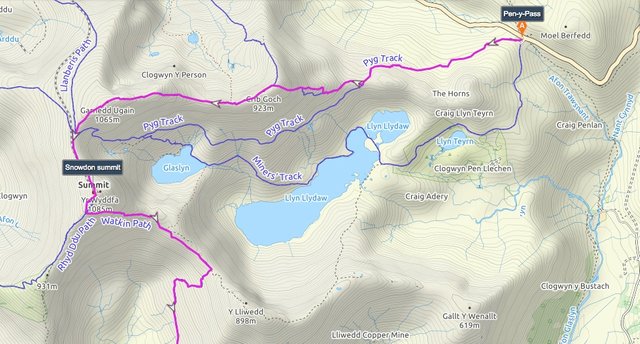 Sunny Saturday
We took the Snowdon Sherpa bus to Pen-Y-Pass. A one-way ticket cost £2 – considerably cheaper than the £10 charge for the car park, which would inevitably have been full in any case, on a sunny Saturday at 1pm, which was our scheduled start time.
The bus journey took about 15 minutes, along a narrow windy road, the sides of which were increasingly littered with parked cars the closer we got to the popular car park. The bus driver got a cheer after laboriously managing to inch round a mobile home whose driver was clearly not used to driving on roads like this. We were in no doubt that our choice to go by bus instead of car was the right one.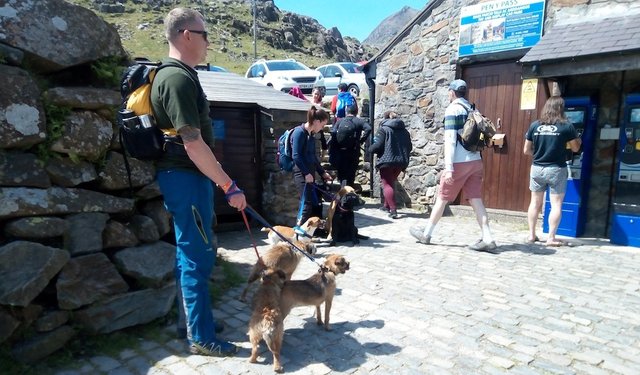 Pen-y-Pass car park. Lots of people, and dogs!
Pen-y-Pass is at an altitude of 359m, so you get a bit of a head start!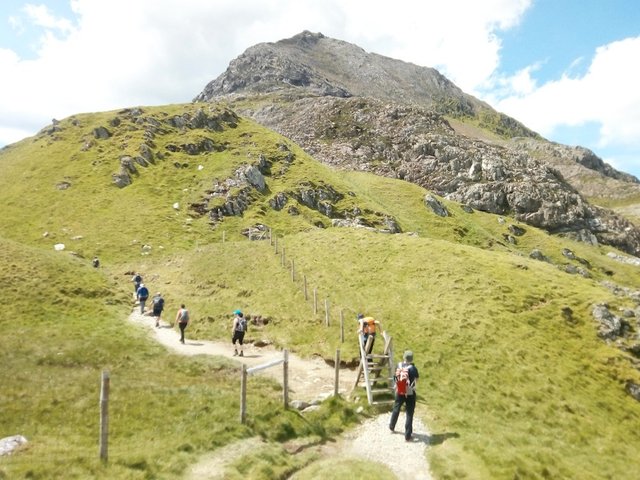 Leaving the Pyg track and our friend Paul at the Bwlch y Moch.
After waiting 15 mintues for a couple of people who failed to show up, we made our way up the Pyg track as far as the Bwlch y Moch. "Bwlch" is the Welsh language version of the Scots "bealach", or mountain pass.
At this point one member of our group decided to part company and meet us at the summit. He'd traversed Crib Goch twice before in his younger days, and wasn't in the mood for doing it again.
Ten of us left the Pyg track and continued on our way up to the knife-edge ridge of Crib Goch.
The terrain soon becomes very rocky, but just before we got to the rocks, we took a refreshment break and admired the scenery.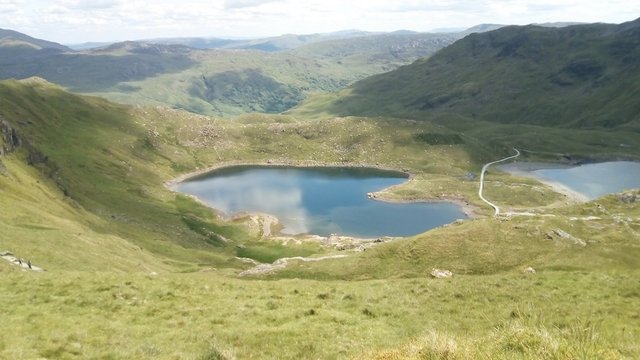 The Llyn Llydaw reservoir. Larger image here.

From there, the fun began!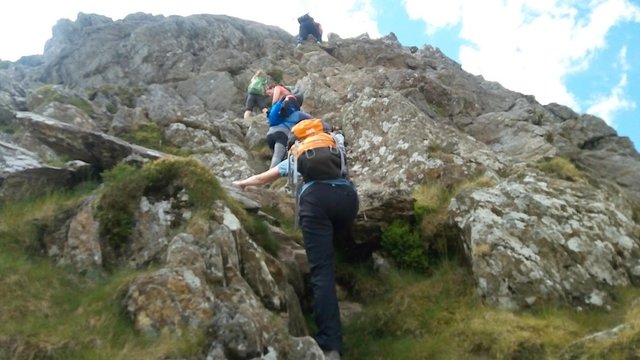 The scrambling was very easy at first, on grippy rocks.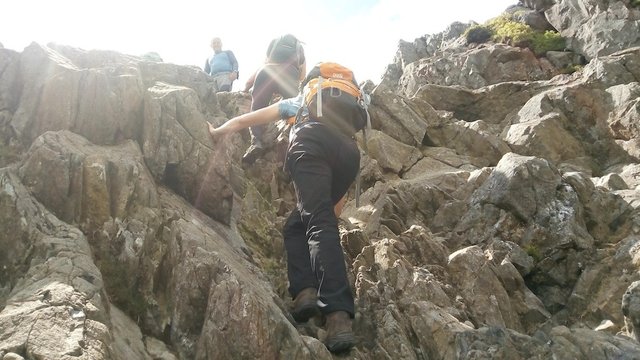 There's one section where it becomes much steeper. There was a bit of a bottleneck here, with people climbing down as well as up. I found an alternative route at the left, and some of the others followed me.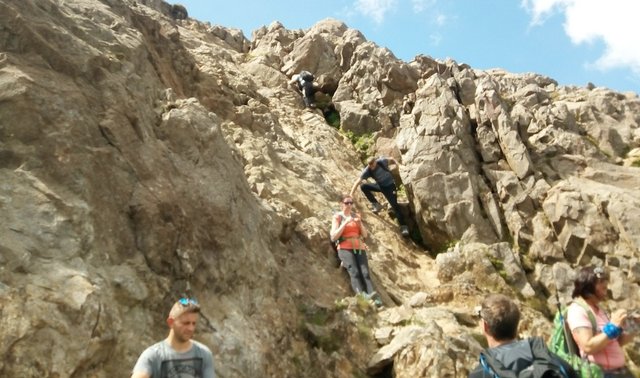 At the top of this section, the rocky peak marking the start of Crib Goch came into view.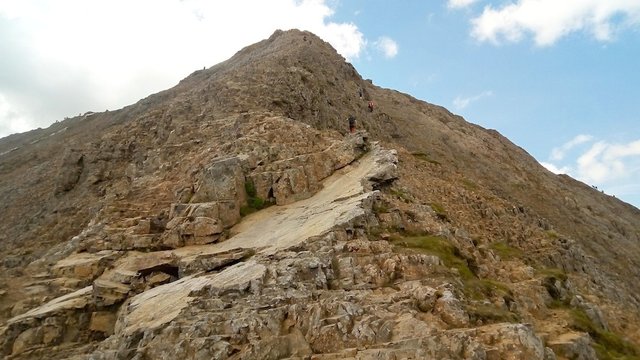 The rocky route to the start of Crib Goch. The ridge leads off to the left. Larger image here.

When I reached the top of this rocky peak, I could see the Crib Goch ridge extending out in front of me. It was the first time that I'd looked out at a mountain ridge and DIDN'T think:
"This looks much easier than I'd expected".
Instead, I thought:
"Oh my."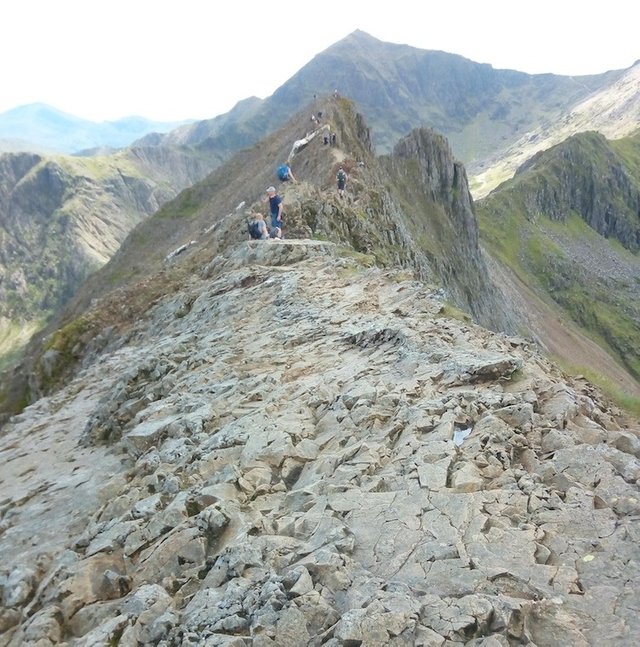 The view out along Crib Goch. Larger image here.

Scrambling is akin to rock climbing. "Three points of contact" is the rule. When I'm scrambling, I love looking for the best way up, for the most secure places to position my hands and feet. On a knife-edge ridge like Crib Goch, "three points of contact" is not always possible – unless you're almost bent over! You just have to go for it.
This kind of thing makes me feel out of control.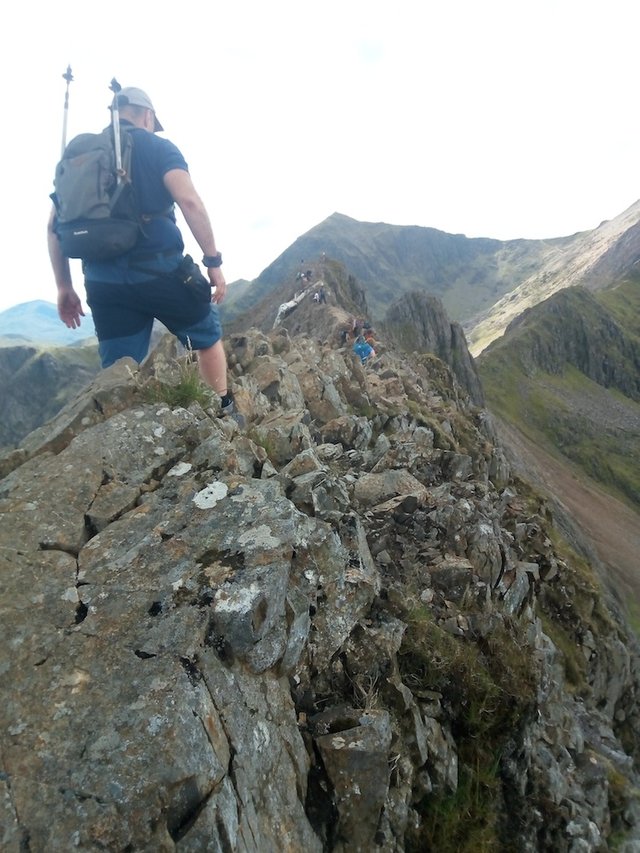 This friend of mine almost skipped across Crib Goch!
I think I was the only member of our group who didn't really enjoy the Crib Goch section of the day. I loved the scrambling on either side of it! But on the knife-edge ridge, I felt out of my comfort zone.
I wasn't at panic level, but every now and then, I could feel my heart rate start to rise. At those times, I would move over to a slightly wider bit and relax for 20 or 30 seconds. As I did so, I was able to enjoy the spectacular views down below.
I'm used to being in high places, so I knew I could cope with this. But I could see how someone with a fear of heights could have a major panic attack here.
And someone did. Not a member of our group, but a woman who was crossing the ridge with a man, maybe her partner. We saw them up ahead of us, perched on some rocks, and at first I thought they were just having a rest. As we approached them we realised that the woman was "cragfast" (too terrified to move) and the man was phoning for help.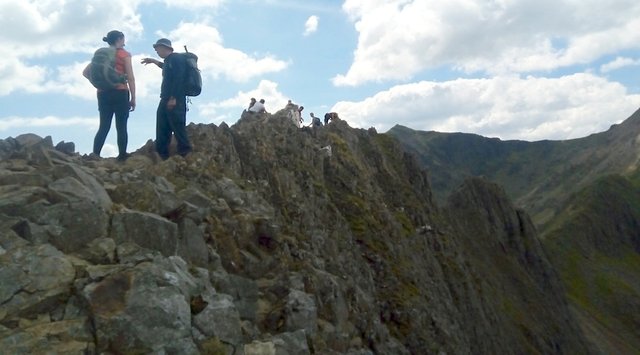 My friend Dee Ann was completely comfortable on the ridge, and she was happily chatting to this man going the other way, as I took a short break to bring my heart rate down!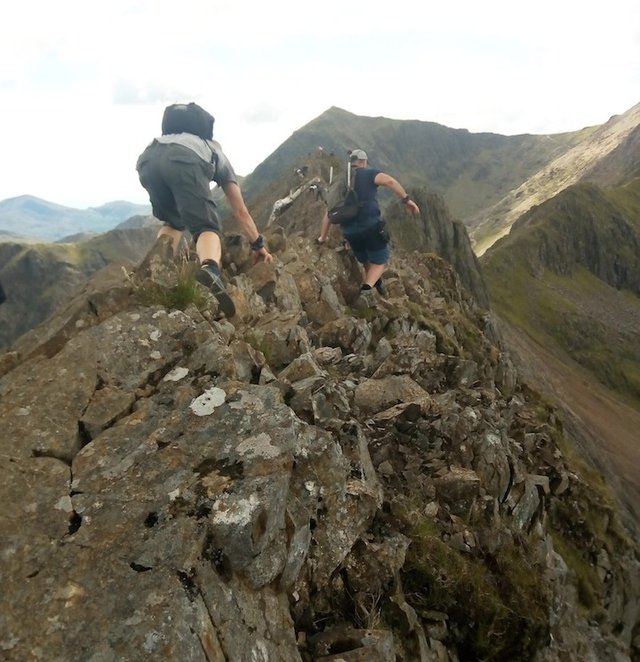 Others were taking no chances!
My friend pointed to a slightly wider grassy ledge nearby, and suggested that we could try and help the woman get to it, so she might feel safer. At first she was too scared to move, but with one of us on either side of her, she slowly stepped down onto the ledge. She was visibly shaking and barely able to speak.
As we got to the end of the ridge, we passed a Mountain Rescue team member making his way to her.

Helicopter rescue
Almost two hours later, we watched from the summit of Garnedd Ugain as a helicopter winched someone up from the ridge. Whether it was the "cragfast" woman we'd passed on Crib Goch or someone else, we couldn't say.
Crossing the ridge took about 25 minutes, though some people do it much faster. I was relieved to see the rocky pinnacles at the end, where the ridge broadens out considerably. This is the kind of ground I enjoy scrambling on.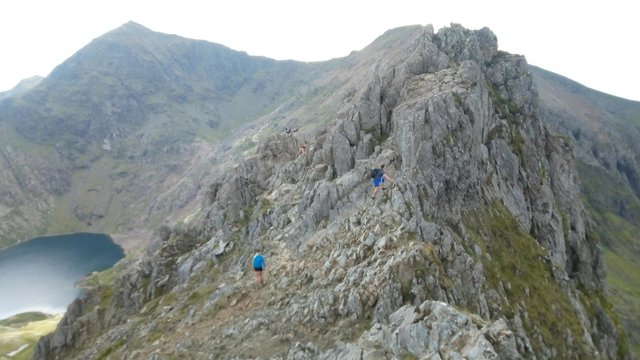 The rocky pinnacles at the end of Crib Goch, if you're travelling from east to west. The summit of Snowdon is still a couple of kilometres away, at the left of the picture above.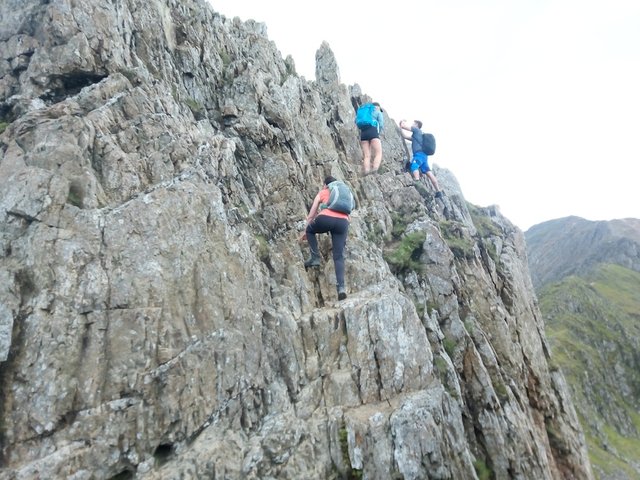 After negotiating these pinnacles, the path flattens out, and there's an ascent of about 200m to the summit of Garnedd Ugain (1065m). As you approach Garnedd Ugain there are more rocks to scramble on.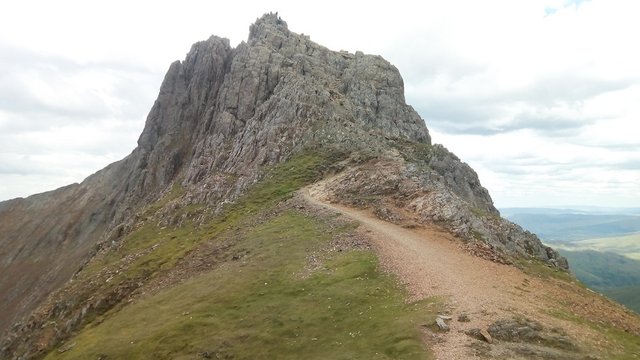 Castle-like rocks along the path to Garnedd Ugain. Larger image here.

The views were magnificent.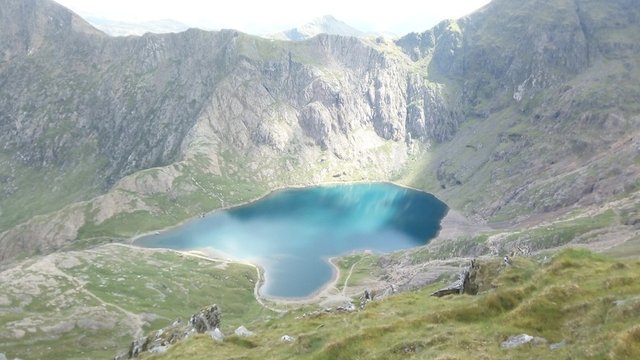 Reflections of blue sky and green mountains become turquoise in Glaslyn. Larger image here.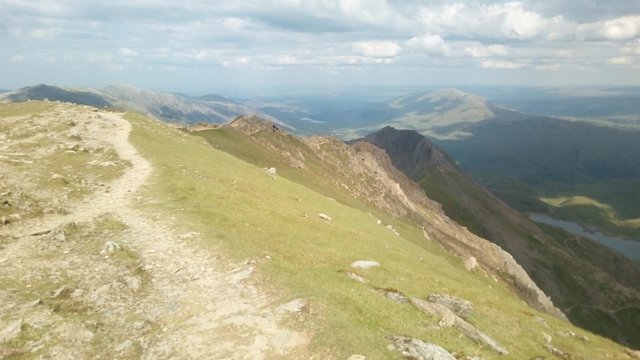 The view back to Crib Goch from Garnedd Ugain. Larger image here.

From the summit of Garnedd Ugain, there's a 50m descent to Bwlch Glas, and then a climb of 85m up to the summit of Snowdon.

Busy junction
At Bwlch Glas, things suddenly got very busy again, as the Pyg track, the Miners' track and some of the other popular paths to Snowdon's summit converge here.
There were all kinds of people – couples, families with children and dogs. I saw a group of girls who looked as if they'd just stepped out of a hairdressing salon, wearing Ugg boots and lots of makeup. The Snowdon Mountain Railway train was chugging up the track.
I loved the atmosphere.

The final push to Snowdon summit (on the left) from Bwlch Glas. Larger image here.

I got summit fever, and started walking quickly ahead. I darted up to the enormous summit cairn, and took a selfie.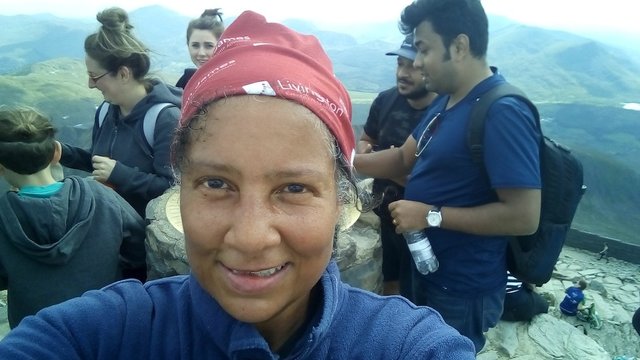 I looked at the crowds coming up behind me – and the train chugging its way up to the summit!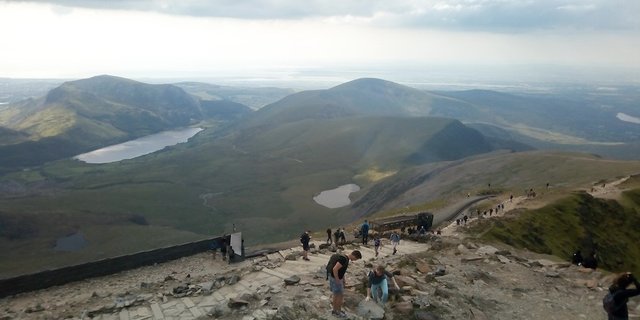 Larger image here.
There were more glorious views.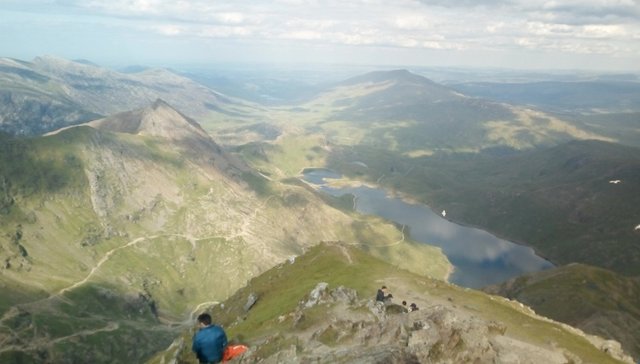 Another view from Snowdon summit. Larger image here.
In general I don't like the idea of cafés at mountain summits! But Snowdon is special.
Our friend Paul, who'd decided to stay on the Pyg track without doing Crib Goch, was waiting for us in the café. We had coffees, hot chocolates and beers, before heading back, this time via the Watkin path which leads straight back to Bryn Gwynant.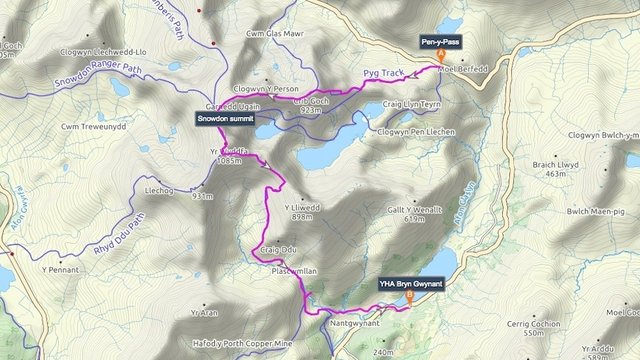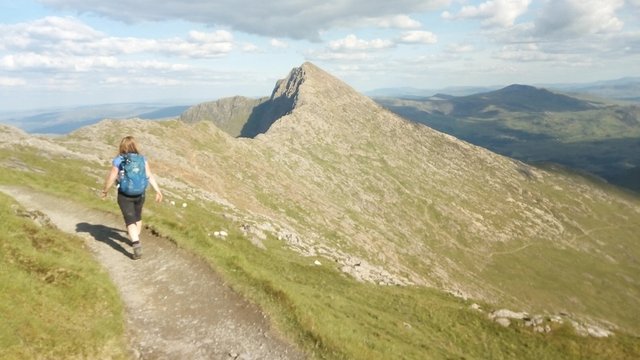 We got back to the hostel at about 7pm. Everyone agreed that it had been a brilliant day.

All photos author's own.
---
Posted from my blog with SteemPress : http://ramblingandscrambling.co.uk/mountains/snowdon-on-a-knife-edge/
---