What is a Corbett?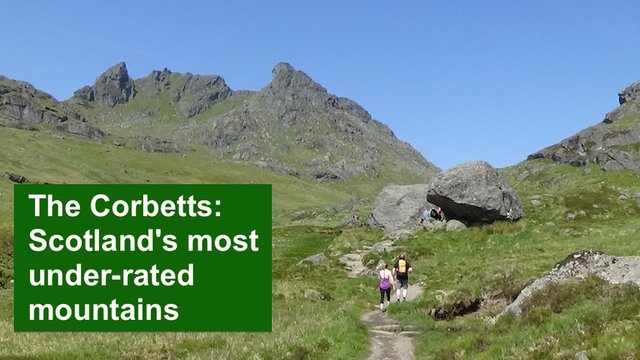 Walkers approaching the summit of The Cobbler, probably Scotland's most popular "Corbett".
I have often blogged about the joys of "Munro-bagging" – climbing all the mountains in Scotland over 3,000 feet (914.4m). This is an increasingly popular pastime in Scotland.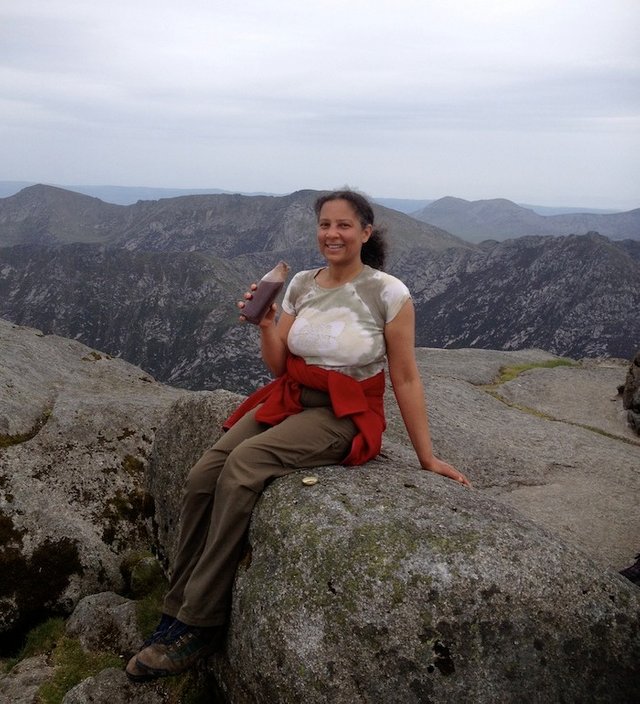 Me on the rocky summit of Goat Fell in 2012. Goat Fell is one of the most popular of Scotland's "Corbetts", and at 2866 feet (874m), it's just 134 feet short of a Munro.
Corbett-bagging is a less popular pursuit. Corbetts are Scottish mountains with an altitude between 2,500 feet and 3,000 feet, with a "prominence" of 500 feet – in other words, a drop of 500 feet on all sides.
There are 222 of them.

A pretty exclusive club!

At the time of writing, there are less than 700 "Corbetteers", or people who have "compleated" the Corbetts.
That's significantly less than the number of people who have climbed Mount Everest!
Yet some of Scotland's most exciting mountains are Corbetts. The Cobbler, with its prominent anvil-shaped summit, just an hour's drive away from Glasgow, is probably the best-known Corbett.
Other popular Corbetts include Ben Ledi, Goat Fell on the Isle of Arran, and Ben Vrackie, near Pitlochry.
There are less popular Corbetts that have huge character, like Beinn Trilleachean, Baosbheinn, and Sgurr Ghuibhsachain. If they were just a couple of hundred metres higher, they would be mobbed by Munro-baggers – but as mere Corbetts, they are generally deserted.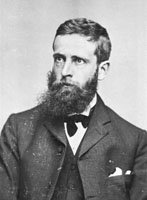 John Rooke Corbett
Source
The first Corbetteer
Corbetts are named after John Rooke Corbett, a district valuer from Bristol, who compiled a list of them in the 1920s. He compleated* the Corbetts in 1939, when he was in his early 60s. However the list he compiled was not passed on to the Scottish Mountaineering Club until after his death, in 1949, so the next Corbett compleation did not take place until 21 years later, in 1960.
John Rooke Corbett was also the fourth person to compleat all the Munros (and the first Englishman to do it).

A long way to go!
I've climbed 40 Corbetts, but it seems much more – probably because I've climbed some of them two, three or even four times.
I organise hillwalks, and I often hear tired walkers say, "I thought this would be easy - it's just a Corbett!" In fact, Corbetts are often more challenging than Munros, because they are less likely to have good paths, so they can be wilder and more rugged. Which is why I love them so much!
And a Munro route that starts from an altitude of 400m can be much easier than a Corbett that starts from sea level.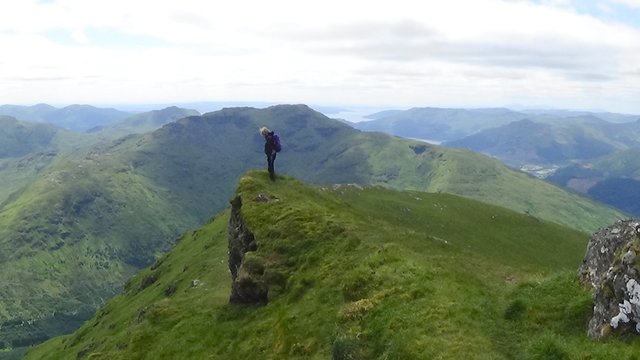 Beautiful Beinn an Lochain, just 40 miles from Glasgow, was originally listed as a Munro, until it was re-surveyed and found to be 2958 feet/901.7m, 42 feet below the required altitude for a Munro. But its steepness, ruggedness and spectacular views would rival any Munro.
The highest Corbett is Beinn a'Chlaidheimh in the Fisherfield Forest near Ullapool. At 2999 feet (914m) it's just one foot short of a Munro. It was demoted from being a Munro in 2012, after a scientific survey revealed that it was a foot too short.
The lowest Corbett, Beinn na h-Uamha, at Ardgour, is just 2,500 feet and 12 inches (762m).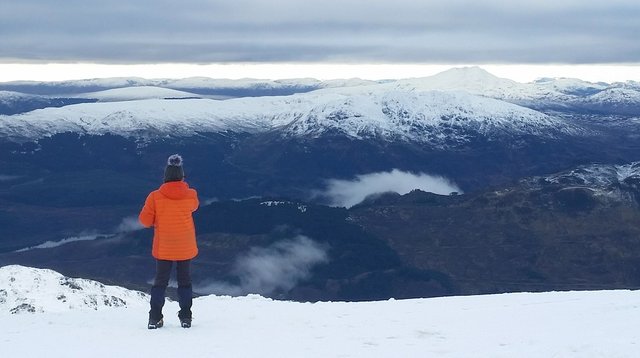 Me looking at the view from Ben Ledi, one of Scotland's most popular Corbetts, in January 2018.
I have another 182 Corbetts left to bag – or rather, enjoy, and I cannot wait to climb my next one!

* This is not a spelling mistake! Achievements of Scottish hill-bagging rounds are always spelled in this way.