Revenge of the dancing class about "Hustlers".
I went to Hustlers not because of my heart desire but because I was passing the cinema on Friday evening and it was the only movie they played at the right time. And I must admit - I'm still surprised at how nice it was. And a film from the genre of such that happens less and less in cinemas - suspended somewhere between nice entertainment and an attempt at social commentary. And all at the strip club.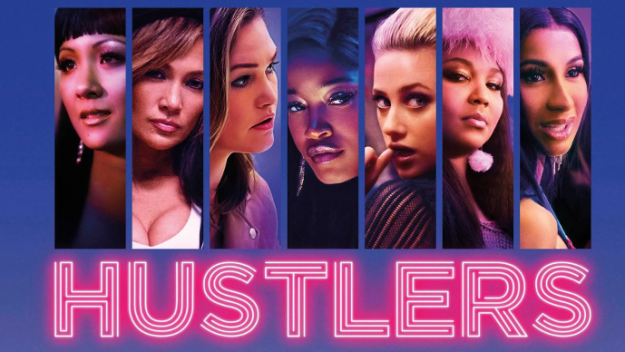 The story is simple - here we meet the dancers working in the Manhattan strip club in the first half of 2000. Money is very good and the atmosphere is pleasant. Ladies dance for bored stock brokers and bankers, and behind the scenes they form a harmonious employee team that supports each other and faces world problems together. It sounds almost like a utopia in modest underwear. Everything, however, goes to hell in 2007 when the financial crisis hits not only the stock exchange but also all the services that served the whims of the financial elite. In other words - the ladies stay on ice. Several years pass until it comes to how they can earn really big money and at the same time take revenge a little on the world, which gives millions to lose for some and not even give millions to others.
Although the socio-economic themes play an important role in the film, the creators put the feeling of community and sisterhood of the heroines first. Destiny (played by Constance Wu) is taken care of by Ramona (Jennifer Lopez) and their friendship is at the heart of the story. At the same time, more girls reach their company - Mercedes (played by Keke Palmer) and Annabelle (played by Lili Reinhart) - who are treated as family. The film creates a pleasant (though probably a little far from the truth) picture of relationships between friends. Their little world is full of love, understanding, care and warmth. Earned money gives them a sense of security that they previously lacked in life. The girls invest in themselves, but also in their families - husbands, children, grandmother. Looking at this community, it's impossible not to smile. It is a world of conflicts which, do not obscure mutual feelings, it is a story in which no one will muzzle, it is a vision of a community built on equal distribution of profits and mutual solidarity. Although you can wonder if it really was like that, you can see a bit of a film contrast to the male scammers. Women do not plot against each other, they do it together. The biggest differences between them - those that will result in different decisions when everything starts to fall - are not the result of ambition, but rather a sense of duty towards the family. The film creates a vision in which female cooperation and solidarity is able to create a community with almost no flaws.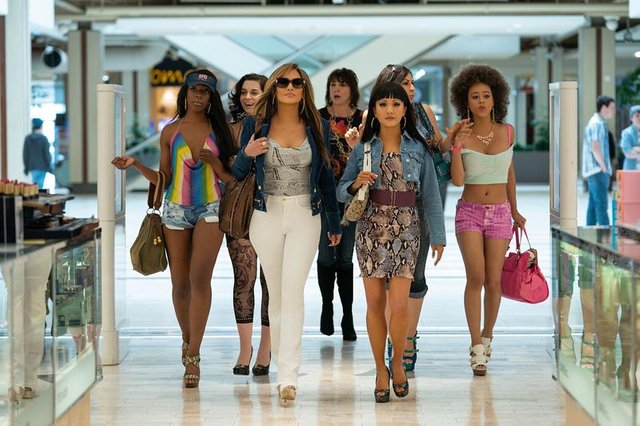 It should be added here almost - because the heroines deal with illegal activities. They toss some drugs to rich clients and then pluck them completely. The film leaves a question about the morality of this behavior in a certain suspension. Yes, of course, it is illegal, and so from time to time robbing a man who absolutely did not deserve it. But the rest? Somehow, the film doesn't tear itself forward to critically treat plucking of young wolves from Wall Street. As the heroine played by Lopez says - whatever they do at the strip club will probably be the most innocent and moral thing they will do that day. There is also no doubt that the clients of such bars do not treat girls dancing in front of them completely honestly. The film does not show acts of violence but they lurk somewhere implicitly. And here, in total, the creators ask the viewer the most problematic question. How are we able to live in a society where Wall Street robbed hard-working people everyday, and no one went to jail for it, and when a few strippers take revenge for it, we feel that they should be punished. Why is stealing still - calculating, multi-billion dollar, wearing white gloves, we are so indignant. In this aspect, it's not just a film about a scam, but about revenge, a very small revenge, but still.
In some aspects, I had the impression that I was watching a production that was an expression of the fact that the United States was for the first time in a long time fully aware that it was a class society. This is not a movie about how hard work can get us to the top. This is a film about the fact that in a society where some people earn indecently a lot, and others barely make ends meet, honestly you can't get to the top. Want a chinchilla fur coat and a Manhattan apartment? There is no other way to rob a thief. And if the thief is another guy who came to stare at half-naked young girls writhing in front of him in sexual poses, then you can get additional satisfaction from it. And of course, justice will eventually reach our heroines, but at the same time - there were many more police cars under their doors than under the houses of those who threw at the strippers a retirement policy of a fireman - because in the end these were the huge millions that evaporated in crisis. Of course, you can not agree with the tone of the film, especially since it is not too subtle, but I do not hide - for me it is proof that from year to year Hollywood begins to think differently about how to properly represent the crisis and its effects - more and more often talking about them from the point of view of groups other than financiers themselves.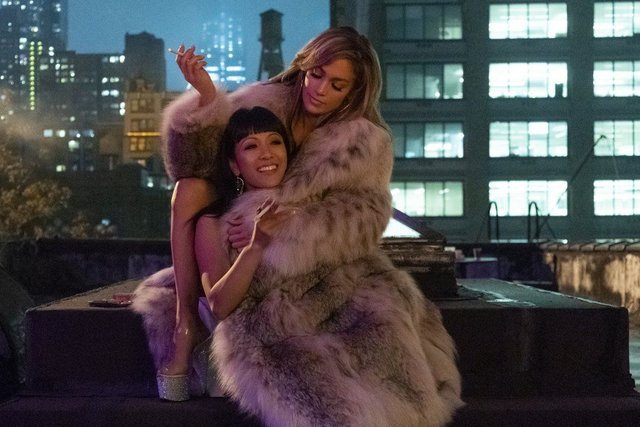 At the same time - Hustlers is above all a movie that is fantastic to watch. It has a good tempo, a lot of humor (including a bit absurd, one of the heroines vomits whenever she is upset and managed to show it in a comical but not disgusting way) and really excellent dance sequences. Interestingly, despite the fact that it takes place (at least in the first half) in a strip club, I did not feel for a moment that it was distasteful. The way the camera turns the dance of the heroines, their mutual interactions and behavior, makes us feel as if we were watching something vulgar. In my opinion, this has something to do with the fact that the film was directed by a woman - Lorene Scafaria. Maybe I attribute too much to it, but in striptease scenes, the film allows us to look more at the heroines through the eyes of other strippers and not hungry nudes, horny guys. Anyway, it is worth noting at all - this is one of the rare cases of films with almost no men. Men are not important here, they are not about them, they actually appear only in the second or third plan. They never become real heroes in their own right. They are treated in this story exactly like female characters in most movies. Only you don't usually notice it because we're used to movies without women.
The production has a fantastically selected and incredibly diverse cast. Jennifer Lopez makes us wonder what her hunting district is as a vampire, because without being an immortal creature you can't look like this at the age of 50. However, she also reminds that her good acting performances at the beginning of her career were not accidental. Lopez is not just a singer who wants to check herself in the film, but a pretty decent actress, with an eye to the characters in which she can best show her abilities (although she does not always get her out - eventually she starred in one of the worst films ever made). Constance Wu carries most of the movie's emotional scenes on his shoulders and fits them perfectly - mainly because even in moments of cheating customers we feel that we are dealing with a person who is primarily looking for a family. In the first sequences of the film we also get an incredibly diverse group of actresses playing strippers - I liked very much that the creators - probably truthfully (I don't know I have never been in such a shrine) decided that in this profession diversity is a virtue, so the heroines appearance, size, dimensions - I really liked that they are not just young, slim girls - because this is probably not a real picture of this world. In general, in terms of diversity of the heroines, this film is even a book example of how to do it efficiently, fun and so that it brings something to the story. It is also worth adding that the film, although showing dramatized events, was based on a press article. It is interesting that films are increasingly coming to the cinemas not based on books but just press texts.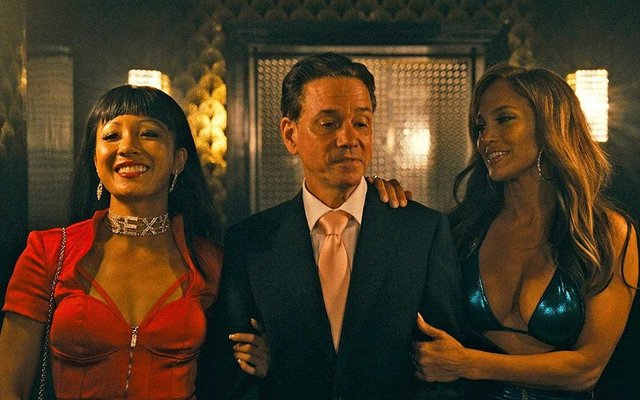 I can't hide - I miss such movies very much. Pleasant to watch. Well wound. Funny. With elements of social criticism, but also - an ordinary entertainment film in which we have fun watching the heroines and wonder how the whole story will end for them. This is such a satisfying movie to watch where we have good acting, good music and really amazing choreography of pole dancing. And really fantastic outfits - seriously every dress or scanty lingerie in which the heroines appear is so pretty. There is something aesthetically pleasing in this movie - full of pretty people in nice clothes. Interestingly - by the music - a lot in this movie ... Chopin. Yes my dear, this is a film that shows that you can even undress to Chopin. In my opinion, this is a very nice procedure.