My ID is Gangnam Beauty - Drama First Impression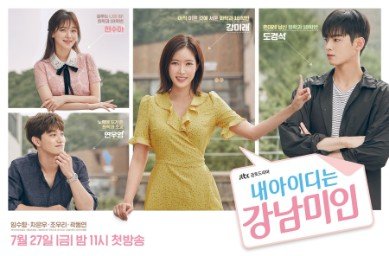 My ID is Gangnam Beauty promotional poster, wikimedia
This post is my first impression review of the new ongoing Korean drama with the title My ID is Gangnam Beauty. I've watched four (4) episodes of this drama and I like it so far.
Spoiler Alert!
I'll try to give a spoiler-free review, but while discussing the plot, I may somehow spoil the background concept of it. Depending on your perception, background concepts could also be considered as a spoiler. If so, you can skip the "STORY / PLOT" section below and continue with other sections.
What is this drama?
My ID is Gangnam Beauty is a new ongoing Korean Drama series. It has aired four (4) episodes with a total of 16 episodes and each week, two episodes will be aired on Friday and Saturday. The listed genres of this drama are romance, comedy, and coming of age. This drama is an adaptation of a 2016 webtoon with the same title. The webtoon was very successful, which I assume that's why there's a drama adaptation of it. Here's a short description of the drama from dramafever.com…
A university student bullied for her looks gets plastic surgery. But when the bullying doesn't stop, she meets someone who shows her the true meaning of beauty.
For non-Korean
Non-Korean could watch this drama on DramaFever.com or other related streaming providers. As this drama is bringing the concept of inner beauty, outer beauty, and plastic surgery, I believe this drama could be enjoyed by all people around the world. I believe women around the world could relate to the main character as there is also "beauty competition" between the main female characters and the female supporting characters in their daily life.
STORY / PLOT
This drama is beautifully portraying the psychology and common sense of human being regarding inner and outer beauty. Several paragraphs below might be considered as spoilers, but if you pay attention to it, it's just the normal logic of how we human being react regarding the outer or inner beauty.
This drama is telling the story of a freshman college girl who underwent plastic surgery right before entering the university in hope of having an ordinary life. Previously at schools, she was constantly bullied for being ugly which then resulted in her having low self-esteem.
After the plastic surgery, instead of just having an ordinary face, she now has a beautiful face. However, to some people, it is quite obvious that she had had a plastic surgery, which is also a frown upon activity. So, now being a beautiful girl, she has more problems.
The flirtatious approach of guys hitting on her was a new and strange experience for her as when she was ugly, guys would stay away from her. Her low self-esteem problem also didn't solve right away. Even with a beautiful face, she is still sensitive and has low self-esteem even with other girls. To make matter worse, some people who are able to distinguish the plastic surgery, talked behind her back, which in turn drives her self-esteem lower.
Considering the summary from the promotional materials, this drama would beautifully help us understand the concept of inner and outer beauty to ourselves or other people. I can't wait for the next episodes to air.
Acting and cast
The casts are not the 1st tier super famous actors and actresses from South Korea. However, they can act! The acting flows perfectly and on the point. No unclear, extreme, or exaggerated acts.
Music
The OSTs or other inserts are not memorable for me. They are enough to make the drama enjoyable, but not enough to be enjoyed individually separated from the drama in my personal opinion.
Rewatch value
I usually like to rewatch movies or dramas that are funny or able to convey strong emotion. As this drama is "heavy" on personality or life lessons, I would give ordinary rewatch value. I will rewatch it in the future if I've somehow forgotten about the plot.
Conclusion
This is a good drama and suitable for the entire family especially those with identity-searching teenagers. It's not exactly "heavy" which will ask you to think, this drama will just "tell" you on the perspective of inner and outer beauty.
---

Upvotes given: 

  and counting...   

⬆✔☑
I Upvote Your Comments!!!


♦ As long as I have enough Voting Power, I will upvote every normal human's comment at least once per Steemian.
♦ I will upvote with bigger percentage if you are my follower.