Sanju: Reminiscent of new posters, memories of Munnabhai, on Father's Day you will also give to Papa Zappi
The makers of Sanjay Dutt's biopic Sanju are not leaving any stone unturned to increase the film's excitement in the audience. On the occasion of Father's Day, director Rajkumar Hirani has released a new poster.
In the new poster, the father and daughter's emotional bonding is showing. This poster has recollected the memories of the magic of the movie Munnabhai MBBS in the year 2003.
Rajkumar Hirani shares a new poster of Sanju. This poster has been recreated in the 2003 movie Climax scene of superhit film Munnabhai MBBS. In this scene, Sunil Dutt demands Sonnet's magic for Sanjay Dutt in the role of Munnabhai. Sanjay weeps while giving his father Sunil Dutt the magic of magic.
Paresh Rawal is seen in the role of Sanjay Dutt in the role of Ranbir Kapoor and Sunil Dutt in Munnabhai's look in the poster. While writing the poster, Makers wrote: Sanju is the story of a father and son for people of all ages. At Father's Day we are bringing the magic zapee.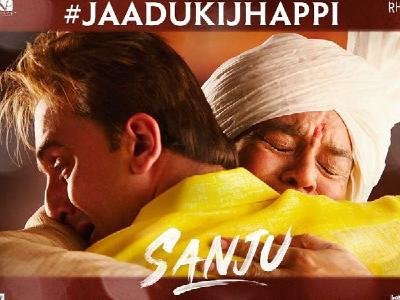 Ranbir Kapoor will come live
Ranbir Kapoor will come live on Father's Day. Earlier, the makers had said that Father's Day is about to give a surprise to the fans. Fox Starr tweeted and wrote, "You are about to be the best Sunday hanger, Team Sanju is coming with a big surprise for you on Day of the Day. Stay tuned with us Ranbir Kapoor comes live on social media and gets this surprise Will open.