Officially Announcing SteeMix Radio!
For the last 8 months, @soundwavesphoton has been putting together SteeMix for @msp-waves. It has been a fun project involving many interesting people, and now it's time everyone gets to know all about it and how to get it.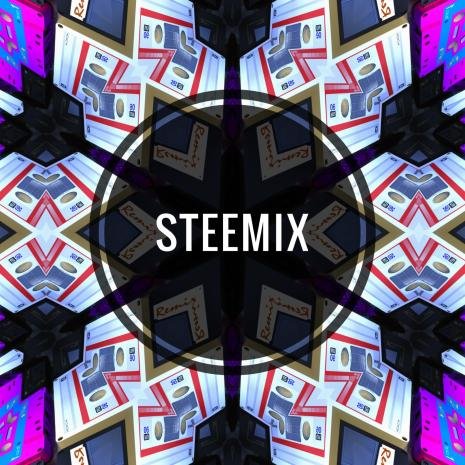 Credit: @soundwavesphoton
What is SteeMix?
SteeMix is a 24/7 streaming radio station with a mega playlist of songs curated exclusively from the Steemit community. We're up to nearly 30 hours of music, and we're always looking for more.
All Steemians, All The Time.
Ranging from Hip Hop to Metal, from Downtempo Grooves to Acoustic Song Writers, and everything in between.
@soundwavesphoton has been proactive in meeting, talking and even collaborating with the musicians on this blockchain to put it all together. His mission is to get these artists heard, because honestly, the talent on Steemit is amazing.
---
Here's what some of the listeners have said about SteeMix:
The Steemix is a growing collection of music by Steemians from MSP and beyond, all around the world. Tuning in is a great way to find new music that you love, and to get to know the incredible artists on our platform and expand you network. I can't believe how unbelievable the musicians I've met and the songs that I've found through the Steemix are. It's an awesome way to spend some time, especially if there's a bunch of people having a listening party! Come join us~
SteeMix is my go to late at night when chat is winding down. I love listening to whatever the app throws out. Sometimes i get turned on by something unexpected like a really well done rap or tech song (since im not usually fond of those genres) . I remember one of the first songs that I was entranced by was Chocolate by @christianwindley. I also love the search and request function so that if im in a certain mood, I can spam @nathankaye requests. awesome place to find whatever you need to suit your mood.
The SteeMix is completely amazing. What an awesome idea to bring all the music from fantastic Steemian creators together in one place. It's the perfect way to space the Mspwaves programming, promoting the awesome diversity and talent of Musicians on the Steem Blockchain. Throughout the day if I dont know what I want to listen to I will tune in to the Mix, and always be met with some great music. Thank you @soundwavesphoton for all the work youve done and continue to do updating the mix with new music, the Steemix is truly a gift!
---
A huge shout out and a big big thank you to all the musicians on the SteeMix:
She writes wonderful heart felt music. Either on her banjo or her acoustic guitar along with her amazing vocal harmonies, her music will bring a soft intensity into your soul and leave you stunned.
He is an eclectic artist from Venezuela and he creates these whimsical songs that will bring joy to your day. He is a very cool dude. Hail Pizzaborous!
Russian Salsa? Damn right we have it all on the SteeMix. Ylich is a musician and a music researcher in Caracas. He music brings class to the mix. A very cool guy.
We all know Yidneth I hope. She is literally magic. I've seen her perfrom the harp out in the forest haha. She is truly a magical creature that creates these epic soulful songs full of fantasy and intrigue.
Spread the Dookie. This guy is an amazing rapper and an awesome steemian. His music is intense, his lyrics always capture some deep thoughts and the music is smooth.
A cool musician in Montana. His music is trippy and experimental. He is an awesome guitar player and his compositions are out of this world.
The awesome Juju King. This guy is prolific. Constantly creating. Whether its music, videos or even full fledged movies... Vachemorte is a force of nature.
Heavy heavy heavy. Thomas creates some heavy metal music that will make your ears bleed and rip your flesh off your face. In a good way :)
We even have some country tunes on the SteeMix. @thebugiq creates really well produced country songs that are funny (Solar Powered Sex Machine) and also heartfelt (A Single Tear). Great talent!
Heavy yet groovy. His music reminds me of Tool. No joke it is that good. Heavy Bass Driven Music giving the SteeMix some edge.
Really cool strange and unique music, darkwave industrial. He creates a tension with his music that would be perfect for thrillers or horror movies.
Shane is new to making music and god damn his first few tracks are fire. Blame him for his awesome tunes and make sure you check out his shows.
A skater, a drummer, an alien, an awesome guy. Stick makes some cool creative music. HIs song "Don't Ask Me To Upvote" is a favorite of mine haha. He also has many collabs that are great.
Don't worry about this guy, make sure you flag him.
Real cool chill music from this guy. He has a ton of gear and knows how to use it. Check out his videos where he plays live to see how crazy his setup is. Awesome music.
We have some smooth smooth music from Sir Lunch, a hustler always creating new content. His music is chill and crisp. Downtempo chill hop to soothe your soul.
An amazing violinist and singer from Croatia. Whether she is covering songs from movies or collaborating, her productions are always high class.
One of the awesome people from SMA, he created really funky groovy tunes. The man loves his sax haha. His songs are fun and he is always looking for ways to help musicians.
His music is funky A F. I love his short songs because they leave you wanting more haha. Well produced instrumental hip hop grooves.
She is an awesome musician who put out a steemian backed album. From the production to the mastering to the art, all steemians! She may be sweet but she is a true Metal Force. Her music is Heavy A F.
The music that they put out is really really well produced and thought out. Very unique. Psychedelic Space Jazz. Pure quality tunes.
A poet rapper rounding out the rap hip hop section of the SteeMix. Really good music and insightful lyrics. The truth is he is awesome.
Music for the club. Really well produced songs. Raven has a a talent for creating quality and her voice is perfect for the vibes she creates.
A really awesome musician who creates a lot. Her songs always have phat beats and electronic goodness. She should put out an album :)
More hip hop instrumentals. He creates cool smooth chill vibes. I hope to add more of his music to the Mix soon. Check him out.
This guy creates really high end sounds. He is a cool guy and his Irish Dream song is one of the best songs on the SteeMix.
We all love Pechi. He is a sweet guy but a damn powerhouse when it comes to music writing. His stuff is complex but subtle and he puts a lot of knowledge and love into his tunes.
Serenita will serenade your soul. Her voice is so lovely and her music is profound and absolutely beautiful. There's an honesty in her words that will hit you right in the feels.
An amazing one man band, he plays the didge, the percussion, the guitar and he sings while floating and glowing. A true Aussie mystic out there in the wild making wild music.
A hustler constantly working on a podcast or a live mix or just rabble rousing on discord. This guy is funny and wise in his own out in left field way. Cool Dude!
The one we all love to flag. His music is very earnest and sincere, just like his long ass comments. He has a a very sweet voice and mega skills on his bass or on his guitar.
Really good singer and musician. He is a favorite of some of the mods and his voice is always super crisp and on point. From heavy sax psychedelia to intimate loops for open mic. A true talent!
A wonderful singer song writer. Her music is very powerful, with a depth of emotion and a reflective honesty. She is a tiny powerhouse and a favorite on the Mix.
Dreamy ambient soundscapes. His music is very meditative and cool. If you're into ambient waves of melancholic music check him out.
A coder, a rapper, a show host. This guy is an excellent lyricist and really cool guy. Check out his music and lets get him a mic so he can create new music :)
An artistic alien who is always out there helping new people in PALnet and she showcases the artists on the chain. Her music is very alien ambient, trippy and dreamy. Super cool girl!
Another musician from Venezuela. This guys music is full of funk and groove and he is a very upbeat and cool hombre. Him and his band are always putting out quality tunes.
One of the first musicians on the Mix. A super cool guy who writes music with his spirituality in mind. He is a great dude and always puts out great stuff.
Jeff writes really cool guitar music. Some of his songs are complex guitar picking or hammering and honestly I don't know what or how he does it haha. Its very good. A master of the guitar.
A really cool lyricist, a bunch of his smooth hip hop is in the SteeMix. He has a way with words and a cool flow to his music. Check him out if you like good hip hop.
Honestly one of my favorite musicians. His music is otherworldy. The guitar and his vocal harmonies along with the rhythms he creates. Very awesome stuff. I hope he puts out an album.
Everyone loves @isaria. She is always helping and promoting others and she is a wonderful soul. Her music is very profound and intense yet beautiful and mesmerizing. Mysterious, occult and reflective.
Smooth, Smooth, Smooth. I love this guys music. He creates really cool downtempo grooves. I love his tunes and I'm usually listening to his stuff for inspiration. Smooth, did i mention that?
A really cool producer musician. Self assured and high quality tunes. Heaterville is always bringing the fire. He makes our hip hop section the best.
A really cool and friendly guy. He works with people really well and his music is very well produced. I am truly amazed at the level of pure quality that comes out of @harrisonmir.
Respect! A true homie, always out there helping his friends and earning respect. He is a cool rapper and is always looking to move forward and upward. Respect homie.
A true enigma, his music is smooth yet trippy. Kind of hip hoppy but its its own domain. He adds guitar to his cool tunes and sometimes others rap on his songs. A true talent!
The number one ginger ninja on the chain. Darren is a great song writer and he networks like a beast. He was featured on the BBC. He writes very soulful and gentle music that really hits you in the feels. He has been collaborating more and its always quality.
Cool folk, thats how I would describe Daniel's music. His music is very easy to listen to and it rounds out our folk/country/guitar music. I hope he never stops creating.
A super cool chick always trying to help others succeed. She makes high quality chill music, from house to hip hopish instrumentals, she is a true talent and a cool person.
Theres a song about chocolate on the mix and its excellent haha. Christian is a talented rapper whose songs are entertaining as fuck. Pure fire on the SteeMix.
Psychedelic Dub with violin and sweet sweet grooves. This musical project is excellent. I love the mixing of styles and how effortless it sounds. Awesome!
A South African farm girl that loves to collaborate with people on the chain. She has a great voice and she is a fun personality. Everyone loves the breeze.
An amazing producer/musician from Iran. He is soft spoken but his music is powerful and epic. I'm always impressed by the music this guy produces. Its cinematic and majestic.
A really cool duo putting high quality music on the chain. Smooth grooves with a latin tinge. The music is well produced and you know these two are perfect for each other.
@avesa shared her music with me and god damn it is great. It's better than any of the RnB you hear on the radio. She has a great voice and her tunes are always grooving and moving.
This is @meno's brother. He shared his music with me to add to the Mix. Its heavy, emotional and sounds great. A perfect rock group for the Mix, I hope he starts posting more. Make sure to flag @meno :P
One of my favs on the chain. He's high energy and funny and supremely talented. His voice and his music skills are excellent. His music is funky, smooth, downtempo yet energizing. A great guy.
A prolific dude, whether its his website helping musicians get heard, his @musicvoter project or his music making. Working nonstop yet never sacrificing quality. A cool bloke!
This guy is one of the coolest guys on steemit. High energy, funny, cool as fuck. He makes movies, music, music videos, grows mushrooms, he is a machine. His music is as unique as he is. How To Grow Fresh Air!
Hail Eris. The music he shared is like a dark hip hop soundtrack for walking down back alleys and looking for trouble. It is complex hip hop music and the lyrics are great.
The Best Bass Player on steemit, hands down. Amber is a positive force on the chain, always looking to collaborate and add her spice to the Mix. Nug Life for life.
Super cool dude from Nigeria. His music is uplifting and groovy. The sounds coming out of the Nigerian community on steemit are sweet A F.
Really soulful and high end music here. He is a great guitar player and singer, but his composition skills are incredible. A very well produced sound, cinematic and otherworldy.
From psychedelic hip hop vibes to abstract space jazz, @onemedia is a beast. His tracks show a wide range and excellent execution. He's also a radio show host and an all around cool dude.
Vlad plays guitar and sings. A classic singer songwriter feel and the dude can really sing! He is always trying to help people and you can tell he has a good heart by listening to his music.
Thank You All!
---
Make sure you check all these great artists out on

mspwaves.com. You'll definitely find some gems and meet some cool people. You can also request music on the site. So, if you want an hour of @nathankaye, search his name and hit the request button a million times haha.
You can also catch SteeMix on @msp-waves between live shows. There is a bot in the #mspwaves-audience room on PALnet that shows you the song title and artist, that way you can follow them if you hear something you like.
We're currently exploring reliable methods to deliver this to a Discord server near you, so keep following @msp-waves for updates about this exciting project.
---
Thank you all for sharing your music with us. New music is being added all the time to SteeMix, so if you want your tunes alongside these awesome musicians, hit up @soundwavesphoton on Discord or Steemit .