Album Review #145: Germ Free Adolescents (X-Ray Spex)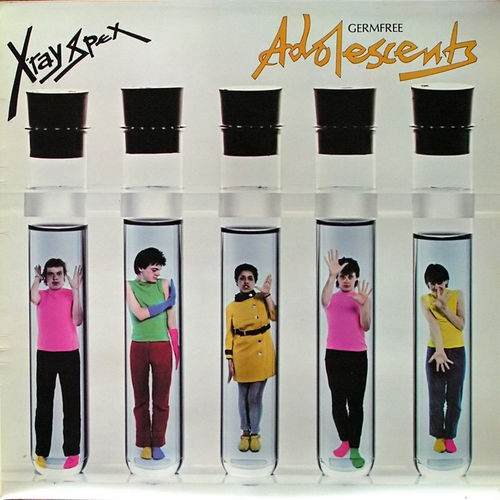 X-RAY SPECS
GERM FREE ADOLESCENTS
1978-CASTLE
Produced By FALCON STUART
Art-I-Ficial
Obsessed With You
Warrior In Woolworths
Let's Submerge
I Can't Do Anything
Identity
Genetic Engineering
I Live Off You
I Am A Poseur
Germfree Adolescents
Plastic Bag
The Day The World Turned Dayglo
Bonus Tracks
Oh! Bondage Up Yours!
I Am Cliche
Highly Inflammable
Age
Genetic Engineering
Art-I-Ficial
I Am A Poseur
Identity
Germ Free Adolescents
Warrior In Woolworths
Age
It could only have happened in the 70's. And in England. These punk pioneers recorded one album before disappearing into the strange land of wherever weird bands go. Germ Free Adolescents was left unreleased in the US until 1992, and it's pretty strange stuff. Led by lead singer Poly Styrene, the songs are as quirky as their titles, and they do rock. Even though her vocals were a bit...screechy, the songs show a band that was leading a movement. Punk wouldn't have been the same without them. It's a great document of the formation of a genre.
Had it been left at just the original album, I would put this in the strange but classic category. Unfortunately, the 12 song album is augmented in this 2005 issue with 11...ELEVEN...bonus tracks. 11 more songs than you'll ever need from this band. Have I mentioned that for the most part I hate bonus tracks? This is why. If you can find the 12 song version, get it. It will be much better than this. It's just too much Poly Styrene.
This is album #145 in an ongoing series.