Jazz-funk: Chameleon
The Headhunters: Bennie Maupin (tenor and soprano sax, saxello, alto flute and bass clarinet), Herbie Hancock (Fender Rhodes, clavinet, ARP Odyssey synthesizer, ARP Soloist), Paul Jackson (electric bass, guitar, marímbula), Harvey Mason (drums) and Bill Summers (agogo, balafon, beer bottle, cabasa, congas, gankogui, hindewhu, log drum, shekere, surdo, tambourine). From the album Head Hunters (1973).
In 1963, Herbie Hancock, piano child prodigy that had already recorded his first album Takin' Off (1962), was recruited by trompetist Miles Davis to join his Second Great Quintet, but in 1967 the latter began to incorporate pop/rock elements in his music and convinced Hancock, after some initial resistance, to play electric keyboards, including Fender Rhodes. This was his first contact with this kind of instruments, to which he quickly got accustomed and he found useful thereafter.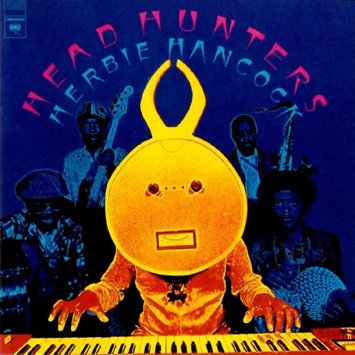 In 1968, Davis changed Hancock for Chick Korea with the excuse that he had returned late from a honeymoon in Brazil, but by the end of the year Hancock had already his own group. Enthusiastic about electronics, to his Sextant sextet formed by himself on piano, Bennie Maupin on alto, tenor and soprano saxophones, and clarinet, Eddie Henderson on trumpet, Julian Priester on trombone, Buster Williams on double bass and Billy Hart on drums, he added keyboardist Patrick Gleeson to program and play synthesizers. Then they published Mwandishi (1971) and Crossings (1972) for Warner Bros. Records, and Sextant (1973) for the Columbia label, in which the electric and acoustic sounds melts in a daring way mixing jazz, rhythm and blues and rock. Hancock and Gleeson used Fender Rhodes, ARP Pro-Soloist, ARP 2600, ARP Odyssey, Moog III and Mellotron.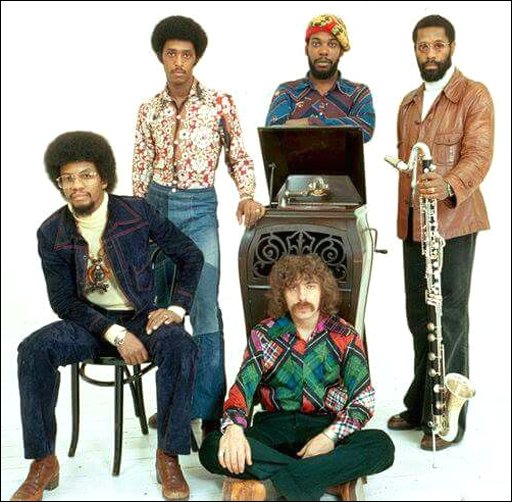 The Headhunters
From left to right: Herbie Hancock, Harvey Mason,
Paul Jackson, Bill Summers and Bennie Maupin
Unfortunately, the albums had poor sales, and in 1973 Hancock dissolved the band and founded The Headhunters keeping Maupin, who from then on also played flute and bass clarinet, and incorporated electric bassist Paul Jackson, drummer Harvey Mason and percussionist Bill Summers. He didn't include any guitarist, but used the clavinet, an amplified keyboard with percussive strings. Hancock had the need to touch ground and perform something accessible, which represented a decisive change in his fusion music, that became more commercial, but without losing its valuable content or integrity.