'In the Lab' - New Original Music - Testing Out New Spitfire Audio LABS Strings! Orchestral/Instrumental + Walkthrough!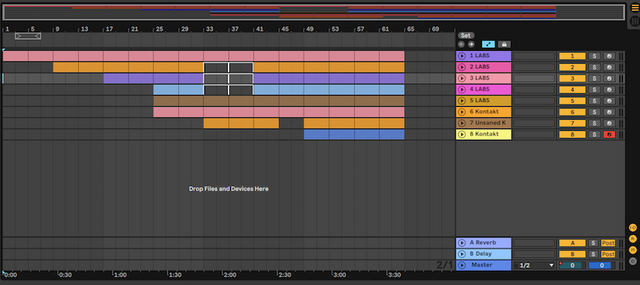 Spitfire Audio offers an incredible
free package, called LABS, where they release various instruments and plug-ins that anyone can use. They also update it pretty often, so there's always something new to try out, hence this song. I don't know if this is a tune I'd want to complete, though I do like when all the instruments are playing together, it wound being pretty cool. Keep in mind, there is no mixing/mastering done, so volume levels are a bit off; I basically just wanted to use all the various new instruments so I could hear them on multiple speakers, from the car, to headphones, etc.
Track 1 uses one of the
new instruments, the Pizzicato Ensemble, to provide our bass line. Track 2 uses the 'swell' strings, which sound awesome (with an additional delay/reverb plug in added), though you can't control the swell with this free version, so it takes some work to get it on beat/where you want it. Track 3 is an older LABS instruments, the Harmonic Birdsong Cello. Track 4 is another new one, the Bartok Pizz. Ensemble, which has a much more percussive sound than the regular pizz.

Track 1, Pizzicato Ensemble.

Track 5, LABS' Soft Piano.
Track 5 is the 'soft piano',
which has been a go-to for me for months, since I first discovered LABS. Tracks 6 and 7 work together for our drums, with the toms in 6, and the hihats in 7 (not a great beat, just wanted to add something so I could hear the instruments working with some percussion). Finally, we have Track 8, which is a trumpet from Native Instruments. A random, and not great, addition, just put in so I could hear the timbre of it with the strings, for future reference.
I know this song is more of an experiment for me to hear the various instruments, but I think there's a song idea in here somewhere, so I'll continue working on it, or maybe chop it up, and see what it can become!
---
---
---