SPOTIFY AND AMAZON STAND AGAINST THE CRB DECISION TO INCREASE STREAMING PAY — HERE IS WHY WE NEED THE BLOCKCHAIN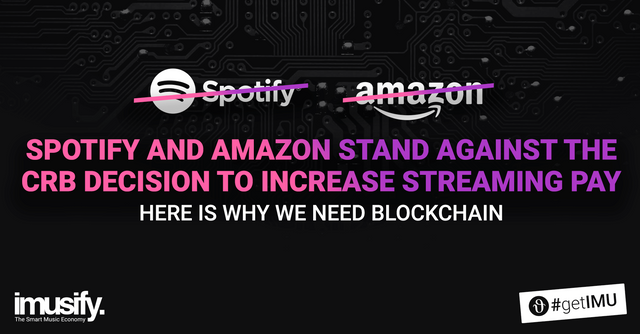 In a recent article published on The Verge, we heard about Spotify and Amazon's decision to appeal against the pay increase to musicians from the CRB — the U.S. Copyright Royalty Board. The streaming giant's reaction created some concerns from friends of songwriters, musicians, and music publishers. The CRB decided in January 2018 to increase the streaming pay of record producers and songwriters within the next 5 years which resulted in an angry Amazon and Spotify. Why these tech giants can't handle the CRB ruling? How blockchain music applications like imusify can disrupt the streaming business, allowing fairer pay to musicians?
Tech giants aim to keep control over musicians' revenues
We very well know how little musicians make on global streaming platforms: an average of USD 5,000 per year, and up to 24-month payment time. Not only streaming payments are extremely low — reports indicate that Spotify pays an average of $0.006 to $0.0084 per stream to the holders of the song, royalties are not properly tracked either.
Americans even listen to more music than before — on average 32 hours per week — and digital downloads remain on the rise. You must be wondering how why lesser pay to the musicians. Well, according to the CRB and the NMPA (National Music Publishers Association), streaming giants simply want the game to be in their favor.
The CRB voted a new ruling in January 2018 which asked the streaming services to increase the pay to 15% within the next 5 years. Today, Spotify and Amazon complain about the ruling whereas Apple Music didn't plan to fight against the appeal. Obviously, the musicians' reaction is to think about alternative opportunities for decent revenues.
Blockchain as a response to fairer payouts
We have all heard about blockchain technology and how music applications like imusify could make a real change in the music industry. Although blockchain music applications are still developing, some projects have come up with a viable product focused on its mission sooner than others, like imusify.
imusify doesn't plan to compete against the tech giants. In fact, the music platform — which invented a new model of revenues for song holders and fans — has other plans: to create a new smart music economy fuelled by fair streaming royalties and payouts, crowdfunding, and social media management all on the blockchain.
How can musicians earn on the blockchain, and how much? Blockchain promises to make streaming payouts fairer, and imusify integrates it perfectly into its long-term strategy and vision.
The Smart Music Economy
In order to make the smart music economy a reality, the award-winning platform imusify created a path for artists to claim their own rights and payouts for streaming plays. Musicians can join for free, and communicate with their fans directly, without any intermediary.
As musicians and music lovers interact together, they split the revenues according to their individual contributions. The tech giants know that the value gap between fans and musicians is worth billions of dollars, why not to reduce this value gap using the blockchain so that even the listeners can earn.
Now, how do we convert listeners to active participants and musicians into "businessmen"? Simply by encouraging them to keep doing what they love: listening to music, sharing it with their peers, discovering artists, uploading new songs, creating playlists, and more. The possibilities are endless, let's educate musicians and music lovers about the benefits of the blockchain.
By: Angel Lebailly @angelbali | imusify
IMU token will be listed on O3 and Switcheo