VOTE AND HELP KLYNIC BECOME THE BEST SONGWRITER IN NIGERIA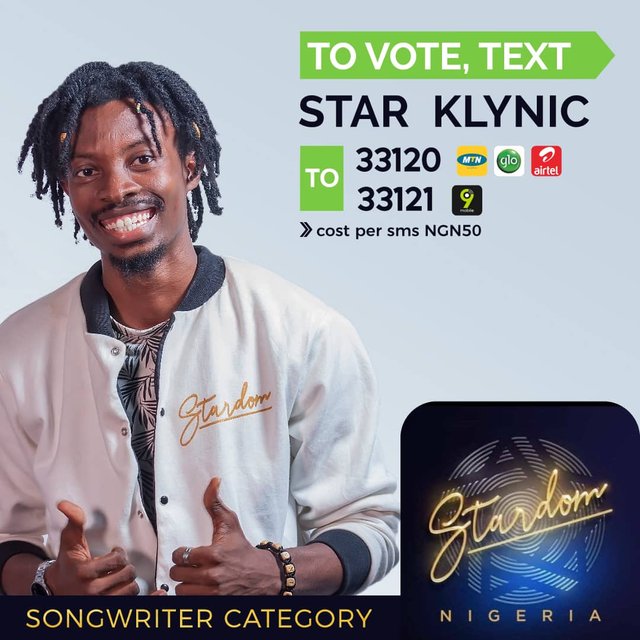 A few months ago, I entered a reality TV Show called STARDOM NIGERIA. It's the first of its kind where apart from vocalists, producers and Songwriters are being given the opportunity to showcase their talents, each winner from the three categories goes home with prizes worth $30,000 and a recording with a top artist.
I made it through the group stages in Portharcourt Nigeria and now I'm one of the 4 finalists in the songwriters category.
The winner will be decided at the grand finale by cumulative votes. So the next two weeks are crucial to my victory.
Here is the song I wrote this week that got me the golden gloves from the judges.

To vote:
For NIGERIANS
Text
STAR KLYNIC
To
33120 for mtn/glo/airtel
33121 for etisalat
voting multiple times is allowed with the same number
Text cost. 50naira
For. Nigerians and Those outside Nigeria
Go to lodios.com/Contests/STARDOM
Create an account
click on contests
click top right hand corner and access your wallet
Refill your wallet using any of the three options preferably PayPal
Click on contests
select STARDOM NIGERIA(the one with the guitar and a blue background)
Select the purchase icon

A smaller box appears. and shows the pay window. Click pay

Repeat the process till you get enough votes to exhaust all the credit that was bought with your card
Scroll down and search for my face @klynic, then keep voting
*each vote cost. $0.135....
You can also send us steem which we would use to vote if the process explained above might prove difficult
Thank you..