Any Slide Guitar Players Out There????
I build custom wood or acrylic and bone guitar slides. I have sent them to Great Briton and Austria to name a few..... These slides are very nice and are something everyone has to have when they see one.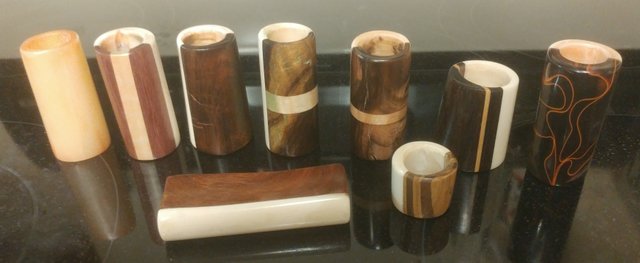 They are made from various exotic hardwoods or acrylic one one side and bone on the other. There is an awesome vintage sound to the slides and stand alone from other materials. They all but eliminate the sound of the strings scraping the slide. Below is a review done by Mr. Joey Flip from Hayburner guitars. He builds some great oil can guitars which is what he is doing the review with.
In this video A friend is demoing a slide I sent him with a resonator Cigar Box Guitar I built for him also.......
If you would like to see any more of my work please visit my page at Facebook.... www.facebook.com/angelsong13/
www.stogeebluesbox.com
www.facebook.com/angelsong13/
We have a woodworking community here on steemit and would welcome you. We have a discord channel, link here: Woodworking on Steem Discord Channel