Muzika Network

About Muzika
In the music industry today, the challenges of ownership, monetization, and content distribution make it difficult for artists to set a sustainable career. To counter this problem, Muzika is developing a new self-sufficient digital music ecosystem on blockchain, a system that connects content creators and fans directly with each other without the need of people. . Intermediate.
The company has access to 2 million active users from their previous company, Mapia Company. In addition, Muzika has established technical partnerships with Ontology, as well as commercial partnerships with Blackhorse, Panony, and Duane Morris and Selvam LLP. Their current investors include NEO Global Capital, Ontology, 256 Ventures, Blackhorse and other founding players in the blockchain space.
The Muzika Group is made up of three successful entrepreneurs in their previous initiatives and has also appeared in Forbes '30 -Under-30 '. Together, they plan to invest in the $ 45 billion music industry by eliminating unneeded intermediaries, empowering musicians and consumers, distributing energy and restoring Balance the economic distribution between market players.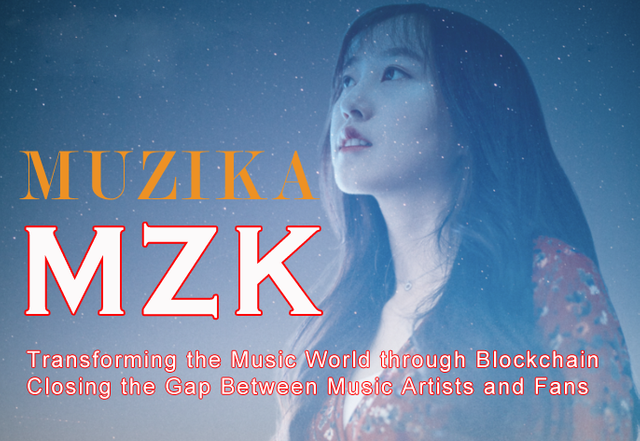 How does it work?
Muzika's digital music ecosystem will serve as a channel for distributing and distributing music content and fair compensation to artists. Fans will also participate in all stages of the life cycle of a song, from sponsorship to production to consumption.
Overview of the Muzika ecosystem: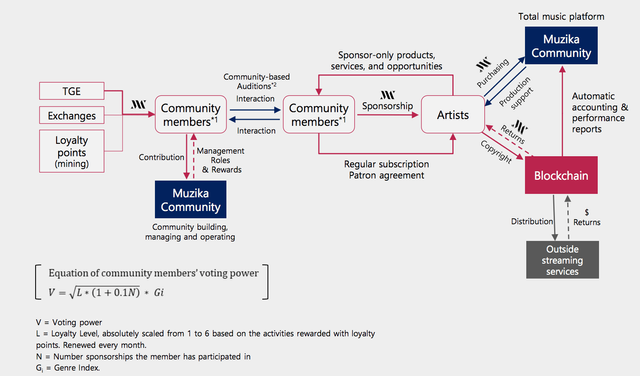 In this self-sufficient ecosystem, community members are rewarded with loyalty points for a variety of community activities, including voting, commenting, publishing and sharing the song. These loyalty points are then converted into the utility Token of Muzika, MZK. Ecosystems also provide direct links between sponsors and artists, allowing donors to pay directly to artists for their music.
All transactions between sponsors, fans and artists are recorded on the blockchain, which is a decentralized, secure and invariant ledger. External streaming services may also be involved in the ecosystem by using the same shared blockchain accounting book, ensuring optimum transparency in the calculation of the number of streams and payments for the records. next rights .
The interaction between the artist and the fans.
The Muzika ecosystem helps artists get their support very easily. First, artists share demo tapes, video clips, or their innovative new ideas with community members. Then they can start donating money to their music project after their post receives enough votes and passes some copyright verification procedures. Finally, community members will become patrons of favorite artists by sponsoring their work with MZK cards. The smart agreement facilitates the transfer of funds between parts of the Muzika chain.
Token MZK
The MZK Token is used to access the Muzika ecosystem. It serves four main functions:
Community building: The MZK token is used as a motivation for more participation among community members. Members find the MZK token to brainstorm, exchange feedback and more.
Broadcasters and commercial services: Participants in the ecosystem can exchange digital music, music, instruments, voice recordings and more using the MZK tokens.
Sponsorship Opportunities: Users can sponsor artists and become customers by paying a monthly subscription fee for their content using the MZK token. Customers will receive exclusive access to the products and services provided by the artist. They will also be more involved in the creative process of music.
Community Programs: MZK Cards will also help fund community events and programs such as auditions, contests, live broadcasts, and more. All these activities contribute to enhancing the Muzika network.
The MZK Token can be obtained by participating in the next ICZ Muzika or by purchasing a token on an electronic wallet. They can also be exploited through active participation, loyalty in the community.
MZK is an ERC20 message code that is built on both the Ethereal and Ontology strings. However, in the future, Muzika plans to develop its own blockchain protocol dedicated to community-based applications, enabling the digitization of all forms of creativity.
TEAM
The Muzika group consists of three young founders, who initially founded a company called Mapia Company. Mapia is a successful venture capital platform with over 2 million users in 150 countries by December 2017. The team has been trying to expand the blockchain space because they believe that the Company Classification can be used. to create a more transparent and equitable ecosystem for the music industry.
The founders were CEO Inseo Chung: a former pianist and high school student who built an e-commerce startup and an important social media marketing agency.
CTO Sangmin Heo: A prodigy, an in-depth expert and leading technology leader.
COO Jangwon Lee: Professional pianist and graduate business administrator at the most prestigious high schools and top universities in the country and has trained many organizations and start-ups.
The founders were one of the youngest people in the national and international blockchain field with the average age for Vitalik Buterin, now 24, when he founded Ethereum at the age of 21.
The benefits of Muzika
Muzika ecosystem can exploit the current object of two million active users in 150 countries. These users have exchanged their musical ideas, sharing their performances, composing original works, and exchanging digital music.

Founders have talent and experience in the music industry through their earlier adventures, the Mapia Company.

The company is supported by the executives of Naver, Kakao and Samsung; Even the famous angel investor Michael Cho is also their mentor

They have successfully generated private equity from well-known Asian venture capital firms, including Neo Global Capital, Everest Ventures Group and T3 Ventures (as of Dec. 8).
ICO details
Muzika is launching a reverse ICO, taking advantage of 2 million users from their existing businesses, Mapia to help increase Hardcap to 20,000 ETH.
Conclude
Muzika is creating an autonomous ecosystem, self-sufficient goals that empower musicians to regain their ability to earn money and be recognized for their work properly. This platform uses blockchain technology to develop an economic token system to create incentives for fans, publishers and artists to connect with each other and exchange value over time. Not the creative process.
The music industry is always faced with the challenge of digital rights management, and although blockchain technology will help participants take great strides in addressing these issues through transparency In addition, Muzika still needs to address the issues surrounding the first property validation verification of the work recorded on the blockchain.
With a team of founders and talented and experienced developers, Muzika is well equipped to meet these challenges and eventually break the ever-growing digital music industry.
Project details
Web: https://www.muzika.network/
Whitepaper: https://www.muzika.network/assets/mzk-whitepaper-en.pdf
Facebook: https://www.facebook.com/muzikanews/
Twitter: https://twitter.com/muzika_official
Telegram: https://t.me/muzika_english
Reddit: https://www.reddit.com/r/muzikaofficial/
Bitcointalk: https://bitcointalk.org/index.php?action=profile;u=2247112
ETH Wallet: 0x9fC909f0C91729d8c5440607e23483122D608257