🎼 Musikschnipselcontest #11 🎼 - Guess the song and win STEEM and VALIUM 😎
Every comment will be rewarded with a @steem-bounty - [Deutsch unten]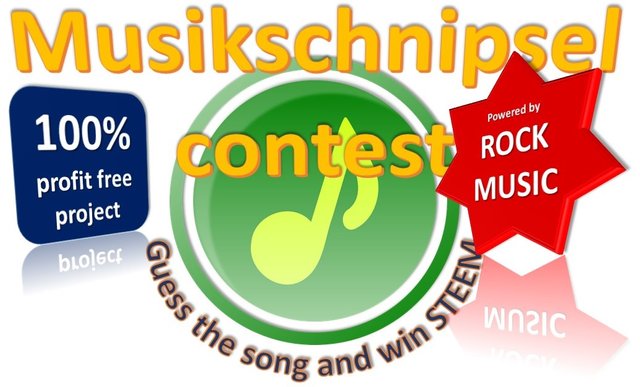 Hi Guys,
last week, the #musikschnipselchallenge was quite difficult. The right solutions came only very sparse. After all, @depot69, @invo, @kadna and @jeenger have successfully guessed all three songs, after intensive research. Good job!
In order to avoid stress in the #musikschnipselchallenge, I changed the evaluation criteria (see below). I have canceled the bonus for the first three solutions.
This time, I think things will be easier again. That's probably partly because there's no snippet of me here. Who likes weird, progressive nerd rock music? There are also more tips this time.
snippet of @diogosantos
A song by a Canadian pop and R & B singer of Italian descent. The song was in the top 20 of the DE, AT, CH, US and CA charts in 2016. On YouTube, the song has nearly 86 million views. I even know him, at least from listening :-)
snippet of @chriddi
Even though the ruler of the drums later made a steep solo career, he will never receive an award from the Vienna Boys' Choir - the "Best Drummer of the World" award in Chriddi's eyes ... "
snippet from @depot69
"We're looking for an exotic beauty that made a big impact in the 80's - the song we were looking for was less played in the village disco, but the dance floors of the trendy clubs were filled in. Do not be fooled by the song you're looking for, because the lady She also made cover versions of Iggy Pop, Roxy Music, Pretenders, Flash and the Pan, The Normal, Joy Division and Édith Piaf. She was photographed by Helmut Newton and became the scandalous title image girl, whereupon Stern magazine got an ad for degrading female representation and her No one could have played a movie role as a villain anyway. "
Have fun guessing!
Cheers,
Prinz Valium II.
---
P.S .: What do you think of the idea?
You can suggest me a song with coded transfer. However, the song should already be well known, so that the others have a chance to guess the song. As a criterion, I just say >1 million views on YouTube. Or a very well-known classical rock song.
---
[Please do not post the solution unencrypted]
(other comments do not need to be encrypted, of course)
Please send the solution as an encrypted transfer to my wallet (SteemWorld: Tools / Transfer / Encrypt Memo) or encode the solution with my PGP Public Key on https://sela.io/pgp/ and post it as an encrypted comment.
Each comment receives a small upvote, the right solution accordingly more:
Each comment: 3% upvote
Sending an encrypted message: +3% upvote
Each correct band: +3%
Each correct song: +3%
The exposed Steem-Bounty will be distributed after seven days on all answers denpending on the upvote value. In addition, I also distribute some of my insanely valuable VALIUM tokens from
https://steem-engine.com
.
Everybody who knows all three songs gets 0,1 VALIUM

The VALIUM can be exchanged for an upvote by me (1 VALIUM = 100% upvote) or can be traded at the marketplace of https://steem-engine.com or keep it until it is immeasurably valuable 😁
All earnings of the contest will be distributed as @steem-bounty at the next contest.
↓ ↓ ↓ ↓ ↓ Guess these songs ↓ ↓ ↓ ↓ ↓
---
https://soundcloud.com/prinz-valium-876719653/musikschipsel-011
---
↑ ↑ ↑ ↑ ↑ Errate diese Songs ↑ ↑ ↑ ↑ ↑
Hallo Leute,
letzte Woche war die #musikschnipselchallenge wohl recht schwierig. Die richtigen Lösungen sind nur ganz spärlich eingetrudelt. Immerhin @depot69, @invo, @kadna und @jeenger haben alle drei Songs, nach intensiver Recherche, erfolgreich erraten. Tolle Leistung!
Damit bei der #musikschnipselchallenge kein Stress aufkommt, habe ich die Bewertungskriterien geändert (s. u.). Den Bonus für die ersten drei Lösungen habe ich gestrichen.
Diesmal wird die Sache denke ich wieder etwas einfacher. Das liegt vermutlich zum Teil daran, dass kein Schnipsel von mir dabei ist. Wer hört schon komische, progressive Nerd Rockmusik. Außerdem gibt es diesmal wieder mehr Tipps.
Schnipsel von @diogosantos
Ein Song einer kanadischen Pop und R&B-Sängerin italienischer Abstammung. Der Song war 2016 in den Top 20 der DE, AT, CH, US und CA Charts. Auf YouTube hat der Song knapp 86 Mio Aufrufe. Den kenne sogar ich, zumindest vom Hören :-)
Schnipsel von @chriddi
"Am Schlagzeug ist der Song zu erkennen. Auch wenn der Herrscher über die Schießbude später eine steile Solo-Karriere hinlegte, wird er niemals einen Award der Wiener-Sängerknaben erhalten. Die Auszeichnung "Bester Drummer der Welt" in Chriddis Augen schon..."
Schnipsel von @depot69
"Gesucht wird eine exotische Schönheit die in den 80er Jahren groß raus kam. Der gesuchte Song wurde weniger in der Dorfdisco gespielt, dafür waren aber die Tanzflächen der angesagten Clubs gefüllt. Lasst euch von dem gesuchten Lied nicht täuschen, denn die Dame machte auch Coverversionen von Iggy Pop, Roxy Music, Pretenders, Flash and the Pan, The Normal, Joy Division und Édith Piaf. Sie wurde von Helmut Newton fotografiert und wurde zum skandalösen Titelbildgirl, woraufhin die Zeitschrift Stern wegen entwürdigender Frauendarstellung eine Anzeige bekam und ihre Filmrolle als Bösewicht hätte sowieso niemand besser spielen können."
Viel Spaß beim Raten!
Schöne Grüße,
Prinz Valium II.
---
P.S.: Was haltet ihr von folgender Idee?
Ihr könnt mir per verschlüsselter Überweisung einen Song vorschlagen. Der Song solte bekannt sein, damit die anderen eine Chance haben den Song zu erraten (>1 Mio. Aufrufe auf YouTube oder ein bekannter Klassikrock Song). Dieser Song gilt dann für euch beim Contest automatisch als korrekt gelöst.
---
[Bitte die Lösung nicht im Klartext posten]
(Sonstige Kommentare müssen natürlich nicht verschlüsselt werden)
Bitte die Lösung als verschlüsselte Überweisung an mein Wallet schicken (hier eine detailierte Beschreibung) oder alternativ mit meinem PGP Public Key auf https://sela.io/pgp/ verschlüsseln und als verschlüsselten Kommentar posten.
Jeder Kommentar erhält einen kleinen Upvote, die richtige Lösung entsprechend mehr:
Jeder Kommentar: 3% Upvote
Lösungsversuch per verschlüsselter Nachricht: +3% Upvote
Jede richtig geratene Band: +3%
Jeder richtig geratene Song: +3%
Die von mir ausgesetzte Steem-Bounty wird automatisch nach sieben Tagen anteilig auf die Antworten entsprechend der Upvotes verteilt. Wer mehr über
@steem-bounty
erfahren will, der sollte sich den Artikel von
@schlees
dazu durchlesen:
Steem-Bounty - So funktionierts!
Zusätzlich verteile ich auch noch einige meiner wahnsinnig wertvollen VALIUM Token von https://steem-engine.com 😀
Jeder, der alle drei Songs errät, bekommt 0,1 VALIUM

Das VALIUM kann bei mir gegen einen Upvote eingetauscht werden (1 VALIUM = 100% Upvote) oder am Marktplatz von https://steem-engine.com gehandelt werden oder aufheben bis es unermesslich wertvoll ist 😁
Alle Einnahmen des Contests werden beim nächsten Contest wieder als @steem-bounty ausgeschüttet.
---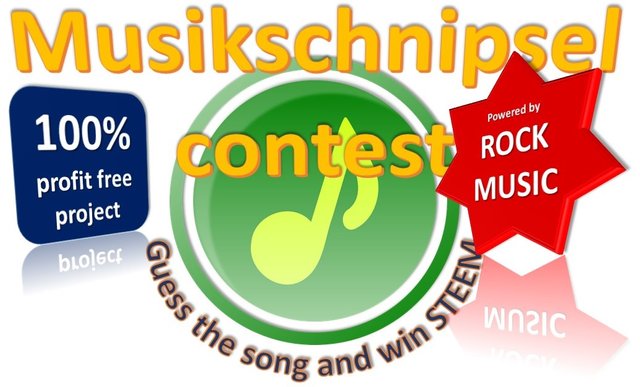 Here is the solution of the last contest:
musikschnipselcontest-10-guess-the-song-and-win-steem-and-valium

Congratulations to the following winner(s) of the last contests bounty!
@jeenger has earned 1.69 SBD. 1.676 SBD from the creator and 0.014 SBD from the community
@kadna has earned 1.686 SBD. 1.676 SBD from the creator and 0.01 SBD from the community
@depot69 has earned 1.684 SBD. 1.676 SBD from the creator and 0.008 SBD from the community
@invo has earned 1.684 SBD. 1.676 SBD from the creator and 0.008 SBD from the community
@chriddi has earned 1.274 SBD. 1.257 SBD from the creator and 0.017 SBD from the community
@patschwork has earned 0.848 SBD. 0.838 SBD from the creator and 0.01 SBD from the community
@syalla has earned 0.838 SBD. 0.838 SBD from the creator of the bounty
@erniegreenhill has earned 0.838 SBD. 0.838 SBD from the creator of the bounty
@bdvoter has earned 0.219 SBD. 0.219 SBD from the community
@chireerocks has earned 0.213 SBD. 0.209 SBD from the creator and 0.004 SBD from the community
@archangle has earned 0.209 SBD. 0.209 SBD from the creator of the bounty
@serkagan has earned 0.209 SBD. 0.209 SBD from the creator of the bounty
@depot69 has earned 0.209 SBD. 0.209 SBD from the creator of the bounty
@gaich has earned 0.209 SBD. 0.209 SBD from the creator of the bounty
@muelli has earned 0.209 SBD. 0.209 SBD from the creator of the bounty
@citizenkane has earned 0.209 SBD. 0.209 SBD from the creator of the bounty
@grizzabella has earned 0.209 SBD. 0.209 SBD from the creator of the bounty
@nessos has earned 0.209 SBD. 0.209 SBD from the creator of the bounty
@kommy has earned 0.209 SBD. 0.209 SBD from the creator of the bounty
@condeas has earned 0.209 SBD. 0.209 SBD from the creator of the bounty
@aezakmi has earned 0.209 SBD. 0.209 SBD from the creator of the bounty
@improvisation has earned 0.209 SBD. 0.209 SBD from the creator of the bounty
@nassimal has earned 0.209 SBD. 0.209 SBD from the creator of the bounty
@diogosantos has earned 0.209 SBD. 0.209 SBD from the creator of the bounty
@v0007 has earned 0.209 SBD. 0.209 SBD from the creator of the bounty
@lammbock has earned 0.209 SBD. 0.209 SBD from the creator of the bounty
@rentmoney has earned 0.126 SBD. 0.126 SBD from the creator of the bounty