Nafty - The token for the adult industry and especially for the content creators and consumers, who generate billions of dollars.
I am in the crypto field for a long time. I have studied and joining many projects. Some of the projects which I studied seem to be real gems. But as we know the universal truth that "The Time Will tell", Majority of projects do not perform up to the mark. Many of the projects shutdown or with in a short period of time run away. That makes your investment made in the project zero. But there are a few projects which have real power to cope up the hard and also worse situations of this sophisticated market and rise as a true leader of their field. And believe my if you have by chance joined such a project then your crypto portfolio rise rapidly and such a good project has power to cover your all loses and become a boon in the market. We all want that the project must be growing, recognized by mass people and stay in the market for a long time.
A cryptocurrency is a digital asset designed to work as a medium of exchange wherein individual coin ownership records are stored in a ledger existing in a form of computerized database using strong cryptography to secure transaction records. The cryptocurrency concept runs on blockchain technology. The system does not require a central authority, its state is maintained through distributed consensus. The blockchain system keeps an overview of cryptocurrency units and their ownership.
We have seen a big growth of blockchain technology with passage of time and it is growing day by day. With its great growth and increasing mass adoption, more and more cryptocurrencies are coming into existence. The majority of them are worthless. Exemption is of a few which are worthy enough to be adopted and invested for big profits.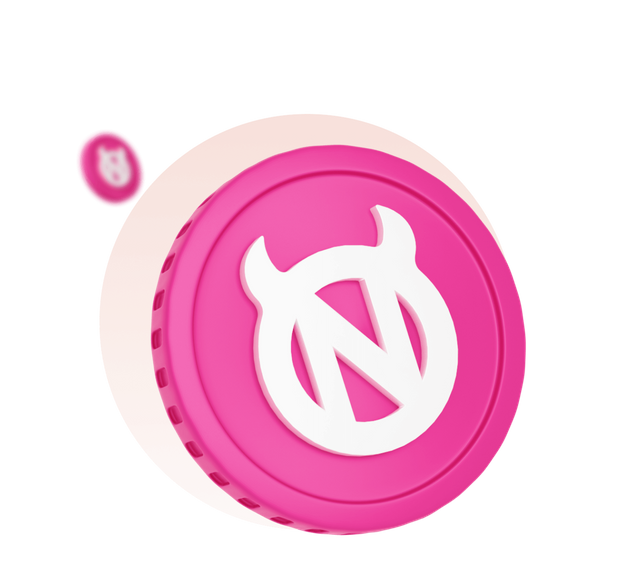 Nafty Platform
The market appreciate the new, unique and the interesting user friendly concept which acts as a magnet to attract the traders and investors to come and join the platform. Nafty creates a community an d a fully-integrated and decentralised NSFW ecosystem to connect the creators/stars and the consumer/fans. We are not selling dreams, Nafty already has 3 working platforms:
NaftyFans.com — Fan club where fans can pay an d receive content from their favourite influencers (like Onlyfans but with crypto and other marketing advantages)
NaftyArt.com — NFT marketplace for adult content
Nafty.tv — Content subscription platform which charges a monthly/yearly fee for exclusive content (Netflix on blockchain)
Catwall.com Fan club platform:
Our platform Catwall.com is complete with very useful unique features. Our fees in crypto are alloted 90% to the creator, 10% to the platform, which is 50% less than the leading private content platform! That 50% can make a world of difference to creators trying to establish themselves in a competitive niche. At the same time we are the only ones providing them with the tools to promote themselves. Tipping in $NAFTY means that since our creators' wages don't depend on it, they are m ore likely to hold their $NAFTY and watch them grow! Further more, creators have the potential to earn passive in com e through the redistributive nature of the token (as long as the price continues to rise). We want to take the adult industry, a multi-billion- dollar industry, and put it on the blockchain.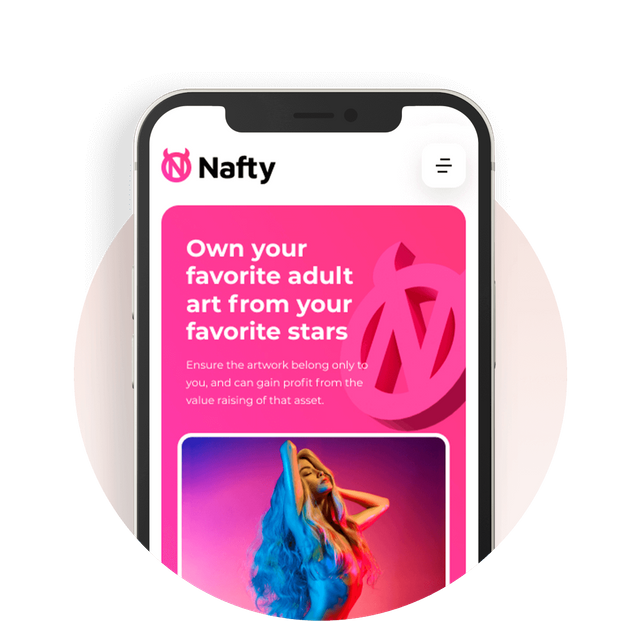 NaftyArt.com NFT marketplace:
The NFT marketplace will allow people to post full length adult content, video, sound, and even GIFs or pictures. The material will be stored in your wallet and on the blockchain. All you need are your wallet keys! This is different from other marketplaces because people will be able to post full adult videos and buy them, send them, sell them or collect them. They can do this without ever having the file stored on their computer, meaning they can keep their porn private.
NaftyTV content subscription:
NaftyTV, it's like Netflix on blockchain for erotic content, where every week we upload new videos, pictures and backstage content.
The users pay monthly, quarterly or yearly subscriptions.
The content will be added by the team and when using NAFTY it will also pay royalties to the creators.
Nudex is already live and working and will integrate NAFTY after the launch of the token.
Our future plans include exploring other ways creators can earn a living through adult content, such as live cams, gen erating royalties from video sites, etc. The possibilities are endless and, although people have tried, nobody has don e this on Binance Smart Chain (BSC).
NaftyArt has the potential to be a great disruptor to the NSFW industry, providing unique ownership to customers and giving NSFW creators greater value for their content.
Nafty Token
Native token of this platform is Nafty token. It is the governance token and is supporting all the application and protocols of the platform to work smoothly. The users of the platform are getting rewards in Nafty token for their active work on the platform. Nafty is used to generate passive income on the platform.
Token holders benefit from each transaction fee, both from the redistribution that in creases their token holdings and from the burning of the token that in creases the value of their tokens. They can also use the token on our ecosystem platforms.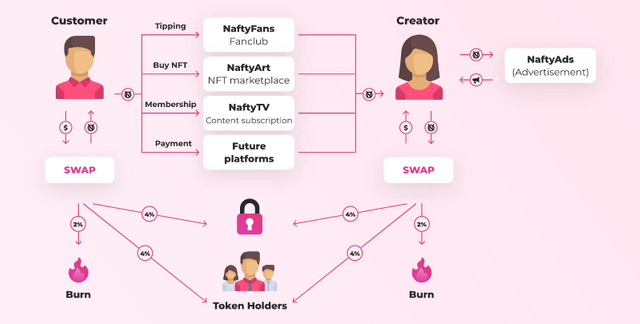 Tokenomics
Token protocol : Binance Smart Chain (BSC)
Total Supply : 100 Billion ( 100,000,000,000) NAFTY
At least 80% of the token will be burnt before the launch
14% for current holders
3% will be sold to new holders (whatever's left out will be burnts).
1% for marketing, influencers an d partnerships to continue the success - 100% will be locked for 10 months
2 % will allocate to the liquidity pool lock for a year.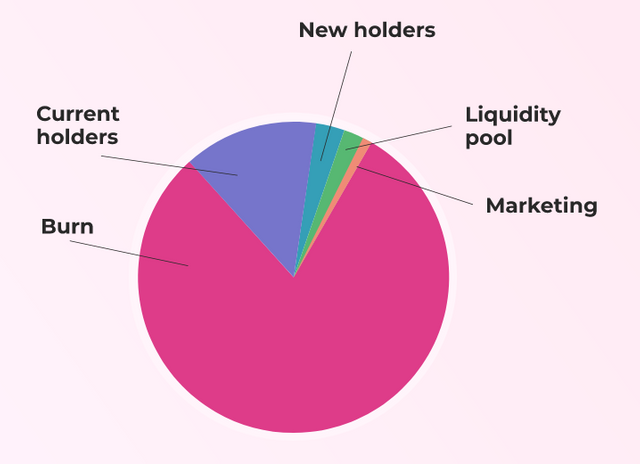 Conclusion
I an really impressed with the global expansion idea of this best platform. The best thing is that this platform is really easy to join and get full benefits of this growing project. This feature of simplicity of Nafty project has attracted more and more people on its platform. It is always said that the early adopters get more rewards and benefits since the believe the project and take risk to make investment. But I want to say that though it is right that early adopters enjoy more benefits but when we are dealing with the sound project like Nafty the one thing is clear that it is never late to join such a promising project. So do not miss the opportunity to join this big earning platform, join as soon as possible.
For more information please visit links:
Author: